Wild Scenery Ahead: Northwest Colorado's Wilderness Study Areas
06/06/2014 05:06PM ● By Christina Freeman
Little Book Cliffs. Photo by John Fielder
By Jennie Lay
Wilderness Study Areas may be the wildest places you never heard of.
Generally speaking, these are not the tallest peaks or craggiest ranges; those landscapes readily earned designation as part of the National Wilderness Protection System. But lesser-known Wilderness Study Areas offer roadless expanses with prime wildlife habitat, slickrock canyons, towering sandstone cliffs and rich archaeological treasures. These gems of solitude and backcountry exploration surface as nary a blip in travel guides, which means they are rarely visited. And yet, at least 19 of them exist right here in Northwest Colorado's own back yard.
There are currently 530 WSAs in the United States, totaling nearly 12.8 million acres. Seven WSAs fall within the BLM Little Snake field office – all of them in Moffat County, to the west of Steamboat Springs. Another eight WSAs located adjacent to the Little Snake boundaries are managed by the BLM's White River and Colorado River Valley field offices. These are off-the-beaten-path public lands being managed for their wilderness characteristics, even though they aren't federally designated Wilderness.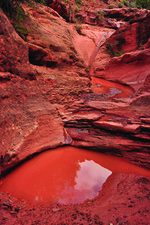 Bull Gulch WSA.  Photo by Jane Sindell
WSAs were created out of the Federal Land Policy and Management Act of 1976, which directed the BLM to inventory its 5,000+-acre roadless areas for wilderness characteristics that provided an unfettered natural state and opportunities for solitude or primitive and unconfined types of recreation. By 1980, about 25 million acres were earmarked as WSAs. The landscapes encompass ecological, geological, educational, historical, scientific and scenic values. Some have since earned official Wilderness designation, while others have been released.
WSA status can only be lifted by an act of Congress. These are stellar public lands that are managed to maintain their wilderness character. They have minimal, if any, trails or campsites, and they seem to have slipped under the marketing radar in a state where an aesthetic preference for high altitude landscapes like Mount Zirkel overshadows lower elevation red rocks like those found in the Bull Canyon WSA. Regardless, sportsmen might be the WSAs biggest advocates since these quiet spaces are often prime habitat and a last refuge for wildlife.
The WSAs in Moffat County include Ant Hills, Chew Winter Camp, Cross Mountain, Diamond Breaks, Peterson Draw, Vale of Tears and West Cold Spring. Just to the south, in the White River field office are Black Mountain, Bull Canyon, Oil Spring Mountain, Skull Creek, Willow Creek and Windy Gulch.
Another seven WSAs sit along the Utah/Colorado border, including the famous Bookcliffs. To the north of Routt County's border, Wyoming has 20 WSAs that are ripe for exploration in the BLM's High Desert management area, including Adobe Town, Twin Buttes, Devil's Playground, Red Creek Badlands, Encampment River Canyon and Sand Dunes.
A glimpse of what's special in local WSAs
Three WSAs sit on the south side of Dinosaur National Monument, encompassing some of region's richest archaeological resources. WSAs northwest of Dinosaur offer prime habitat for sage grouse and the state's most coveted hunting tags for deer and elk.
Two WSAs, West Cold Spring and Diamond Breaks, flank Browns Park Wildlife Refuge in the far northwest corner of the state. Taken together, this is what maintains the wild character of an area that's infamous for harboring late 19th century outlaws. The 17,682-acre West Cold Spring WSA includes the trout-filled Beaver Creek and interesting hiking along Beaver Canyon on the Utah border. The BLM also touts plentiful primitive roads for hiking, mountain biking and horseback riding – the mountain biking availability being a distinguishing factor that is allowed in the WSA, but not a designated Wilderness.
Cross the Green River's Swinging Bridge and trek into the Diamond Breaks WSA's 36,520-acres of pinyon juniper ridges. A dearth of developed trails leaves you to your own exploration, ideally in pursuit of scenic views over the Canyon of Lodore and the Uinta Range.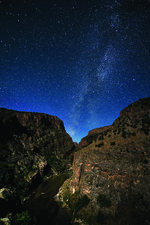 The Milky Way over Cross Mountain WSA.  Photo by Rod Hanna
The 14,081-acre Cross Mountain WSA rises above the Yampa and Little Snake rivers. The nine-mile-long mountain towers over the floodplain at nearly 8,000 feet high, and is slashed by the Yampa River's 1,200-foot deep gorge and many colorful side canyons. There are no developed trails within this WSA, but scrambling and way finding among exposed rimrocks make a landlocked adventure as admirable a pursuit as Cross Mountain Gorge's famous Class V rapids on the river below.
Moffat County's 13,977-acre Skull Creek WSA has deep slickrock canyons and narrows that rarely have been explored. Two hundred to 500-foot-high hogback ridges open up to views over the entire West Slope and archaeological sites date back 10,000 years. Skull Creek WSA also has well as some of the West's oldest known pinyon pine trees.
Bull Canyon WSA is a maze of colorful sandstone canyons and unusual rock formations that includes Bull Canyon, Buckwater Draw, Middle Creek and K Creek, and crosses the state line into Utah. The 15,096-acre WSA can be viewed from the Plug Hat Butte Picnic Area inside Dinosaur National Monument. This is prime territory for backpacking, canyoneering and rock climbing.
Travel north of Craig into Wyoming's largest WSA, the scenic 85,710-acre Adobe Town, which encompasses the eroded badlands, buttes and spires of Skull Creek Rim and Monument Valley. The colorful layered canyonlands are surrounded by open rolling hills and rugged rim rock. This is high desert, with expanses of sagebrush and vast views. Adobe Town WSA is also known as a bastion of study for the numerous fossil remains. Archaeological finds indicate 12,000 years of continuous human occupation from Paleo Indian through late Prehistoric periods, and archaeologists estimate as many as 30 surface cultural sites per square mile within the WSA. In addition, a 700-strong wild horse herd roams through parts of the terrain.
Exploring WSAs requires good maps and backcountry self-sufficiency. You're destined to be alone out there among rugged nature, ancient ruins and the unusual silence that comes with an absence of motorized vehicles. These are many of the assets that might create your most intimate and astounding wilderness experience yet.
Want to find Northwest Colorado's WSAs?
Start with the Bureau of Land Management field offices. They sell detailed maps that you'll need (along with good navigation skills) to explore these vast expanses. Get an overview of all the Colorado WSAs here, including finding WSA boundaries, information about access, wildlife and recreation info and more.