Feel the love, Wilderness.
06/06/2014 03:05PM ● By Christina Freeman
Gold Lake in the Mount Zirkel Wilderness. Photo by Jim Steinberg
Edited by Jennie Lay

 In honor of the 50th anniversary of the Wilderness Act, we asked people, "What does wilderness mean to you?" We talked with artists and wildlife officials, land managers, fishermen, ranchers, naturalists, photographers and many Steamboat Magazine contributors who you have met in these pages throughout the years. Not that we were surprised, but we learned just how much these wild landscapes mean to Yampa Valley folks. A unified reverence for wilderness is palpable; they express their individual passions in the words that follow.
Johnny Spillane
Steamboat FlyFisher owner, life-long hunter, four-time Nordic Combined Olympian and three-time silver medalist
My favorite thing to do is get into Wilderness areas with a capital W. When access to an area is limited I always feel my outdoor experience is enhanced. Whether it's doing a day hike to a high mountain lake or stream for some fishing, or backpacking into a remote area for archery season, my efforts are almost always rewarded. We are fortunate to have many remote Wilderness locations within easy reach of downtown Steamboat and I have been lucky enough to explore them my whole life. From a fishing standpoint, it's hard to beat hiking into a lake and being the only one there. There are so many amazing locations within a short drive from Steamboat, and I look forward to continuing my exploration of them every summer. At Steamboat FlyFisher, everyone wants to stay downtown and fish the Yampa. While it is an amazing river, we encourage folks to go out and explore because there are countless small streams and lakes that have fish that have never seen a fly!
Ben Beall
Former Routt County Commissioner, 13-year chairman of the Emerald Mountain Partnership (which negotiated the largest land swap in Colorado state history that protected Steamboat's backdrop) and namesake of the Beall Trail
The idea of wilderness is tangled up with the American myth – especially the myth of the West. I have been lucky to have lived a part of that myth – even though I arrived in Steamboat Springs long after the West was settled and there were few real wild areas left.
With 330,000,000 people in the United States, it is even more difficult to follow that myth today. Some say it would be better if the myth would die. I don't necessarily disagree. Those of us who have chosen to live far away from the crowds sometimes don't take enough responsibility for all the footprints that we all are leaving. But I have been lucky to have been able to know what open spaces and wilderness mean.
Thirty-five years ago, on many weekends I would walk out of my house on Soda Creek, through upper Gunn Creek and into the Mount Zirkel Wilderness Area. I would walk the windrows on the Divide or visit Horse Thief Park. This was before Mount Biking. We hiked and camped on the weekends after work. We fished the mountain lakes at the headwaters of Mad Creek. On the way home, we would follow the old Indian trails into Elk Park and back to Strawberry Park. We would follow the old sheep herder trails and see the remnants of 1950s jeep trails. Some of those old trails are still visible. Most of them are long abandoned.
Today, Mount Zirkel is a place with few hikers. I can visit Wolverine Basin and walk up to Lost Ranger Peak and gaze over country, imagining somewhere where you are the only person who has ever looked out over the high grassy meadows and timber stands. Wilderness is not a myth. It is a celebration of the future. Mount Zirkel Wilderness is my backyard.
John Fielder
Nature photographer and winner of the Sierra Club's Ansel Adams Award and the Aldo Leopold Foundation's Achievement Award, whose traveling exhibit, "A Celebration of 50 Years of Colorado Wilderness," is on exhibit at the Steamboat Center for Visual Arts June 11-30 and the Museum of Northwest Colorado June 11-July 12.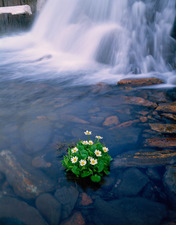 Marsh marigolds in the Mount Zirkel Wilderness.                                  Photo by John Fielder
For me, our wildest places are our best places. Wilderness is an unequalled stabilizing force that is always there and that connects us with our beginnings. The personal sense of security derived from things permanent, like wilderness and God, is more important now than ever before as the world becomes more crowded and chaotic. And yet, wilderness is not a static landscape frozen in time, but a living, dynamic environment full of the fury and calm of nature. To explore vast wildernesses, we must abandon worldly schedules and immerse ourselves in the flows and patterns of nature – rise with the sun, sleep with the darkness, huddle from the storm.
It is one thing to view photographs of nature in a book or on a wall, entirely another to be in nature. There is no substitute for tasting, smelling, feeling, hearing, as well as seeing nature. The sensuousness of the natural world is the best recruiter of advocates to protect and preserve the miracle of 4 billion years of the evolution of life on Earth.
A burgeoning population and warming climate make the urgency of protecting our remaining wilderness greater than ever. The salvation of humanity lies in the preservation of Earth's natural systems. We can only survive in the long term by living in concert not conflict with them. If we allow our ecological goose to be cooked (quite literally), we cook our economic goose. And the reverse is true. Only societies with healthy, happy, and prosperous people protect nature.
Attach yourself to things spiritual, or permanent, such as Earth itself. Resist infatuation with shallow, ever-changing things like technology and television that create conformism. You will become more secure with yourself and those around you. A relationship with nature breeds humility and quells the ego. With that you will better appreciate your fellow human, reduce conflict, and chaos will succumb to order.
Libbie Miller
Colorado Parks and Wildlife District Wildlife Manager for the Yampa District and Colorado's 2013 Shakir-Safari Club International Officer of the Year

I have been fortunate in my 20+ year career as a Wildlife Officer for two different state wildlife management agencies to have worked in several Wilderness areas. I am grateful for the foresight our nation's leaders had to protect and conserve large expanses of land, which from a wildlife management perspective translates directly into protecting and conserving vast tracts of relatively undisturbed wildlife habitat. Wilderness provides a level of species richness and diversity that realistically is difficult to achieve elsewhere. Ultimately, Wilderness contributes to immense landscapes that provide wildlife with habitat connectivity, which facilitates animal movement, migration, genetic and biological diversity and enhances wildlife species vigor and population viability.
        As I further considered what Wilderness really means to me, I realized that I needed to get beyond the biological and wildlife management concepts and explore the naturalist within me. To me, Wilderness truly is the instantaneous smile I have every time I see a pika scurrying across a scree field. Wilderness is the unfettered joy I experience when I encounter the curiosity of a pine marten that has returned for a second glance. Wilderness is the scream of a territorial mother goshawk defending her nest and the stark realization that the unnatural silence that follows means she is pursuing me. Wilderness is the magic of a bugling bull elk on a crisp autumn morning and the respect and admiration I feel for the sportsmen and women that accept the challenge of hunting in the Wilderness. Wilderness is the hope that one day elusive species like the wolverine may once again be seen in our local Wilderness areas. However, most importantly, Wilderness evokes within me the wonder of our beautiful world and it is in Wilderness that I feel undeniably blessed to be surrounded by the presence and majesty of God.
Karen Vail
Naturalist
Wilderness' can be in your own back yard if you are smelling and feeling and blending in with the soil and plants and birds and worms and water. The immersion in the natural world is the "wild" part, and we don't have to behold lofty peaks or awe-inspiring canyons to be inspired. Yes, those areas may lead to the most inspired times of a lifetime, but my first, and probably most important,  inspiration came from watching the bees and other pollinators on the flowers in my back yard. That's backyard wilderness. It's available to everyone, even those in the midst of cities. The smallest of connections to the natural world in the "ugliest" of places can lead to empowerment.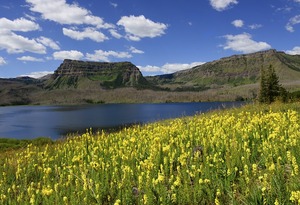 Trappers Lake in the Flat Tops Wilderness.
Photo by Rod Hanna
Joan Hoffmann

Painter and official presenter at the National Wilderness Conference that takes place in October in Albuquerque
Wilderness means wild and natural processes independent of man, and wilderness provides healthy habitats.
I moved to Pleasant Valley the year that Lake Catamount was under construction and well before Stagecoach Reservoir was built. Both dammed the "free flowing" Yampa River. It was 1976. Soon the ski area proposal in Pleasant Valley conflicted with the newly declared Sarvice Creek Wilderness Area. Soon after that, federal animal damage control deputies came to shoot white pelicans diving for fish in Lake Catamount. Conflicts were solved and new ones came up on private property, but federal public lands under wilderness management, such as the Sarvice Creek and Mount Zirkel Wilderness Areas, are the headlands of human landscapes where the water can remain clear and the air remain clean.
Wilderness is also my home. It's where I oil and watercolor paint. I grew up learning to sketch, and even to cook, on Sierra Club High Trips in the 1960s. I had a fleeting chance to float Glen Canyon, before it was entirely flooded under Lake Powell Reservoir, but I was too young to know that in my lifetime, beauty and purity can disappear without active advocates.
I paint impressionist oil and watercolor landscapes. My paintings evoke a poetic sense of place. I paint, teach painting techniques and work to preserve the history, culture and dynamic nature of our great American commons: public lands, National Parks and wilderness areas. Landscapes matter. Our free spirit, and open space, public lands, wild country and Wilderness go hand-in-hand.
Ben Kelley
Ninth-grader at Soroco High School and co-creator of "The Wilderness Act of 1964: The Right to Experience, The Responsibility to Protect," a documentary about The Wilderness Act of 1964, which won top honors at Colorado state National History Day competition and travels to the national competition in Washington, D.C. in June
Water drips down a rocky cliff and makes a small trickling sound that resonates through the untrammeled land. A lone bird chirps in the desolate forest, free from modern day technology and the buzz of urban living. A breeze rustles the leaves and brings in the crisp smell of pine. Not the fake, pungent smell of the car freshener, but the fresh, tantalizing odor of the populous tree. The pristine wilderness stands untouched, unrestrained by the constantly expanding cities. It provides sanctuary for people to escape the hectic life of a Routt County resident.
            This is what Truman and I experienced firsthand when we hiked around The Devils Causeway loop last summer. It was on that hike that we had the inspiration to do our National History Day project on The Wilderness Act of 1964. To me, the wilderness is a reminder of what came before us and, in the grand sense, is our oldest ancestor. It is a pinnacle of peace and clarity in our lives that is vital to a functioning society.
Wilderness is there for all of us. It is an escape from society that brings out the best in people. But it is also in danger of being destroyed. The Wilderness Act has placed the responsibility of preserving wild places on the citizens who use the lands.
"People have a right to an enduring resource of Wilderness…If we are a democracy then the rights of those untold number of future persons outweigh our own." That is a quote by Ed Zahniser son of The Wilderness Act's author, Howard Zahniser. For our project, we were able to interview Ed Zahniser and ask him a few questions about his father and the act. He agreed with us about how the wilderness is a link to the past that gives us a break from the constant plunge into the future.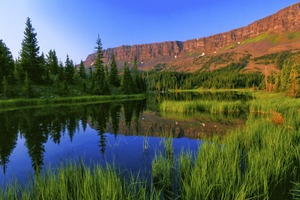 Chinese Wall towers over the Flat Tops Wilderness.  Photo by Jim Steinberg
Douglas Wipper
Former Colorado Mountain College Wilderness Studies instructor and owner/instructor of the Steamboat Springs White Water Canoeing School
Wilderness is a state of nature that existed during the late Paleolithic and Neolithic eras.
With a human population of over 7 billion on the planet, true wilderness is a landscape of the past. We can only imagine what those first humans, perhaps 40,000 years ago, experienced when they paddled their canoes to the shores of the Americas. It was a land devoid of human influence – a true wilderness.
Today, modern humans use the term Wilderness as a designation on a map for a geographic area that has some semblance of an intact ecosystem. It is an area that usually is void of full-time human occupants. We love the idea of Wilderness, but have not been able to control our consumptive natures. As a result, we are losing what little is left.
Emotionally, we need a Wilderness experience where we can try to connect to the natural world to keep some health in our world views that are primarily shaped by our urban experience. Physically, we need to keep our planet healthy if we are to continue as a species.
Many see the value in trying to preserve wilderness, but the general population does not want to make the hard decisions that are needed to keep it. We just want to consume what is left.
Ray Heid
Owner of Del's Triangle 3 Ranch, Colorado outfitter #22
When I was growing up, we would spend every weekend in what is now the Mount Zirkel Wilderness. Mainly, the Heids, Werners and friends would take off in the old cars – ours was named Zack and the Werner's was named Zora. It was an adventure to see how close to the high mountain lakes we could get. We would stop at the fish hatchery in town and fill up five-gallon milk cans with fish and stock every lake we could drive close enough to. To this day, I still see the ruts we left in the wetlands. Those tracks haunt me.
When the Wilderness Act was instilled, I was a great admirer of John Muir, "the greatest environmentalist." His philosophy sticks with me today: Take nothing but pictures and leave nothing but footprints. When I came home to take over the family business, Del's Triangle 3 Ranch, Sherry Reed, the district forest ranger at the time, drove home to me the importance of low impact camping with horses.
When we camp in the Wilderness, we leave no trace. I go out every morning and spread every pile of horse poop so there is no sign where the pasture was the night before. As we come back from a three- to five-day pack trip, I have had guests get off their horses and pick up a candy wrapper. After a pack trip with us, Rita Valentine told people, "They not only preach low-impact camping; they practice what they preach."
It is amazing that Aldo Leopold had the foresight to encourage Congress to establish the Wilderness Act in 1964, after he spent time in our own White River and Routt National Forests. This land will remain for generations to come as Mother Nature left it to us. Take time to visit a Wilderness Area and become a preacher. Take nothing but pictures, and tread lightly.
Jennie Lay
Editor, Steamboat Magazine

Wilderness. It is a governmentally decreed status with gravity. It is a rare protected presence on our planet. It is silence and spaciousness. It removes us from of the hubbub of humans-run-amok. It puts ego in its place. It is the space where I feel reborn. It's a place where I said 'I do.' It's the ground where my ashes should fly. It stokes a lust for adventure. It's a showy commandment to step aside – a man-made condition that redeems man's irksome instinct to meddle. It is fire and ice – a bona fide spectacle of seasons and evolution. It flashes us with X-Wing-worthy dark skies and indulgent solitude. It immerses us in ancient landscapes, long treks and crystalline water. It is lonely, in a most comforting way. It evokes elemental tingles and giggles while it grounds the frivolous thoughts inside my head. Wilderness is a lingering hug from Mother Earth that warms my heart, even after my body is forced to leave the embrace of her boundary.
Marsha Daughenbaugh
Community Agriculture Alliance executive director and Routt County rancher
To me, wilderness is as much an emotion as it is a description. The natural habitat and our raw resources are a part of how I have structured my life and how I view the world. I feel a need to protect them so that future generations will have the opportunity to appreciate open and working landscapes, wildlife, fresh air and clear water.
Sonja Macys
Yampatika executive director 

One of the things that brings me peace when I think of wilderness is the notion that it will always be there…for you, for me, and for future generations. Passing on healthy wilderness areas is perhaps the most significant shared legacy we can create. Wilderness does not require that we strive to improve upon it or make it more efficient or cost effective. Wilderness need not help us expedite processes. It simply is what it is and should be, "untrammeled by man, where man himself is a visitor who does not remain."
           
My relationship with wilderness started on the George Washington National Forest in Virginia when I was a college student. Through hiking and camping, I experienced the beauty and splendor of wilderness, the spiritual renewal that it provided, and the opportunity for scientific study of relatively undisturbed ecosystems. When our wilderness areas were threatened, I learned that, in wilderness, human passion meets science, policy and politics. Not everybody is a fan. Preservation of wilderness requires a solid human understanding of its value and its contribution to our lives and societies.
              
Flash forward another couple of decades, and I am in graduate school, studying "Wilderness Management" and learning about the values associated with wilderness – experiential, scientific, symbolic and spiritual. Wilderness areas have become the outdoor classroom for me, a place to teach others about how to manage wilderness, absent mechanized tools. Horses, llamas and simple backpacks are what we use. The work is hard but nobody complains. We are constantly awash with awe at the privilege of being stewards of such special places. A decade further on, I take pride in teaching that to young people through Yampatika's "Wilderness Pioneers" camps. We teach youth how to take care of themselves, one another, and the land.
            
What value does wilderness bring you? The most important thing that wilderness offers me now is the comfort of simply knowing it is there and serves as a classroom for others to learn their own lessons. Like an old friend, our relationship will change over time, but as long as we continue to be there for one another, that is enough for me. 
Truman Anarella
Eighth-grader at Soroco Middle School and co-creator of "The Wilderness Act of 1964: The Right to Experience, The Responsibility to Protect," a documentary about The Wilderness Act of 1964, which won top honors at Colorado state National History Day competition and travels to the national competition in Washington, D.C. in June
Birds chirp softly, a slight breeze refreshes you, trees and other beautiful sights are as far as the eye can see, and the feeling of serenity fills you. These are some of the things someone would experience if they were to go to a designated Wilderness area. Wilderness to me is a gorgeous place where one can escape the hubbub of everyday life and experience the earth at its finest. There is so much technology and machinery involved in our daily life that we need to be free and evade it for a while.
What's really amazing about wilderness is that everyone in the United States has easy access to it. Everyone has the same basic right to enjoy the magnificent land.  Wilderness is vital to our American culture as in almost everyone either uses wilderness or can easily relate to wilderness.  Before creating our documentary, I didn't realize how much land is actually designated as Wilderness. There are about 760 designated Wilderness Areas across the United States and in Puerto Rico. The untrammeled splendor of Wilderness areas like the Flat Tops and Sarvis Creek need to be maintained not only for now, but also for future generations. It is our responsibility to take care of the final remnants of the natural earth, untouched by humans.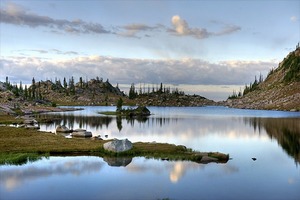 Lake of the Crags reflect the Mount Zirkel Wilderness.       Photo by Rod Hanna
Gretchen Van De Carr
Rocky Mountain Youth Corps executive director
Wilderness is a feeling, a state of mind, more than a place. It is that feeling of Wild Peace. Where your body, mind, and spirit unite and you are grounded to the earth and to yourself, and yet all of the laws of nature are present. You may be perceived as a danger to the living beings around you, or you may be perceived as lunch. Either way, you feel that you belong and that your presence is integral to the flow of energy and life that surrounds you. The warmth of the sunshine and the coolness of the breeze make the spider webs shine and the leaves dance and sing in harmony.
When I send the dozens of young conservation corps members into the Wilderness each year to enhance and protect these precious places, my greatest hope is that they, too, will find their own Wild Peace – a place they know they can always escape to when they encounter hard times. A place they can be proud to sustain in their corps and everyday life.
I have devoted my life to providing the infrastructure for youth to connect with the land and to find their sense of place in the natural surroundings. In today's world of electronics and social media, it is easy for people to live vicariously through their screens. Removing that distraction and immersing in a lifestyle that demands personal, hands-on experience allows corps members to find their own inner peace – that feeling that begins with a connection to Wilderness.
Todd Hagenbuch
Routt County CSU Extension agent and Routt County rancher

What does Wilderness mean to me?  It means taking cattle onto the same permit my grandfather did and not being tempted to do it 'the easy way.' It means slowing down, moving them on horse or on foot, like my family and other ranch families did for decades. It means that my children will be able to experience an area in the same way their great-grandfather did, fishing in the creek with a willow branch and piece of string after arriving at a remote location by non-mechanized means, and really earning the meal they're about to catch. It means that while engines and cell phones can't work in the area, you probably will, and that's OK. It's reconnecting with a time gone-by in a place that won't pass you by. It's both multi-use and multi-generational…and it belongs to the multitude.
Luke Schaefer
Conservation Colorado West Slope advocacy director
For some, wilderness is an idea, an ethereal notion that there is something out there bigger than humans that may never be visited, but must exist. For others, it's a place to take communion: to see, smell, taste and touch that entity bigger, badder and better than they are and ever will be. I suppose I fall in that latter group, as the wild places of this big blue dome have long been my church and refuge.  
And while Wilderness is where I usually find myself when seeking sustenance for the soul, it's also often where I go to fill my freezer with venison, elk, grouse and damn near any other critter I can harvest every fall. While I've been known to measure inches of horn at times, for me, the truest measure of any trophy is the country an animal comes from.
For many, Wilderness has uniquely Western connotations, an embodiment of rugged American individualism, conjuring up tales of mountain men and pioneers.  To me, that perspective infers that we have somehow designated all the Wilderness there is. That couldn't be more wrong.
There are still millions of acres of spectacular public land in Colorado – let alone the Intermountain West – that enjoy little to no protection. To paraphrase a friend,  we have to have some places left on earth where the critters get chased by mountain lions, the bears take the fawns, and the rain falls on the just and the unjust alike. Wilderness is a great place for all that and more.
So, while we rightfully celebrate the past 50 years of the Wilderness Act, I'm looking forward to celebrating our future conservation victories as well. 
John Anarella

U.S. Forest Service recreation program manager for the Yampa Ranger District
I came to the Yampa Valley in 1987 to work as a Wilderness ranger. I was in my early 20s with the job of patrolling the Mount Zirkel Wilderness for the USDA Forest Service. I was overwhelmed by the pristine beauty of the land, and had fallen into a dream job. In the 27 years since, I have been a backcountry educator, biologist, scientist, officer, engineer, and janitor. All these facets of being a Wilderness manager are key to the preservation of the land. The work is hard; the rewards are plentiful.
This year we celebrate the 50th anniversary of the Wilderness Act, a remarkable piece of legislation that put the brakes on expanding settlement and growing mechanization in the United States. Attending regional, national and international meetings over the years, I have had the privilege to meet and work with Wilderness managers from around the world. Seeing sunsets, waterfalls, wildflowers, rock formations, elk herds and meeting backcountry enthusiasts keeps me motivated and inspired closer to home. Currently, I manage the Sarvis Creek Wilderness and the Flat Tops Wilderness. This is my shift as the quasi-curator of these lands. I approach the days with a sense of stewardship, knowing more managers and Wilderness visitors will follow me, as most of the people who will share the awe and respect for these special places are still unborn. Being in Wilderness gives me a sense that the land will endure. When I patrol now, even in the places that have grown familiar to me, I'm still in my early 20s, overtaken by the untouched splendor of the land. Wilderness is timeless. 
Tina Evans
Colorado Mountain College Sustainability Studies associate professor and author of "Occupy Education: Living and Learning Sustainability"
The Wilderness Act and I were born in 1964. Being children of industrial culture, we bear the marks of our time and place in history. Wilderness means a great deal to me – but not what it means or has meant to all others.
Indigenous peoples have traditionally had little need for a concept of "wilderness." Nature was/is simply "home." The idea of owning land as "property" was foreign, as was the notion of "protecting" or "preserving" nature from human contact. For indigenous peoples, nature was/is to be inhabited respectfully in ways that insure the continued health and vitality of home. The spread of early empires and the great enclosures of the land in Europe seeded the notion of private property and made possible the separation of people from the land. This notion has grown deep roots that permeate U.S. laws and thinking about land, which has become simply a resource.
Wilderness in Western culture grew up during the fossil fuel age and the industrial/technological revolution. Early industrialization made the Romantics long for wilderness as an antidote to dirty, stressful modern life. Once perceived as a place to be feared, wilderness became "sublime." The perilous wilderness of "Little Red Riding Hood" gave way to the notion of wilderness as a peaceful place of contemplation.
The wilderness I know was born from palpable limits to industrial domination of the biosphere, and I, too, have experienced it as a sublime escape from modern life. It has made me feel simultaneously invigorated and humble in its presence. But I am learning that preservation of wilderness alone is an insufficient remedy to nature's destruction. Still, the idea of wilderness is an important step toward loving our home in nature and embodying that love in our daily lives.  We must see and love the nature that is at our doorsteps as well as the nature that is "out there." I remember this, too, from when the Wilderness Act and I were young and the nature in my suburban yard was brimming with life that I loved.
A Local Voice on the National Stage
1962: A Routt County rancher testifies for the Wilderness Act
On April 18, 1962, Representative Wayne Aspinall invited late Routt County rancher and water developer John Fetcher to travel to Washington, D.C. to testify on behalf of the Wilderness Act. Fetcher appeared before the Congressional Committee on Interior and Insular Affairs, encouraging them to pass the land protection legislation during four days of hearings. Below is the full text of Fetcher's testimony.
THE FETCHER RANCH
Steamboat Springs, Colorado
April 18, 1962
Committee on Interior and Insular Affairs
House of Representatives, Washington, D. C.
RE: Wilderness Act: a statement in favor for the May 7-10
1962 hearings at Washington, D. C.
Gentlemen:                                                           
            My brother and I own and operate a cattle ranch on the Elk River north of Steamboat Springs in Colorado. We are surrounded by the Routt National Forest, and from our house on the ranch we can see the high peaks in the Dome Peak-Mount Zirkel Wild area.
            We depend on the Routt Forest for our livelihood because we have a permit to graze 82 cows on the Forest during the summer. We also depend on the Mount Zirkel Wild area for our recreation. Every summer before haying we make a family camping trip into the high country. We usually take along one pack horse for our gear and one saddle horse which is shared by my wife and our little girl. The rest of us, three boys and myself, walk, and in about four hours we are camped at a high mountain lake.  Unless you have actually had the experience of camping in what is truly the back country, a description of what it means falls flat. All I know is that to me and my family and to most other ranching families of my acquaintance it means recreation in the fullest sense. It may mean more to city families, some of whom stop by our ranch to rent a horse or ask where to go.
            I have heard some people say that the Wilderness areas are reserved for only those who can afford to rent horses and hire a guide. This is not true. Anyone who is willing to hike and can read a map can get into the back country.
            The Cattlemen's Association has come out against the Wilderness Bill; but the ranchers I have spoken to like to hunt, fish, and camp in the Wild areas, and individually they are the first to admit that they would hate to have these areas overrun by jeeps or tote goats or spoiled in any way whatsoever. As a group, the stockmen appear to think that the grazing of cattle will be eliminated even though the bill specifically states that it is to be permitted.
            I would like to bring out another matter which has worried many of us who live close to the National Forest. The Forest Service keeps a pretty close watch over the timbering operations, the mining, and the grazing. The tourists, however, with their jeeps are allowed to go anywhere they want to (except in the Wild Areas, thank goodness) making roads and hacking trees as they go. In fact, some of the newly formed jeep clubs seem to take a special pleasure in going places no one in a jeep has ever visited before. Most of us who live close by feel that reasonably good roads in the Forest should be provided and maintained to areas of interest and that off the road driving should be prohibited.
            We have seen, my neighbors and I, at close hand during the last 12 years a tremendous increase in the number of fishermen, hunters, and campers with the resultant damage to the land. We would like to see at least some parts of our forests preserved intact, not only for us but for our children.
            Thus, we strongly urge the Committee to send to the floor this session a Wilderness Bill substantially identical to S-174 passed by the Senate.
Sincerely yours, 
John R. Fetcher