Local Knowledge
04/18/2014 11:45AM ● By Christina Freeman
Andrew Crockett's claim to fame is that his place of employment could be the setting for snowmobile adventure flicks. Photo courtesy Andrew Crockett
Snowmobile Guide Andrew Crockett Shares his Tips
While Steamboat Springs has earned a well-deserved reputation as Ski Town USA, Rabbit Ears Pass has become known as an equally impressive destination for snowmobilers, from novice families to big-name riders, who film their videos on the pass. Andrew Crockett of Steamboat Snowmobile Tours shares a few tips about his backyard playground.
1 Unless you're a veteran snowmobiler, go with a guide. Routt National Forest alone is 1.1 million acres; it's easy to get lost.
2. Wear an avalanche beacon. The odds are in your favor that you won't need it, but why take the chance?
3. One of my favorite advanced rides is to go hill-climbing right up to the very ears on Rabbit Ears Pass.
4. When you're riding on Rabbit Ears Pass, you're on top of the Continental Divide, which offers lots of awesome overlook areas.
5. You can learn to snowmobile when you're little older than a toddler. But to handle the deep powder of Rabbit Ears Pass, especially without a guide, it's best to be a teenager or older.
Andrew Crockett learned to snowmobile at the age of 5. He has worked for Steamboat Snowmobile Tours for three years.
Apres Ski Tips by Mike Coy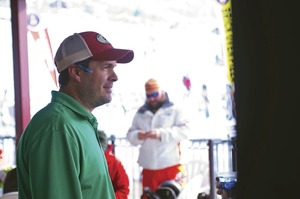 Photo by Aryeh Copa
As the manager of Slopeside Grill & Bar, Mike Coy finds spring to be one of the most exciting times of year. Bluebird days inspire friends to gather outdoors, and après ski takes on a vibrant life of its own. 
Is there a different après ski atmosphere in springtime? On powder days, everyone comes into the bar excited about their day, but tired from a full day on the slopes. It seems like skiing is less frenzied in the spring, and people have more time to relax with their friends. 
What are some of the attractions that make the outdoor après scene so popular? The ice bar, music, party atmosphere and sitting outdoors – and watching the skiers and riders come down from the mountain at the end of the day can be pretty entertaining in itself. 
What's the most unusual thing you've seen on the slopes from your viewpoint at Slopeside? A few years ago, people were enjoying après ski at Slopeside when a moose ran across the lower mountain, giving skiers and riders quite a surprise. Fortunately, ski patrol was able to herd the moose safely away from the ski hill. 
Every day is a good day for après ski, but are there some days that are especially fun-filled? St. Patty's Day, closing weekend and Mardi Gras are entertaining, to say the least. And any powder day ending in a bluebird afternoon. 
Besides beer, always the perennial favorite, what are the popular après cocktails this year? Bloody Marys & margaritas continue to hold their own as the drinks of choice. 
What are the essential ingredients for an après Bloody Mary? Quality vodka, of course, but also a good Bloody Mary mix – we've used the same recipe for 17 years. The garnishes are as important as the drink itself; we add Old Bay seasoning to the rim, two olives, lime and other garnishes to order. 
What time does après ski unofficially begin? Really, après begins whenever you want it to begin. 
What's your best advice for someone who wants to really give the après scene their full attention? Drink lots of water, wear sunscreen, enjoy some apps or pizza along with your cocktail, dress in layers – it's warm in the sun but cools quickly as dusk arrives –and take advantage of the free buses or hotel shuttles.
Joey Rind on Spring's Best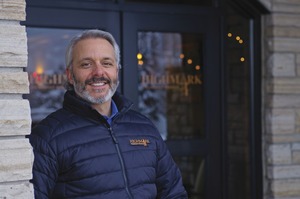 Photo by Aryeh Copa
Joey Rind is operations manager at the Highmark, a property of Mountain Resorts, the largest local property management company. 
Spring is a good time for three-sport days. What would yours be? Start the morning off on my bike for a road ride with my beautiful wife, Dr. Michelle Linet, perhaps leading into an afternoon of coaching on the soccer pitch, shaping the talented youth of the Steamboat Soccer Club, and ending the evening on the ultra- competitive adult softball fields.
Spring's a fun time to ski. What do you like most about spring ski days? Goggle tans – they're a status symbol, you know. Carvey spring slush, the smell of the trees coming alive, late afternoons and the casual festive feeling of spring. 
Lots of holidays in spring: Mardi Gras, St. Patty's Day, Springalicious (Closing Weekend). What's your favorite? The Bump Off – bring it back!   Editor's note:The Bump-Off was a grassroots party at the Chutes on St. Patty's Day that eventually became a quasi-sanctioned event but ultimately was the victim of its own success, as crowd control became too difficult at this remote location. 
Summer's just around the corner. What are you most looking forward to? Long sunny warm days, shorts and t-shirts, the feeling of grass on my feet and more time with my beautiful family, including my son Nathan, 5, and daughter Zanah, 2. 
Care to guess how many medals Steamboat brings home from the Olympics? Fifteen local athletes are going. One each would be great, but realistically, let's say six. 
Does Highmark have a powder clause for its employees? We encourage our employees to plan accordingly, within reason – we're right across the street and it's why we live here. 
What's the number-one question people ask at the front desk? Of late our guests and owners are very curious about their ability to purchase recreational marijuana....yup, I said it. 
They say it's easy to find a job in Steamboat, but hard to find a career. What's your secret? Patience, persistence, hard work, timing, luck and of course, my charm and good looks. Not to mention a helluva mentor: Michelle Ouimet, senior vice president for Mountain Resorts.
In the Saddle by Becky Heid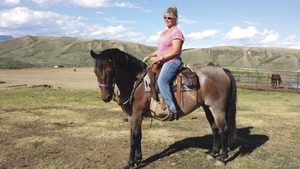 Photo courtesy Becky Heid
Becky Heid is the manager at Del's Triangle 3 Ranch, which offers horseback rides year-round. Her children are sixth-generation Steamboat residents and she has been riding since she was 3. She shares tips for riding in the spring.
1.Late spring is beautiful because the valley is starting to get green but you still have all of these snowy peaks all around. February through April it's still snowy, but days start getting longer and sunnier, the weather is nicer, and you'll get these bright bluebird days.
2.In spring, the snow gets crunchier, so you'll see little animals scurrying around on it. Our dogs and our kids love to run and slide on top of the crust.
3.Mid-morning is a great time to ride in spring. It's warming up, so snow has softened a bit, which creates better footing for the horses.
4.Spring conditions can include snow, soft spots, mud, higher water. Always be aware of changing weather.
5.My favorite part of riding around the ranch during spring is seeing the elk calves. There's a herd of about 300 that come up and calve in spring. Spring is a good time to see wildlife around the valley – from the sandhill cranes that fly in and start nesting, to deer and elk and moose.
6.Riding horseback gives you a look back. It's pretty amazing how the pioneers navigated the mountains and got here, all on horses and wagons. It's humbling. The history and heritage that is so prevalent in Steamboat makes it special.
7. Steamboat horses are hardy and adaptable – they can weather temperatures from -40 to 90 degrees. They'd rather be outside here than in a barn anywhere else.
8.For beginners: Go with someone who's experienced.
9.To sit in a saddle so you don't get sore, sit up straight and tall, and carry your weight in your legs. Press down on the balls of your feet and keep your heels down in the stirrups – that takes some pressure off your low back and hips.
10.When you're around horses, avoid sharp noises and quick movements. When you're riding, keep a hold on the reins and pay attention to what's going on around you.
Today's Market by Kim Kreissig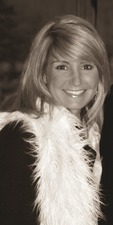 Photo courtesy Kim Kreissig
Real estate is a hot commodity right now in Steamboat Springs. In a market that ranges from small studios to ranches, local knowledge is key. Kim Kreissig, broker/owner of Re/Max Partners, shares her insight. 
Construction is especially active in spring. How much lead time do people need to get a construction project going this summer? Spring is optimal for breaking ground in Steamboat, although construction goes on year-round. Construction time depends on the scope of the project. A townhome in an approved development can take six months or less, while a custom home can take nine months to a year. If it's a home in a subdivision with architectural guidelines, allow plenty of lead-time for committee review. Obtaining the necessary permits generally takes about a month or so, if all goes smoothly. Planning six months ahead is a good measure.
What do you expect to be the most active segment of the market this spring? Condos/townhomes priced under $300k in the mountain area, as well as mid-priced single-family homes. We're experiencing limited inventory in these segments. Buyers should be tuned into what's coming on the market and be ready to respond by being pre-approved for a mortgage.
For a while, it was difficult to get a mortgage for a second home in a resort community. What are the prospects in the current market? Lending requirements have loosened up a bit. A buyer might have to invest more upfront, but we can get the loan. Also, great products that require little money down are available for first-time homebuyers. We typically recommend local lending, due to the nuances of a resort community.
Are new developments coming on the market? Rocky Peak Village is continuing its build-out with townhomes off Tamarack and Hilltop Drive. In the same area, Emerald Heights began construction this past year. On the mountain, one of the remaining parcels in the original Chadwick development on Eagleridge Drive recently received planning approval for 10 condos and a duplex. Also slated this summer are 17 townhomes within Wildhorse Meadows. 
What's the hottest neighborhood right now? The mountain continues to maintain the lion's share of transactions, while Old Town's charm and proximity to schools, dining and shopping appeals to families and anyone seeking a more urban experience. The average number of active listings is hovering around 50 for properties in the Old Town area, ranging from $259,000 for a condo to $3,600,000 for a single-family home. The average price per square foot for single-family homes downtown or on the mountain is $375-$400/square foot.
Pam Peretz Shares Spa Day Secrets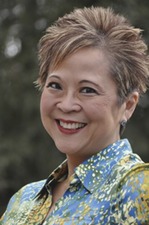 Photo courtesy Pam Perez
Steamboat Springs' full range of services makes it a perfect place for that special gathering: family reunion, conference or wedding. Pam Peretz, CEO of the Pamper Group, gives us the inside scoop on one of the most popular services: A day at the spa. 
Swedish, deep tissue, hot stone massage – how do you choose? Swedish is a lighter massage, with soft, gliding strokes that are calming and relaxing. Deep tissue is a stronger massage for those who are physically active and may be experiencing soreness. It's our most popular.  A hot stone massage utilizes heated river rocks to provide deep heat below the skin. It's relaxing and soothing. All are great choices, but my favorite is deep tissue. 
What time of day is best for a massage? It all depends on your schedule, but the best time to get a massage is when you can relax afterwards. Go home, put your feet up or soak at the hot springs in town. Drink plenty of water, especially at high altitude. Trust me, you'll sleep like a baby. 
Is it common to tip a massage therapist? Tipping is always considered a "gift" and while not to be expected, is certainly always appreciated. The majority of clients leave a 15-20% tip. If you're receiving a discounted service, consider tipping on the original cost. Spas sometimes add a gratuity of 18-20% for groups. 
What's a couple's massage? A couple's massage is when two people get a massage in the same or adjoining rooms. Each has his/her own therapist. It's not a time for talking about the kids, your day on the mountain or taxes. It's a time to share a tranquil and relaxing moment, side-by- side. 
Steamboat's an athletic community. What role does massage play? A huge role! Everyone needs a "tune-up" now and then. Massage provides good muscle memory staging, flushes lymphatic fluids and improves blood circulation. A massage before and after an event can enhance an athlete's performance and recovery. 
Is it OK to schedule a facial right before a big event? If you get facials regularly with trusted products, you'll know how your skin reacts. But, if you only do a facial once in a while, and it's a big event like a wedding, schedule your appointment in advance. Everything you can share about your daily regimen and lifestyle will help the esthetician choose the best treatment.
Fashion in the "Boat by Linda Cullen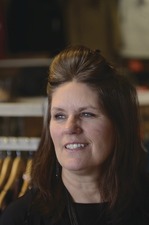 Photo by Aryeh Copa
No one knows the shopping scene better than Linda Cullen, owner of Chez Nous and Anchor downtown.
What are the highlights of shopping in Steamboat in the springtime? End-of-season sales and leisurely strolls down main street in the warm weather, stopping for a glass of wine on a deck, sidewalk café or rooftop patio. 
Where's the best place to park if you want to shop downtown for an hour or two? Seventh Street is the center of town, with easy access to shops and restaurants. Lodging shuttles drop off guests at various stops throughout downtown. Public lots are located at the corner of Seventh and Yampa streets, Eighth and Oak and 10th and Lincoln. 
How about on the mountain? Ski Time Square, with easy walking to the gondola area. 
What do women wear in Steamboat when they're going out for a nice dinner? Skinny jeans, a great pair of boots and a pretty top with a leather jacket, or that cute dress with a sweater and tights, short boots ... and lots of jewelry. Don't forget your hat and scarf – it's still cold at night. The latest looks for men encompass a street look that reflects the Colorado lifestyle – denim pants, a plaid woven shirt and a great jacket, beanie and a pair of leather mid-top shoes. 
What's the hot spring look for skiers and riders? The same as winter! March can be a snowy month but the "work wear" look is hot right now: slope-to-street without changing. 
What's the most versatile piece in your wardrobe? A great white t-shirt and skinny jeans. White, black and the new navy are staples for anyone's wardrobe this year. 
One of the themes of this issue is "3-Sport Days." If you have a day off and time to engage in three sports, what would they be? A morning hike up Emerald with the dog, tennis at the Tennis Center and a sunset horseback ride. 
What's your favorite outdoor springtime activity? Getting the yard and garden ready to enjoy all summer. Mountain biking or trail riding on my horse. Just walking along the Yampa River on the Core Trail.