Hot Festival Tickets
02/23/2014 03:49PM ● By Grant Johnson
Photo courtesy Ali Kawkas
By Jennie Lay
It's spring. That means you should be in the thick of planning your summer festival lineup.
Colorado's slew of sunny season festivals runs the gamut from beer fests to mushroom hunts, to eclectic music, wild art and mountain biking. Nary a weekend passes in this state without a road-trip-worthy jaunt. Every one promises a celebratory atmosphere amidst a crowd that is passionate about the theme du jour. Go for what you already love – or venture into the proverbial mosh pit and let them lure you deep into the festival spirit of something new. Here are three gatherings you shouldn't miss this year.
Mountainfilm
When the lights dim at Telluride's Sheridan Opera House during Mountainfilm, you stand a good chance of being wedged between two legendary climbers watching a film about their epic ascent of a Himalayan giant. This is the great convergence of sport, art and science, where the glitterati of all three merge and mingle for four days of adventure-heavy documentary films that tug your conscience and stoke your adrenaline. The film lineup is always mesmerizing and the screening venues scattered throughout downtown and Mountain Village all have worthy perks. The scene is electric and ultra casual, including evening films screened outside in Town Park, where even your dog is welcome. Partake in the ice cream social on main street and an organic community picnic for the awards ceremony. Don't skip the stellar morning coffee talks with filmmakers and live characters right off the festival screens.
Why's it a hot ticket? 75 new films from around the world, screened with all the insight of the filmmakers (and many of the featured subjects) on hand to discuss them in depth – maybe even over a beer.
Inside scoop: Go early for the smart, engaging Moving Mountains Symposium, all day on Friday, May 23, where the theme this year is Wilderness. Believe it – this may be better than going to TED.
May 23-26 in Telluride; www.mountainfilm.org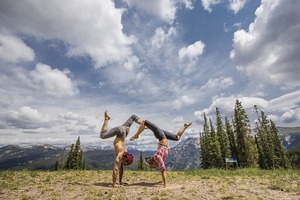 Photo courtesy Jake Laub

Wanderlust
Colorado's yoga festival is groovy, laid back and primed for you to experience every mind- and body-bendy practice you've ever imagined. After cutting its teeth at Copper Mountain during the past few years, Wanderlust moves to Aspen Snowmass for 2014. By day, sweat with the nation's top yoga teachers and experience styles of yoga that you may have never tried before. Step off the mat to listen to life-changing talks, experience meditations amidst the vibration of singing bowls, or push your envelope while learning slackline yoga or the partnering antics of acroyoga. After dark, the music, circus acts, fire spinning and multimedia art starts rockin'. There is magic in Wanderlust's giant love-fest. The dance parties are sure proof that practicing yoga fuels an energy that is downright electric.
Why's it a hot ticket? Yoga classes with Seane Corn, Shiva Rea, Rod Stryker, Tias Little. Dance parties with Trombone Shorty, Moby. Really good shopping at the Wanderlust marketplace.
Inside scoop: Custom-tailor your Wanderlust schedule so you can experience a variety of teachers, and don't forget to schedule time out for some of the amazing talks. Your body will thank you as much as your mind.
July 3-6 in Snowmass; www.wanderlustfestival.com

Lyons
The town of Lyons got soaked last fall. But they are rising from the flood and the legendary festival grounds at Planet Bluegrass are primed to deliver another season of epic music, including the 42nd annual RockyGrass and the 24th annual Rocky Mountain Folks Festival. Pick your musical poison, bluegrass or folk – neither one will disappoint. Now is the perfect time to return to this quaint town on the other side of Rocky Mountain National Park, where you can show your love for the community while sipping micro-brews at Oskar Blues, waging some friendly competition at Lyons Classic Pinball, then taking in the sweet sound of fiddle, mandolin and banjo from the shady riverside festival grounds. Now that the St. Vrain River has returned to its normally tranquil state, plop your chair in the water to keep cool (you can still see the stage) or tube downstream beneath Lyons' imposing red cliffs. All the festival camping is within walking distance and New Belgium keeps the beer taps flowing. The river's sandy beach is bona fide kid paradise.
Why's it a hot ticket? The lineup, of course: Sam Bush, Béla Fleck, Jerry Douglas, Peter Rowan Noam Pikelny & Friends, and Ricky Skaggs & Bruce Hornsby with Kentucky Thunder and more at RockyGrass. They make you wait until later in the winter for the Folks Fest lineup, but rest assured it'll be stellar.
Inside scoop: Be persistent. The Festivarian Forum on Planet Bluegrass' website is a surefire way to secure tickets for sold-out shows. Scalping is deemed "extremely un-festivarian and strictly forbidden."
RockyGrass is July 25-27 & Folks Festival is Aug. 15-17 in Lyons; www.bluegrass.com
Consider a 10-day festival staycation: Steamboat's Wine Festival runs into the All Arts Festival, Aug. 7-17.

Wednesday, August 6th
6 - 9 p.m.  Farm to Barn Wine Dinner, Steamboat Wine Festival; Larson Barn
6 - 7 p.m.  Piknik Theatre, Yampa River Botanic Park
Thursday, August 7th
Noon - 1 p.m.  Strings Music on the Green, Yampa River Botanic Park
5 - 7:30 p.m.  Wine on the Mountain Celebration, Steamboat Wine Festival; Thunderhead at Steamboat Ski Area
6 - 7 p.m.  Piknik Theatre, Yampa River Botanic Park
Friday, August 8th
4 - 7 p.m.  Stroll of Steamboat, Steamboat Wine Festival, Downtown Steamboat Spring
6 - 7 p.m.  Piknik Theatre, Yampa River Botanic Park
7 - 9 p.m.  Strings Music Pavilion concert
Saturday, August 9th
3 - 6 p.m. Toast of Steamboat, Steamboat Wine Festival, Steamboat Ski Area
6 - 7 p.m. Piknik Theatre, Yampa River Botanic Park
7 - 9 p.m. Strings Music Pavilion concert
Sunday, August 10
3 - 5 p.m.  'Dido and Aeneas' presented by the Opera Artist Institute; Julie Harris Theatre at Perry Mansfield Performing Arts School & Camp
6 - 7 p.m.  Piknik Theatre, Yampa River Botanic Park
Tuesday, August 12
Noon to 1 p.m.  Arias Concert presented by the Emerald City Opera, Yampa River Botanic Park
Wednesday, August 13
6 - 7 p.m.  Piknik Theatre, Yampa River Botanic Park
7 - 9 p.m.  Strings Music Pavilion concert
7 - 8 p.m.  Sketchbook Project Founder, Steven Peterman presentation, Bud Werner Memorial Library
Thursday August 14, 2014
Noon - 1 p.m.  Strings Music on the Green, Yampa River Botanic Park
2 - 6 p.m.  Visit the mobile Sketchbook Library, Bud Werner Memorial Library
6 - 7 p.m.  Piknik Theatre, Yampa River Botanic Park
Friday August 15, 2014
Noon - 8 p.m.  Yampa Art Stroll, Steamboat Ski Area Promenade
Noon - 4 p.m.  Visit the mobile Sketchbook Library, Bud Werner Memorial Library
1 - 5 p.m.  Conductor's Workshop presented by Emerald City Opera, Perry Mansfield Performing Arts School and Camp
5 - 7 p.m.  Art Steamboat awards ceremony and art sale; Steamboat Ski Area Stage
6 - 7 p.m.  Piknik Theatre, Yampa River Botanic Park
7 - 9 p.m.  'Falstaff' presented by the Emerald City Opera; Steamboat Springs High School
Saturday August 16
9 a.m. - noon  Conductor's Workshop presented by Emerald City Opera, Perry-Mansfield Performing Arts School and Camp
11 a.m. - 7 p.m.  Yampa Art Stroll, Steamboat Ski Area Promenade
2 - 5 p.m.  Conductor's Workshop presented by Emerald City Opera, Perry Mansfield Performing Arts School and & Camp
6 - 7 p.m.  Piknik Theatre, Yampa River Botanic Park
7 - 9 p.m.  Strings Music Pavilion concert
7 - 9 p.m. 'Dido and Aeneas' presented by the Opera Artist Institute; Julie Harris Theatre at Perry Mansfield Performing Arts School and Camper
Sunday August 17 2014
10 a.m. - noon  Conductor's Workshop presented by Emerald City Opera, Perry Mansfield Arts School and Camp
11 a.m. - 3 p.m.  Yampa Art Stroll, Steamboat Ski Area Promenade
1 - 3 p.m.  Conductor's Workshop presented by Emerald City Opera, Perry Mansfield Arts School and Camp
3 - 5 p.m.  'Falstaff' presented by the Emerald City Opera; Steamboat Springs High School
6 - 7 p.m.  Piknik Theatre, Yampa River Botanic Park