Vernon Summer
11/09/2013 11:39AM ● By Christina Freeman
Riding strong: Vernon Summer and his horse, Frisky, circa 1935. Photo courtesy Tread of Pioneers Museum.
By Jennie Lay
Steamboat Springs, CO - Vernon Summer was a ranching ski patroller. He was a rodeo cowboy and an inaugural county planning commissioner. He helped scout the Steamboat Ski Area and blazed early descents down the Yampa River. Over nearly a century, he hunted, fished and trapped every nook and cranny in Steamboat Springs' mountains. When he passed away two weeks before his 95th birthday, his sharp memory and candid storytelling remained as keen a link to the past as a bridge to the future.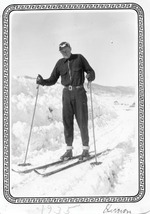 Summer lived the Old West and the New West. He embraced them equally. He also proved to be somewhat of a curatorial pack rat who made sure there was a piece of tangible history to document his decades on Earth.
When Summer died in 2012, the Tread of Pioneers Museum acquired its biggest single collection to date. This is an unusual acquisition, as it includes memorabilia that is important to the Summer family story, but also the history of the Yampa Valley. A century worth of artifacts from daily life was tucked away in Summer's home and barn. While these items tell the story of a legendary local who was deeply involved in many important facets of the community, perhaps more significantly, they tell the larger story of ranching, skiing, rodeo, land use and the dawn of the New West that grew up around Sidney, the ghost-hamlet just south of Steamboat where Summer grew up.
These are treasures that will feed museum displays for years to come.
Summer's grandfather emigrated to the United States from Austria in the early 1870s. Following the success of Colorado's bustling mining towns, he and his brother operated breweries along what is now the I-70 corridor until they landed in the Yampa Valley in 1889. They purchased a 160-acre homestead in Sidney, which remained the Summer family's working ranch until Vernon's death. Vernon purchased the land and took over running the operation at age 19 – third generation on the ranch. He grew the acreage and pursued the new sciences of soil conservation, controlled cattle grazing and seed studies to help determine ideal grasses for the area.
Always progressive, when Routt County voters passed a property tax to help fund local land conservation in 1996, Summer's conservation easement was one of the first Routt County Purchase of Development Rights demonstration projects. "The only thing you can count on is change," Vernon said, musing over what the Yampa Valley might look like 50 years from now. "But all this open space will be the same."
Since Vernon and his late wife Edythe had no children, the Summers had some unusual instructions for their estate, for which Allan White and Jane McLeod, his long-time friends and neighbors, are the executors. While the ranch itself is in the process of ownership transfer to an up-and-coming agricultural operator, the intimate items from the Summers' home were dispersed. White and McLeod worked closely with museum curator Katie Adams, surveying items and sharing the stories and memories behind everything from well-worn cowboy hats to candlesticks.
These are the relics that will warrant trips to the museum for years to come, both for the current exhibit that honors the Summers, and new ones that their artifacts will surely illuminate.
A perusal of these prized possessions reveals a life in this landscape. Old fence posts, a hay knife, a wire-wrapped hay fork, a worn ice chopper and a handheld scythe from the turn of the last century that Summer used to cut the grass in his yard well into his 90s. Summer's leather work chaps make it clear that he did his own leatherwork repairs, and his signature denim work jacket is forever laden with dirt from his field. An old irrigation shovel reveals that Summer kept fixing it, since it was perfectly suited to his tall frame. "This was his gold, because this was his livelihood to get water to himself and others," Adams says. "He could have gone and gotten new tools, but he continued to use these 150-year-old implements that worked just as well."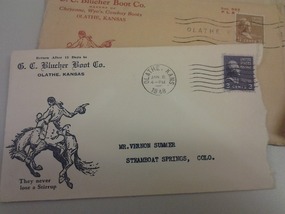 One of the more compelling additions to the museum collection is the first pair of cowboy boots that Summer ever bought for himself. Not only did he still have his prized boots, but he still had the receipts and warranty from Blucher Boot Company in Cheyenne, Wyo. He bought them when he was 17. "It's a curator's dream," Adams marvels. "He kept everything."
The warranty for Vernon Summer's first self-purchased pair of cowboy boots, 75 years ago. Photo courtesy Vernon Summers.

The museum is now home to a marvelous array of Summer's cultural relics: Winter Carnival buttons, NASTAR race cards, rodeo belt buckles, Summer's team roping card for the Steamboat Roping Club, a seed sower complete with the canvas bag, a ripped fishing net fixed with a historic Yampa Valley flour sack whip-stitched around the rim, and the original Stagecoach Ski Area trail map. There is a local 1918 license plate, and one that is possibly even older. Summer's personal items include letters, Stetsons with the same signature feather fly on each hatband, his Boy Scout sash, ski passes, Winter Carnival grand marshal badges and even his dented childhood marbles in glass and clay.
Not to be missed are his 1952 calf roping champion buckle and his 1949 second place buckle featuring a steer with gleaming ruby eyes.
If you never had the pleasure of sitting in Summer's living room beneath the paintings of this iconic cowboy that Gary Hawk made for Hallmark Cards, you can now admire them in the museum. Just like always, Summer was captured in his signature denim jacket, Stetson and a self-made leather fence staple holder bag and belt. "Gary was in love with Vernon," Adams says, "as is everyone else I talk to."