Creative Spark
11/09/2013 11:31AM ● By Grant Johnson
AP studio art student Rachel Pierce (top) , Jili Jennerjahn (middle) and Serena Santiago (bottom) show pieces inspired by local painter Jan Wilman's work during an October gallery show at the high school.
By Jennie Lay

Steamboat Springs, CO - Creatively speaking, Steamboat Springs High School art teacher Morgan Kraska is taking her students to the big game. Art students rarely get the level of exposure and accolades that athletes incur. But that was before Kraska's dream to cast them on their own playing field saw its reality in the high school's Jack Finney Memorial Art Gallery.
This is Kraska's sixth year teaching in Steamboat, but she remained inspired by the California school where she previously taught, where an old classroom next to hers was repurposed as a gallery. "I really fell in love with the idea. It was such a great motivator for the students, something they would put their heart and soul into. It was so special to see them honored," she says. Making sure Steamboat's art students got their own turf became her priority.
Two years ago, the high school art department received a $10,000 grant from the Finney Legacy Fund, which was seeking an inaugural project to support arts within the school district in honor of late local sculptor Jack Finney, who will also be fondly remembered for his iconic bronzes of Billy Kidd, Buddy Werner, Hazie Werner and Doak Walker that are prominently located throughout Steamboat. Last year, the gallery's 300-square-foot structure was built inside the high school entrance, with direct access from the commons. Since then, the facilities have continued to grow in their professionalism and potential, including a new gallery hanging system and acquiring a set of class frames.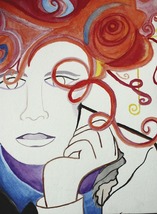 "The whole thing is to make it as real and as professional as possible. To have it be like hanging in a real gallery," says Kraska. "Putting this gallery center front at the entrance to the high school shows how much this district values art."
The gallery features monthly shows. On the docket are shows by students, staff and professional local artists who can expose students to a diverse and high caliber of work. In the case of professional collaborations, the shows open up opportunities for students to not only interact with pros, but display work alongside them.
"The goal with the space is to keep it professional – to keep its integrity as an art gallery so students can have great pride and experience," Kraska says.
Local contemporary painter Jan Willman is mentoring the Advanced Placement studio art class this fall. Giving students a hands-on opportunity to both interact with Willman and create their own work in response to her paintings, a curated show in early October showcased both Willman's art and the derived works – a mentor alongside her students.
"We are teaching our students the public side of being an artist. It's the part no one ever talks about," says Kraska. Talent only gets an artist so far. The gallery is a means to engage students in learning about the other critical components of earning a living at their craft. That means being a business person who stands up and actively shows one's art, knows how to hang the work in a space, promotes the show and throws a reception. "We have a lot of kids going into prestigious art schools from Steamboat. We're setting them up early compared to my first show in college. I was a nervous wreck."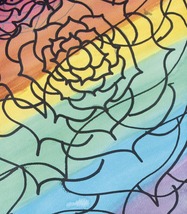 For now, students work with Kraska as interns, learning how to book and hang the exhibits, and promote them. Her mission is for students to take on more and more responsibility over the next few years, and eventually become a wholly student-run gallery for an expanding art curriculum that runs more like a college than a high school.
"It is nice because they do reach a level of mastery with these subjects," Kraska says. "They really do get to dive in, in depth."
The Jack Finney Memorial Art Gallery is open during school hours. Visitors must check in at the high school office directly across from the gallery.