More Stage Presence
11/09/2013 11:18AM ● By Grant Johnson
Sara Stout and Charlie Tisch play the child-seeking bakers and Carly Hanley is the witch in Steamboat Springs High School's fall producton of "Into the Woods". Photos by Jennie Lay.
 By Jennie Lay

Steamboat Springs, CO - Slurping down a quick ramen dinner during a 10-minute rehearsal break, Jamie Oberhansly peers sheepishly around the Steamboat Springs High School lunch room. The space is swarming with kids letting off steam en route to all kinds of athletic practices. The drama teacher bears the secret selection for the school's next theater production. No one can overhear this revelation.
Shielding her mouth from potential lip readers, she leans forward and whispers "Murder in the Knife Room," into my ear. She's grinning. The script is a "farcical murder," she later explains.
This is highly-prized information at the high school. For Oberhansly and musical director Wendy Dillon, mystery is part of building excitement and anticipation for theater among all kinds of students.
They'll have seven weeks to audition and rehearse this play between the fall musical and the pre-Thanksgiving show dates.
Traditionally, the high school produced one musical and one dramatic play each year, but this year they've added a third production. At the end of September, "Into the Woods" debuted on stage with 23 actors and 22 students on the technical crew. Students auditioned for the modern fairy tale mash-up last June, before school let out. They went home for summer vacation with sheet music. The stage was set for upperclassmen, but freshmen started earning their experience on the technical crew. A second musical takes the stage in February, leaving room to produce an evening of one-acts and a variety show in the spring.
The dramatic arts are clearly expanding at Steamboat's high school.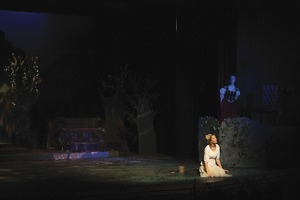 Perhaps Oberhansly's creative science for picking plays is working: "There's always a method to my madness. I like to be edgy and not always run of the mill. I like to get people talking. My goal was to teach all these students who are not involved in theater that it can be a cool thing, that theater can be fun to see. It's not all 'Guys and Dolls,'" she says. "It makes me so happy to have a high school athlete come in and say they loved the show. We're generating interest to hook them."
Oberhansly, who teaches English, speech and drama, and is the assistant speech team coach this year, says interest in theater was limited when she arrived three years ago. There was a single theater class and no drama club. This year, the school is offering three progressing theater courses, and the student-run drama club is attending the Colorado State Thespian Conference with more than 30 student actors.
Another great motivator is the now constant presence of experienced stage technician and actor Kelly Anzalone as the high school's technical director. While students run their own departments for lighting, sound, costumes and makeup, they now have a sure and steady hand to guide them.
 "My goal was to show these kids that it doesn't matter who their friends are or what their background is – that they can came together and have fun and support each other," Oberhansly says. "I wanted to ignite some new passion into theater. Really, they light me up. They call me Mama O, like I'm their theater mom. I swell with pride and happiness."
"Murder in the Knife Room" takes the Steamboat Springs High School stage at 7 p.m., Thursday-Saturday, November 21-23. Student actors are also seeking sponsors to attend the Colorado State Thespian Conference in December.
High School Fall Play: "Murder in the Knife Room" 
Thursday, November 21, 2013 | 07:00PM 
Steamboat Springs High School students present the farcical murder story "Murder in the Knife Room." Read More