Going GeoThermal at Poverty Bar
09/11/2013 12:52PM ● By Grant Johnson
By Gena Fischer
Steamboat Springs, CO - A home in historical North Routt County may seem like an unlikely place to install sustainable geothermal heating. But the system's effectiveness dissuades skeptics and gives owners Tommy and Petra Bernehed a warm welcome every time they visit their 4,400-square-foot retreat.    
Despite the extreme climate at 8,000 feet near Pearl Lake, Tommy and Petra's home stays warm thanks to a recently installed geothermal heat pump, a heating system popular in Tommy's home country of Sweden. Around since the 1940s, geothermal heating and cooling systems reduce dependence on other energy sources by deriving their heat source from the Earth. Happy to be reducing their home's carbon footprint, Tommy and his wife, who spend much of the year in Germany, rave about their new heating system, and are looking forward to enjoying it year-round when they retire full-time to their North Routt home.

German native Petra was spending a ski season in Steamboat back in 1987 when she first laid eyes on the property now known as Poverty Bar, named after the nearby Poverty Bar mine, one of the richest mines in the Hahn's Peak Mining District during the mid-1800s, as well as the Poverty Bar stream that runs through the property. Little did she know that it would eventually become the site of her and her husband's Colorado get-away. "I was on a drive and came over Willow Pass and saw this beautiful meadow surrounded by Hahn's Peak and the Mount Zirkel mountains," she says. "It was so beautiful I never could forget it."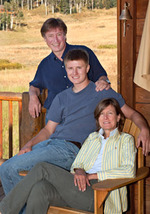 The young couple purchased the 12-acre property in 1990, along with a dome-shaped log barn built by Wayne Adamo of Fair and Square Construction, who stored his construction equipment there. It was hard to miss the structure due to its unique shape -- it was built in the same fashion as many of Routt County's original barns -- and had become somewhat of a modern-day landmark for the turn-off to Pearl Lake. After Tommy and Petra purchased the property, they waited a decade until they decided to turn the barn into their log home.

"Our goal was to keep the integrity of this place," says Tommy, who hired German architect friend Martin Heerich to complete the design. "The local architects came up with designs that looked like homes in the Sanctuary, but what we really wanted was..."

 "Well, this," interrupts Petra, sweeping her hand at a modest-yet-inviting great room beaming in amazing light.
Comfy couches fill the space, focusing on the gorgeous mountain views and moss rock fireplace built by a local Hahn's Peak artist. "We wanted something that was more us, and we wanted it built using the original barn structure," adds Petra.

Local builder Jamie Letson served as contractor, and "did a fantastic job, working with clients over 5,000 miles away," Petra says. "It was 1999, and was really before today's computers, so everything was done by phone, fax and photographs. Jamie was really great at sending us pictures and keeping us up to date."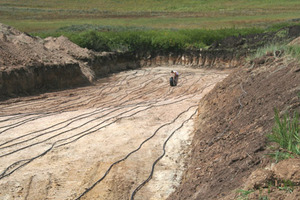 Energy efficiency was an important goal, and Jamie built one of his first super insulated homes by insulating the logs inside and drywalling the walls and ceilings. The couple wanted geothermal heating for their new home, a technology that relies primarily on the Earth's natural thermal renewable resources -- or in their case the insulated dirt six feet beneath their back yard -- but were advised against it because propane was so cheap at the time. The two thought ahead and installed in-floor radiant heat piping in case they changed their minds. They did.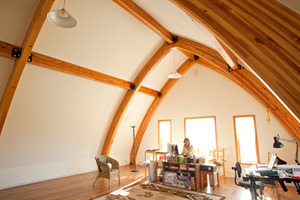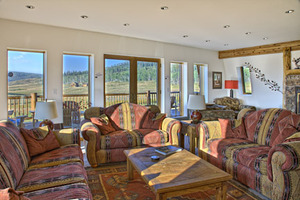 Fast forward 10 years to insane propane prices (the couple paid $5,900 for propane in 2007) and it was time to switch systems. In 2008 they dug a huge pit six feet deep, 100 feet wide and 250 feet long behind the house and laid 6,200 linear feet of piping, all part of creating their $60,000 hydron-module geothermal heating system. "The system was put in by a company from Denver, but their after-sales service wasn't great," says Tommy. "But with the help of local heating experts Dave Levine and Matt Cretney, we finally got the system running properly last October." Total heating costs for the home decreased from $6,500 (including electricity) in 2007 to $3,300 in 2009, although electric bills increased more than expected. "In the future we'd be interested in supplementing the system with solar and wind power," Tommy says. The couple estimates that the system will pay for itself in the next 15 years, if energy prices stay the same.
The system works like this: water-filled pipes buried on the property collect warmth from the constant temperature of the Earth, 57 degrees six feet below the surface. This water then goes through a heat pump within the building that takes the heat out of the ground source water via a heat exchanger and transfers it to the home's in-floor piping system, where it is circulated as heat. The now chilled water from the ground is re-circulated back into the ground to be reheated again by the earth, creating both an energy efficient heating and cooling system. "So far we've halved our total energy cost," says Tommy, adding that their carbon footprint hasn't been reduced as much as they'd like because of increased electric bills. "We're looking at alternative ways to generate electricity to finally reach our goal of an emission-reduced house." 

Other energy savings come from passive solar, created by the home's south-facing windows. Two sun-filled bedrooms and a small bath are on the lower level, providing plenty of privacy for the couple's guests. The master suite, which Tommy says "has the best morning coffee deck ever," and windows showcasing Petra's favorite meadow are on the third level. Also on this floor is an additional bedroom for son, Aiko, a college student in Germany. The main level, along with the living room with two sitting areas, has a dining room and half-bath, as well as steps leading down to an addition housing the kitchen and a sun-filled room they call the "winter garden." "This is perhaps one of the best rooms in the house, and it's a room they tried to talk us out of having," Tommy says. "When the sun comes pouring in, the cocktails at sundown are fantastic here."   
Another addition, borrowing the same shape as the original dome structure, was built for the two-car garage and an upstairs studio where the couple spends most of their time. Two walls filled with windows let plenty of sunlight in, and curved glue-lams arch over the space, creating a timber-frame look on the rounded ceiling. "This is our favorite part of the house, and my son and I keep trying to talk Petra into putting a pool table up here," says Tommy.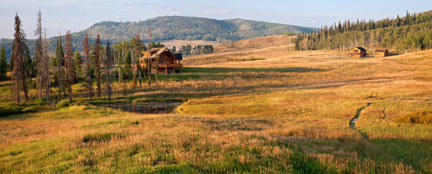 Petra and Tommy travel to Colorado about four times a year to spend time in their home, tinkering away at various projects such as finishing a bathroom or trimming studio walls. But it's their new heating system of which they are most proud. "Geothermal heating is unique in North Routt," says Petra. "We're trying to get the word out about it. Not only is it green, but it reduces our dependency on oil. It's really the heating system of the future."

--For more information on the Poverty Bar home, visit povertybar.com. For information on the Poverty Bar Trail, a 1.1-mile hike highlighting the history of the region's gold mining, visit ohranger.com/co/steamboat-lake/poi.