Contemporary Legacy
06/16/2013 11:53AM ● By Grant Johnson
Photo courtesy Perry-Mansfield Performing Arts School & Camp.
By Jennie Lay

Steamboat Springs, CO - After a century nestled in Strawberry Park, the idea of Perry-Mansfield may initially seem quaint – a sweet little performing arts summer camp with rustic log cabins and open-air studios. Without having been there to see a dance or theater performance, one might assume the curriculum is staid or strictly classical. Old World, perhaps?
This couldn't be further from truth. Not now. Not ever.
The irreverence of Perry-Mansfield in the Roaring 20s might be compared to a modern-day Burning Man. In an era when women danced in long wool skirts and corsets, what was going on in Steamboat Springs was downright brazen. Charlotte Perry and Portia Mansfield, the young, adventurous and well-educated founders, set up their camp in Colorado to cast off the stuffy trappings of society and make cutting-edge modern art. Their dancers wore short, filmy gowns, danced barefoot and dabbled in vaudeville. Their summer hideaway in Strawberry Park was an instant magnet for artists who wanted to push the envelope.
In the evolution of what we now call "modern dance," Perry-Mansfield is a critical part of the narrative. The most innovative, iconoclastic artists of their times were coming here to make art and teach. They came because it suited their sensibilities: isolation, solitude and permissiveness to create. They didn't come because they were paid well; they were not. They came because this was a place that allowed them to make art the way they wanted to make art.
"These are people for whom we now worship at their shrine," says executive director Joan Lazarus of the dancers and actors who passed through Perry-Mansfield in its early days.
Actors changed how art transpired in the theater, while visual artists and dancers comingled. Together, they were experimenting. Perry-Mansfield was a seasonal stop on a circuit of like-minded havens around the country, including Jacob's Pillow in Massachusetts and Bennington College in Vermont. The artists came to teach, and in doing so they learned to articulate the new modern styles they were creating. They collaborated. They turned their students into principal dancers with leading companies and Hollywood stars.
 "One of the most famous collaborations in the 20th century is Merce Cunningham and John Cage. (The dancers) came here to work together. They made art together and then they took it home," says Lazarus. "Portia and Charlotte brought the most forward-thinking, groundbreaking artists of their time here, together, in this setting, because they believed that intersection with nature would do something for those artists as well as the students."
This is Perry-Mansfield's legacy – and its future. It remains a place for artists to stop, sit on a cabin step and evaluate their work. The art is nurtured in nature. It is a space to teach and create new work. As a student, it is 24/7 immersion. 
The next 100 years
"Charlotte and Portia's facilities, 100 years ago, were awesome. Ours need to be awesome too," Lazarus says. Keeping to the spirit of what Perry and Mansfield created is a top priority. "I don't want to mess with the magic. We're very lucky that we're on the National Historic Register, and because of that we know where certain lines are."
Still, some of the log cabins need foundations. Studios need bathrooms. What was groundbreaking when the women built the camp no longer applies. Modern sustainable construction will be needed to carry on in that tradition. Being light on the land is a priority as Perry-Mansfield considers needs and options for expansion and renovation into the next century.
The big dream is to add a proscenium stage – a 250- to 300-seat theater right at the center of the camp. "In our field, in this time, it's very hard to get artists of a certain caliber to come and spend a summer, to consider making it work, when the facility is limiting," Lazarus says. At the time it was built, even by the standards of visiting artists like choreographer Martha Graham, Perry-Mansfield's theater was spectacular. Today, Perry-Mansfield's stage is simply small and awkward.
A new theater would be state-of-the-art, maybe even inspired by a modern architectural rendition of the camp's 53-year-old Louis Horst Studio. It would be accessible for the community to use year-round, a place for local dance and theater groups to call home, and a space for world-renowned artists to host residencies, create art and share it with the community. "I want this to be a place where people say, 'I made this piece last year at Perry-Mansfield,'" Lazarus says, while Steamboat gets to watch the works in process. 
"Perry-Mansfield helped give us a broader exposure to a culture other than ag or mining," says fourth generation Yampa Valley rancher Bill Gay of Green Creek Ranch. Reminiscing about the people and ideas that flowed in from the outside, that flooded into Steamboat and nurtured an appreciation for art, culture and unconventional ideas, he says, "We were eons ahead of our time. And we're really lucky. Steamboat has always had that wonderful acceptance and broad view of life."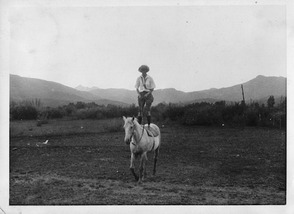 Dancers on Horseback Dance, theater and equestrian have always created the three-sided equilibrium that makes Perry-Mansfield's curriculum so unusual. Charlotte Perry's sister, Marjorie Perry, was on the camp's faculty from the start and as a skilled horsewoman, she was head of the riding department. Starting in 1925, Marjorie was assisted for many years by Eleanor Bliss, one of the founders of the Steamboat Springs Arts Council. At Perry- Mansfield, horses always have been part of that "profound intersection with nature…the catalyst, the spice in the stew, the thing that made Agnes de Mille create 'Rodeo,'" says Joan Lazarus. In fact, campers were required to go on a three-day horse pack trip through the 1950s. These days, the daily schedule ensures that every camper who wants to study equestrian can do so.  Photo courtesy Perry-Mansfield Performing Ars School and Camp.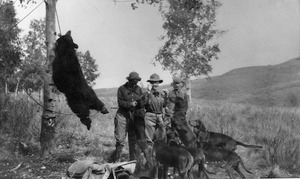 The Bear Hunt That Sold Them on Colorado In October 1912, Charlotte Perry's father took his daughter and Portia Mansfield on a bear hunt, traveling through the Rockies on horseback. They fell in love with the landscape and decided to start their summer arts camp. Perry wrote, "We called it a camp because we and our students would live under primitive conditions and would swim and ride and explore the mountain country…Climbing far up into the hills on horseback, we knew where to find wild raspberries, the first choke-cherries, the best waterfalls, even where to expect mushrooms after a rain." Photo ID Number 10041704 courtesy History Colorado - Perry-Mansfield Dance Camp Collection - 10041704.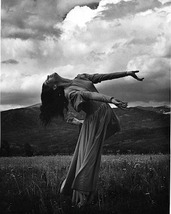 Rocky Mountain Dancing Club Before Charlotte Perry and Portia Mansfield renamed the Strawberry Park camp in 1921, they wrote a plan for the Rocky Mountain Dancing Club: "It is to be deep in the heart of the Rocky Mountains, where the rushing streams flow straight from the snowy peaks of the Great Divide, and the wind blows fresh through the forests of dense pine and spruce. Here life is free, simple, and sweet. For perfect expression in dancing, music or any creative art, freedom of the body, and of the spirit, is necessary. Life in the great silence of the stern white peaks is healthful and free, it recreates the body and the mind in simplicity and beauty." Photo courtesy Tread of Pioneers Museum.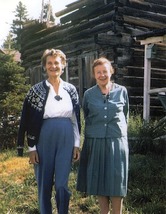 The Leading Ladies Charlotte Perry and Portia Mansfield met while studying at Smith College. Mansfield studied dance there and gave her earliest recitals on the Smith College lawn, barefoot and wearing a chiffon tunic. Perry's passion was drama and she was involved with the college theater and orchestra – including playing the violin.  Photo courtesy Perry-Mansfield Performing Arts School and Camp.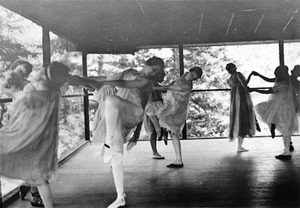 Dance Education Perry-Mansfield's 1928 brochure listed the summer's dance classes: "rhythms, phrasing, ensemble, choreography, composition, Greek Plastique Technique, interpretive body and arm work, aerial and floor technique for great elevation and speed, fox trot, Argentine tango, adagio studies, Spanish heel work, castanet playing, music appreciation, Russian and Italian technique, tap, soft shoe, buck and wing dancing, line work, musical comedy routines, limbering and stretching, beginning and advanced acrobatics and web work."  Photo courtesy Tread of Pioneers Museum.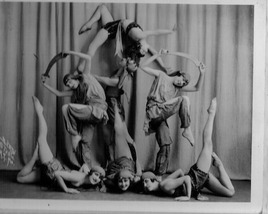 Off-Season The Perry-Mansfield Dancers toured North America in the off-season on vaudeville circuits, performing Portia Mansfield's choreography before returning to Colorado for the summer.  Photo courtesy Perry-Mansfield Performing Arts School and Camp.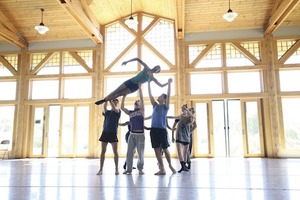 New Works Utilizing the camp's most modern studio as its breeding ground for new choreography, the Thang Dao Dance Company rehearses for the New Works Festival in Perry-Mansfield's Steinberg Pavilion. Photo courtesy Perry-Mansfield Performing Arts School and Camp.
Find more information about Perry-Mansfield's 100-year celebration at perry-mansfield.org
Also in celebration of the 100 year anniversary, The Tread of Pioneers Museum is exhibiting "Creativity in Motion: Celebrating 100 Years of Perry-Mansfield."