A Himalayan Connection
06/16/2013 03:17PM ● By Grant Johnson
Julie Green with the "little nuns" at their new school in Kathmandu. Photo courtesy Julie Green.
Additional Himalayan Images [32 Images]
Click Any Image To Expand
By Jennie Lay
Steamboat Springs, CO - "True compassion does not come from wanting to help out those less fortunate than ourselves but from realizing our kinship with all beings." ~ Pema Chödrön
Generosity has been known to run rampant in Steamboat Springs. This kindness is not limited to the physical boundaries of our town. Local curiosity and wanderlust have led to many projects that help culturally and logistically distant places.
With a kinship for big mountains and Steamboat's thriving Buddhist center, the connection with Himalaya runs deep. Recently three significant and unrelated projects for Tibetan Buddhist nuns have transpired from Steamboat locals.
Julie Green, Glenna Olmsted and Algienne Amrita have led ambitious fundraising efforts to help nuns build substantial educational facilities in Nepal and India. Now, they are watching these buildings, and their vast potential to preserve scholarly Tibetan Buddhist traditions, rise from the soil. More subtle than bricks and mortar, the three have realized an opportunity to help empower women in this Far Eastern culture.
Educating little nuns
In 1996, Steamboat resident Julie Green traveled to Nepal, where she was exposed to high-level Buddhist teachers. "It was a lovely evolution of things," she says. "I was fascinated. It was a mind-blowing experience."
By 1999, Green was en route to Crestone for her first week-long silent retreat with Tibetan teacher Tsoknyi Rinpoche. When she formally asked Tsoknyi Rinpoche to be her teacher a few years later, she also asked if she could help him as a volunteer. Green assumed her teacher would have a Colorado task for her. Instead, he enlisted her help caring for and teaching 4,000 nuns in Tibet.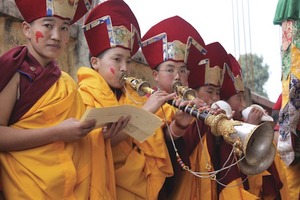 Tibetan Buddhist rituals are a part of the nuns' study and practice.  Photo courtesy Julie Green. 
In the 1800s, the first Tsoknyi Rinpoche created nunneries in Nangchen, Tibet, to give them the highest levels of teachings. This bucked an ancient male-dominated tradition, but these women were remote, independent and safe – until China's Cultural Revolution. The second Tsoknyi Rinpoche was jailed and killed and the nunneries were destroyed. Some of these highly educated nuns survived by hiding out in caves and homes. By the 1980s they started reemerging and rebuilding, re-using the rubble from historic nunneries. Green's teacher has resumed his lineage's tradition of supporting female monastics.
In 2005, Green visited the Nangchen nuns. "To educate them to have the highest teachings and continue this tradition is a real passion," she says. "It's incredible that these women had the fortitude to pick up and do this, to rebuild."
Meanwhile, Tsoknyi Rinpoche visited his childhood home in northern Nepal and noticed that there were no girls in the village's new school. They needed help, and he offered it. In 2011, as Green was preparing to leave on a pilgrimage with Tsoknyi Rinpoche, 82 young village girls appeared at a crumbling monastery he had inherited in Kathmandu, where about 40 nuns from Nepal and Tibet had recently moved. Suddenly, more than 125 people were living in a space designed for 35. Green and her fellow pilgrim Jean Chang led an impromptu fundraiser that brought in $26,000 and a car for grocery shopping, medical needs and transportation.
A year later, Green returned to Kathmandu, again to help Tsoknyi Rinpoche. Architectural drawings were ready to go for an integrated educational center for girls age six and up – a facility for 200 nuns. "Suddenly, we were in the middle of a $4.5 million campaign. It had to happen. They want to preserve their Tibetan culture. They want their girls to get an education," Green says. The girls will attend the accredited Nepali primary school through eighth grade, then move into the shedra, a Buddhist university, for nine years. Twenty percent may decide not to be nuns, but will go into the community as educated women.
The primary school is almost finished and the shedra and residence hall are under construction. 2025 will yield the nunnery's first potential Tibetan Buddhist teachers.
The hope is that some of these girls will become dharma teachers, a rare role for Tibetan women. "There have been very few, ever," Green says. "They were hardly ever written about. This is a big deal. I'm looking forward to receiving teachings from these nuns in my lifetime. That would be the biggest happy ending in my life."
Pema Chödrön's retreat
Glenna Olmsted has been overseeing the Pema Chödrön Foundation's construction of a three-year retreat center, also near Kathmandu and the complex that Green has been constructing. This is where nuns go after finishing shedra, a place of intense and isolated practice.
In 2000, Olmsted met Pema Chödrön, a notable American in Tibetan Buddhism, when Olmsted's husband, Tim Olmsted, was selected as director of her monastery in Nova Scotia. Glenna became personal executive assistant to Pema Chödrön, a nun who would soon see rising fame. "How hard can that be, right?" she laughs. "Back then she wasn't as big as she is now."
"Books had something to do with her fame," Glenna says. Generally, these come from transcriptions of her teachings. They directly seed the foundation, because as a nun, Pema Chödrön doesn't take any income herself. "She teaches to a mainstream audience, not necessarily Buddhist people. The way she teaches has helped so many people. Her following got bigger and bigger. And she's very funny. It's not that she just has this great message…she's kind and she just wants to help people. That's been her life."
As Pema Chödrön's popularity grew, her books and tapes raised enough money to endow the Gampo Abbey and build another legacy. During a live stream of her teaching in 2011, Pema Chödrön announced her intent to help the Nangchen nuns. "All of a sudden…people were donating like crazy," Glenna says.
The Pema Chödrön Drubde is a three-year retreat center for accomplished senior nuns. "These are opportunities that flat-out don't exist for nuns in Tibet these days," Glenna says. "They have been so dedicated in their practice and their study, and they are the ones that are going to carry on my teacher's lineage."
Excavation is done and the retreat center is rising from the ground. Nuns will inhabit it within a couple years. "We hope this is a new opportunity for women as teachers – Tibetan women," Glenna says.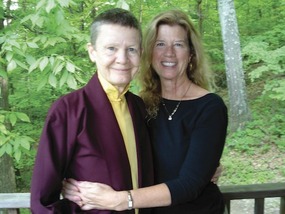 Glenna Olmsted with Tibetan Buddhist nun.  Photo courtesy Glenns Olmsted. 
A shedra for every lineage
Algienne Amrita has been going to India since 1970, when she and a fellow adventurer drove the "hippie trail" from France to New Delhi via Afghanistan.
In 2000, she attended the dedication of a Tibetan monastery in exile in far northern India, where she donated new computers for the monks. Texts and artifacts that were hidden in Tibet when the Chinese invaded in 1959 continue to surface, and a huge movement is afoot to translate them – hence the special need for computers.
"Nuns and monks were entrusted by Buddha to keep the message straight and true. They maintain the essence," Amrita says. "Buddhism permeates the Himalayas. Prayer flags are everywhere. When you say 'Tibet,' you are thinking the whole Himalayan region, culturally. When Tibet fell to the Chinese communists, the entire area was de-stabilized. The Dalai Lama escaped and a mass exodus followed him into exile. Monks and nuns continue to risk their lives to make the dangerous crossing over the high mountain passes to be with their teachers and lineage holders in India and Nepal."
Soon after sponsoring computers for the monks, Amrita received a request from nearby nuns at Tilokpur for computers for their office. She returned to India and stayed at the nunnery itself. "It was small and old, but something really clicked. I felt very connected to the nuns," she says. "When the water went out, I wanted a hot shower at this place that I loved. So I began by sponsoring bathrooms."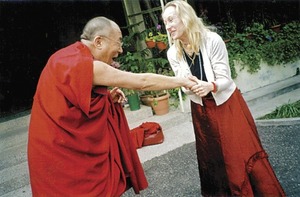 Algienne Amrita greets the Dalai Lama while fundraising for the Tilokpur nunnery's shedra.  Photo courtesy Algienne Amrita. 
Through her nonprofit, Ohana Maitreya, Amrita began a campaign to complete construction of a $1 million shedra for the Tilokpur nuns. The campaign launched in November 2008, just as Wall Street crashed. Amrita persevered. This May, the nuns finished their shedra, with its temple, classrooms, dorms and a big kitchen.
"With the completion of this project, each of the four main lineages of Tibetan Buddhism has a facility for the further education of nuns," Amrita says. "It's the cream of the cream that gets this higher education. We want nuns to have the same opportunities as monks. The bias is to keep girls home to farm, cook and marry them off at 13. A monastic education that is supported by general education and computer skills brings them into the 21st century while preserving the priceless traditions of Tibetan Buddhism."
The Tilokpur nunnery is filling with senior nuns as well as young nuns, some of whom left dire circumstances in the border regions. Ohana Maitreya is now fundraising for teacher salaries for all lineages.
"It's education and empowerment of women. It's keeping alive this incredible legacy that's for all of us. We do more than charity work. We are helping to keep alive a priceless legacy that is for all of us, one that could easily be lost in a generation," Amrita says. "I'm so passionate about this. These people really need help, and yet what I do is selfish…I want these teachings and this practice, this way of being in the world."
August 16 -19, 2013 - Tsoknyi Rinpoche returns to Steamboat.  This will be an historic visit by one of the center's founding 'lineage' teachers.
Visit the Steamboat Buddhist Center event calendar for additional details on Tsoknyi Rinpoche's upcoming Steamboat visit.
Give now to support Tibetan Buddhist nuns. Ohana Maitreya builds housing, educational, and devotional facilities for Tibetan Buddhist nuns living in India. Donations at all levels of giving are kindly requested. To learn more, please go to OMFUND.org.
Karma Leela Cards & Prints
Sold exclusively through the online store - Karmaleela.org
100% of net proceeds benefit Tibetan Buddhist nuns through Ohana Maitreya.