Cowboy Up
06/16/2013 01:05PM ● By Christina Freeman
The Focus Ranch's historic red barn is perched above the Little Snake River. Photo courtesy Maureen Reidy.
By Jennie Lay
Steamboat Springs, CO - Head an hour and a half north from Steamboat Springs on County Road 129. Go far enough that you venture out of the familiar Elk River watershed, over the Divide, up where the gravel road gets ruttiest, and drop into the Little Snake River Valley. At some point, up here, it's hard to tell whether you're in Colorado or Wyoming – but you're still in Colorado when you turn out at Maureen and Terry Reidy's historic red barn.
Slater is the Focus Ranch's official address. The town itself is a blip. This is the bastion of sheep and cattle ranchers who live side by side in a valley that was once ground zero for grazing turf wars. The Little Snake River Valley's lush hay meadows, a wide rambling river, slightly off-kilter barns and log homesteads probably don't look all that different than they did a century ago.
Seeking a glimmer of what it's like to work on a ranch, we realize quickly that this is the real deal. For one unforgettable weekend, my husband, Rich, and I ride out and move cattle – and have the good fortune to be accompanied by a reunion of Focus Ranch wranglers who can't resist coming back to visit year after year.
The place clearly got under their skin. Mostly, they save my hide.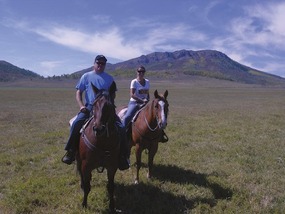 Rich and Jennie Lay try their hands at life on the range.  Photo courtesy Jennie Lay.
While I've developed a healthy admiration for our local ranchers during my decades in the Yampa Valley, I haven't become a cowgirl by any stretch of the imagination. It doesn't matter. Maureen and her crew set me straight with the basics and put me on horseback. The intricacies of moving cattle transpire as we mosey across the meadows. Patience and perseverance. I clearly need much practice, but this feels great.

The wrangler who leads me into a draw in search of a lost calf is nothing short of adorable. A 20-something rodeo queen, I'd guess by her 18" waist wielding the biggest blinged-out belt buckle I've ever seen. It overshadows her tiny silhouette atop that horse. Turns out, her brother rides bulls and she has an entire five-gallon bucket of his trophies back home. She wears them well.
It's late in the season and this herd, fattened on Little Snake River Valley grass, is ready to ship to market. The sky feels endless. The air is crisp and clean. Every distant acre we see is ours alone. Riding across a high mountain meadow I map the name of each little peak and rise in my mind. My passion for this corner of Colorado's landscape wells up.
One of the wranglers laughs, considering the irony that people gratefully pay money to come out here and work so hard. But they do. Repeatedly.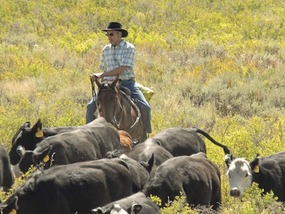 Working vacation: Guests ride out six days a week working the Focus Ranch cattle. Photo courtesy Maureen Reidy.
They come as couples from New York City, to get away from crazed office jobs and throw themselves into an intense physical and cultural experience at 7,000 feet in elevation. Later, they come with kids and grandkids, who learn to ride horses, move cattle, bottle feed baby lambs and offer slop to the pigs. Launching into the cold clear river is a right of passage – and an idyllic end to a hot, dusty day on the trail.
Anglers find magic in fly fishing the Little Snake's abundant waters – and the Focus Ranch's own stretch of nearly two miles of the river is particularly well-restored. Kids can't resist the historic Pop Shop that Maureen keeps stocked with sodas and sweets, just like when it was a roadside refreshment stop long ago.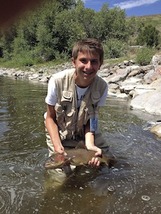 The Focus Ranch has two miles of prime fishing on the Little Snake River. Photo courtesy Maureen Reidy.  
Homesteaded in 1896 and purchased by the Temple family in 1911, this is where Steamboat Ski Area founder Jim Temple grew up, reportedly skiing behind the hay sleds while his father fed cattle. His father, Shorty Temple, turned the Focus Ranch into a dude ranch in 1937 because so many friends and family members were turning up for lengthy vacations. They decided to start charging. Terry (a cousin to the Temples) has owned the ranch for nearly four decades, continuing to run the dude ranch along with a heard of 1,300 yearling cattle.
If there's any doubt that you're going to put in some honest work days when you're on the ranch, consider this: Over four months, the Reidys move their cattle roughly 25 times, three times through four pastures on the ranch, and twice through their seven leased pastures on Forest Service land. They ride six days a week, checking fences and water and the health of the cattle.
The meals are family-style and delicious. Like any great dinner party, the conversation is intriguing and eclectic. At the Focus Ranch, this applies for breakfast, and lunch too. We linger long after the plates are cleared. Maureen and Terry have deep ties in this valley and a lifetime of interesting stories outside of it; the living room's overflowing bookshelves guarantee that the banter will be worldly. As their guest in this bastion of the old West, it's impossible to resist hours perusing their extensive collection of local history books.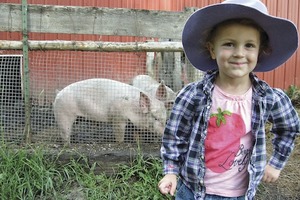 Feeding the pigs and baby lambs are highlights of a Focus Ranch visit for kids. Photo courtesy Maureen Reidy.
After a long, starry sit on the porch, we tuck into the main ranch house and snuggle under handmade quilts. The log house is well-appointed with modern conveniences, since they built it just 10 years ago. The original 1890s homestead had finally succumbed to the ravages of time and keeping it structurally sound became impossible. Everything here is steeped in layers of story.

We only had a weekend. What a Focus Ranch experience truly demands is at least a week. Knowing it would take a lifetime.