Book Review - Summer 2013
06/16/2013 01:38PM ● By Christina Freeman
Book reviews by Harriet Freiberger

THE SPRINGS OF STEAMBOAT
Mysterious Caves and Sparkling Soda
by Dagny McKinley
The History Press, 2013
Soft cover, $19.99 188 pages
Dagny McKinley found what she was looking for when she returned to Steamboat Springs 12 years ago. University degrees, studies in journalism and writing, residencies in New York City and Los Angeles came together on Zirkel Wilderness trails and in the Strawberry Park Hot Springs.
Each reader will feel personally connected to Dagny's exploration of Steamboat's mineral waters, a new and increasing awareness of "the treasures these springs offer to our community, our environment and the creatures that live in, on or off the springs."
The author reveals pertinent and fascinating facts of this place she now calls home, and, at the same time, a historic sense of springs that at one time numbered over 150. The location of the Sulphur Cave Spring at the edge of Howelsen Hill's ski area speaks to the town's changing attitude toward itself, but actual continuity lies in its bubbling waters.
In Steamboat's early days, visitors came "to take the waters." Long before that, white men discovered the geyser that made the sound like that of a steamboat, Ute tribes summered here to take advantage of the springs' healing powers. Who knows what meaning and use those precious waters will have in the years ahead? As Dagny reminds us, "To forget the past is to lose a potential key to our future."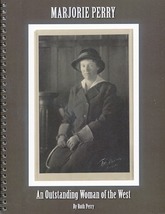 LOCAL HISTORY PICK MARJORIE PERRY: AN OUTSTANDING WOMAN OF THE WEST

by Ruth Perry
softcover $24.95 56 pages
Ruth Perry brings to life an important character in Steamboat Springs' history.  Photographs and select words reveal the presence of Ruth's aunt, Marjorie Perry (sister to Charlotte Perry, founder of Perry-Mansfield), in the small town on Colorado's Western Slope.  Here is the woman who met Carl Howelsen during a railroad stop at Hot Sulfer Springs in 1913 and introduced him to Steamboat.




COLORADO WOMEN A HISTORY 206

by Gail M. Beaton
University Press of Colorado, Boulder, CO 2012
hardcover $34.95 384 pages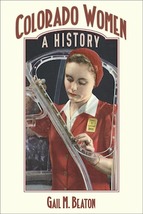 Gail M. Beaton earned Master's degrees in U.S. history and public history from the University of Colorado, and taught for 30 years in Colorado schools. Her well-organized history strengthens a broad base of information previously missing in published histories of the state.
From the ancient Puebloans of the Southwest through the centuries and into today's world, women take their place in the pages of familiar history, some well-known and others awaiting recognition. Some began as slaves, others as wives. Some came as emigrants from the east; Native Americans were already here. Some lived through the Great Depression; others worked in new fields that opened to "the other sex" during WWII. In 1860 when Colorado was a territory, less than 5 percent of the population, then about 34,000, was female. By 2000, when over four million people lived in the state, females became the majority.
Women have left a broad imprint in Colorado's cultural life. Steamboat women, Charlotte and Marjorie Perry, as well as Eleanor Bliss, take their place in Beaton's encompassing recognition of women's work. Their support of creativity within a small community's history spread far beyond the Western Slope.
Beaton's book, more than a study of women, speaks to their role in an expanding workplace.