Camp Art
06/08/2013 03:33PM ● By Christina Freeman
"Heavenly Gray" silkscreen celebrating Perry-Mansfield Centennial.
By Amanda DeVos
Steamboat Springs, CO - To celebrate the centennial year of artistic expression at Perry-Mansfield Performing Arts School and Camp, a group of local artists collaborated to create limited-edition silkscreen prints using re-imagined historic artwork and images.
The entire production took place in Steamboat over four months during summer 2011. Working under the collective moniker Copper Ridge Art Alliance, Theo Dexter of Lone Oak Studio, Sue Oehme of Oehme Graphics, Susan Schiesser and Pat Walsh of Red Contemporary Gallery, and Joel Schulman of  PhotoGraphicsArt, donated their time, resources and skills to lead the artistic process. Additionally, almost another dozen people volunteered their efforts.
"I chose images that were iconic, historic pieces that represent Perry-Mansfield's history and legacy, and that could be converted into art for silkscreen printing in the Andy Warhol tradition of hand-pulled, ink-based prints," explains Walsh, a Perry-Mansfield board member and the project's art director.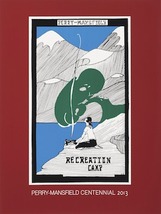 The four-color print titled "Imagine" captures the imaginative, free spirit of the camp, depicting a woman kneeling by a mountain lake. This piece was originally a woodcut created in 1920 by Charlotte Perry, one of the camp's founders.
"Avatar" was initially a charcoal drawing by Perry. The black-and-white image of a horse and rider bounding through the wilderness harnesses the camp's "enduring connection to nature, horses and jubilant, fearless human expression," as the Copper Ridge Alliance describes it.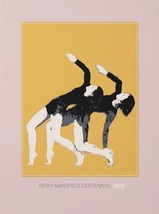 A third print, "Deco Danseuse," takes its inspiration from a black -and-white photograph of two dynamic Perry-Mansfield dancers from the 1930s. The Copper Ridge artists meticulously transmuted this image – representing the camp's embrace of what is innovative – into a five-color print.
Finally, "Heavenly Gray" plays with the vintage image of teacher and dancer Harriette Ann Gray, who first appeared in Perry-Mansfield programs in 1946. This five-color print memorializes what remains "an enduring symbol of the heart and soul" of the organization, according to the artists.
Approximately 57 prints were made of each design. Every print required the labor of multiple artists to overlay the complex layers of color. This resulting original artwork reveals the vibrant history and spirit of Perry-Mansfield and Steamboat's enduring devotion to the arts.
Each 30-by-22-inch print can be purchased for $450, or the 4-part series for $1,600. The profits benefit Perry-Mansfield. For more information, visit www.perry-mansfield.org/prints/ or call 970-879-7125.