Juicing Summer's Bounty
06/07/2013 03:07PM ● By Grant Johnson
Julie Morris' mint chip smoothie sneaks in spinach and superfoods. Recipes and photos reprinted with permission from "Superfood Smoothies". Copyright 2013 by Julie Morris, Sterling Publishing Company.
By Anne Halloran
Steamboat Springs, CO - Summer evokes the sheer joy of warm weather, spending more time outdoors, birds, flowers and the smell of the soil. My favorite seasonal benefit: fresh produce.
You eat with your eyes first, and the sight of freshly picked greens, garden tomatoes, brightly colored berries, melons, peaches, plums and apricots are truly a visual feast. Juicing and smoothies let you drink them in – literally.
Scientists recommend that we eat at least eight vegetables and four fruits each day. Choosing fresh, locally grown fruits and vegetables promotes optimal wellness, but this can be daunting for some people. A simple way to ensure the daily recommended intake of these foods is through juicing or smoothies.
Fruits and vegetables are loaded with essential nutrients, enzymes and fiber. They provide our bodies with what they need to stay strong, healthy and disease resistant. The first step in ensuring good health is to avoid or eliminate highly processed foods laden with sodium, sugar, additives, artificial flavors and colors. Juicing offers a satisfying and delicious contrast.
Nutritionists debate whether juices or smoothies are healthier. The answer is personal, depending on what you are trying to accomplish and your current health status.
Juices are easily absorbed. Due to a lack of fiber, juices provide rest to our often overworked digestive systems. High sugar vegetables like carrots and beets can raise blood sugar levels, so use them sparingly and stick to more green vegetables, generally speaking.
Many people have cleansed with juices to overcome serious health issues and they report healing. Consult your health practitioner before starting any sort of cleanse; he or she can recommend juice combinations accordingly and monitor your progress.
Smoothies combine the whole fruit or vegetable. This provides fibers, which slow down the absorption of sugar into the blood stream. The great thing about smoothies is that you can whip up a balanced meal in about 10 minutes, perfect for parents looking for a quick healthy meal for their kids.
Make a smoothie a nutritional powerhouse with the addition of superfoods such as green powders (spirulina, chlorella, barley grass), maca, raw cacao and acai berry powder. Nuts and seeds provide healthy omega oils, protein and minerals. Protein powder choices abound, often with added greens, probiotics, whey or plant proteins. Avoid high sugar content, artificial ingredients, soy and corn derivatives when choosing a protein powder. You can make a creamy, decadent smoothie by adding friendly probiotic boosts such as kefir or yogurt.
A creamy, luscious pre-workout smoothie is easy to create with raw cacao, maca powder, frozen banana, berries and almond milk. Raw cacao is loaded with antioxidants and magnesium. Maca has been used for thousands of years for energy and endurance

Looking for more beneficial supplements? Green tea is a great metabolism booster; use it as the base of your smoothie, along with lemon, berries and cantaloupe. Adding cilantro to a juice of celery, cucumber, kale and apple helps aid your body's ability to remove toxic metals. Trying to cool inflammation? Try adding pineapple, ginger, turmeric and coconut water to your juice or smoothie.

Always choose organic or local produce for your juices and smoothies. These drinks are concentrated, so avoiding pesticides is key. Ultimately, have fun trying different recipes for your juices and smoothies. Two favorite resources are "The Green Smoothies Diet" by Robyn Openshaw and "Superfood Kitchen: Cooking With Nature's Most Amazing Foods" by Julie Morris.
A resurgence of farmer's markets, community gardens and the local food movement show we are naturally drawn to these healthy foods, and attest to our need to connect with our food in a meaningful way. Fruits and vegetables are summer's bounty and juicing and smoothies are one of the best ways to drink it all in.
Blend It!
Natural food chef and author Julie Morris ("Superfood Kitchen" and "Superfood Smoothies") shares smoothie recipes for enjoying summer's bounty and great health.
Mint Chip
Tucked beneath a very convincing ice cream-like flavor, a wealth of beneficial spinach awaits you in this smoothie. It's so good it almost makes a person wonder why spinach isn't used in all minty treats. I love how the cacao nibs provide a bit of dark-chocolate crunch without being overpowering. Makes two 18-ounce servings.

2 c. frozen spinach
2 c. frozen bananas
1⁄4 c. raw cashews
3 tbsp. cacao nibs
2 tbsp. (packed) fresh mint leaves, minced
1 tsp. vanilla extract
2 c. rice milk (original variety)
1⁄2 c. coconut water
sweetener to taste (optional)
Blend the ingredients together until smooth. Taste and sweeten as desired.
Superfood Boost: Add 1/4 teaspoon chlorella (or to taste).
Pistachio Cherry
Pistachios provide a tremendous amount of sweet, creamy flavor to this blended drink – a real treat. Plus, thanks to the antioxidants in the cherries, goji berries, and even pistachios, this blend is particularly helpful for protecting eyesight. Makes two 16-ounce servings.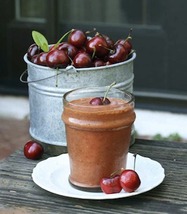 1½ c. frozen cherries, pitted
¼ c. unsalted pistachios, shelled
¼ c. dried goji berries
1 tsp. vanilla extract
1 c. water
1½ c. ice
sweetener, to taste (optional)

Blend all ingredients—except the ice—until creamy and smooth. Add the ice and blend until frosty. Taste, and sweeten as desired.
Superfood Boost: Add 1 tablespoon of cacao powder
Rosemary Orange
From a culinary standpoint, one of the things I most appreciate about smoothies is how easy it is to create truly sophisticated flavor profiles, with about the same effort as doing a load of laundry. This show-stopping blend is a shining example of breathtaking natural flavors working together in harmony. Makes two 16-ounce servings.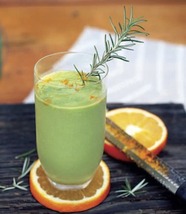 ¼ c. dried white mulberries
¼ c. raw cashews
3 c. baby spinach
2 tbsp. mashed avocado
1 tsp. orange zest
1½ tsp. minced fresh rosemary
1½ c. orange juice
2 c. ice
sweetener, to taste
Blend all ingredients, except the ice, until smooth. Add the ice and blend once more until frosty. Taste, and sweeten as desired.

Superfood Boost: Add 1/2 teaspoon camu powder.
Recipes and photos reprinted with permission from "Superfood Smoothies"  © 2013 by Julie Morris, Sterling Publishing Co.
Check out Julie Morris' new book, "Superfood Smoothies" in our book reviews at http://steamboatmagazine.com/2013/06/08/study-up-superfood-smoothies-by-julie-morris.