Young Ceron - Dancin' in the streets
06/04/2013 09:47PM ● By Christina Freeman
Young Ceron turns downtown Steamboat Springs into his freestyle playground. Photos by Aryeh Copa.
By Deborah Olsen
Steamboat Springs, CO - An easy, Jamaican smile and a sultry Caribbean vibe infuse Steamboat Springs' Young Ceron, street dancer, hip-hop teacher, gymnastics coach and aspiring rapper.
In some ways, the community where Ceron grew up in Hanover, Jamaica, is not so different from Steamboat. Lots of kids, looking for something to do before trouble finds them, meet up in town to hang out. "We started making our community more fun," he recalls. "We'd dance in the street. I was the leader of a group of kids that created Freestyle Fridays, when somebody would bring a boom-box, and we'd all start doing tricks. See who could stand on their hands the longest or jump the highest. We were breakin', doing headstands."
Perhaps because of the generalizations associated with his native country, Ceron feels compelled to note early in the conversation that, "I do not do drugs. I don't smoke, and I hardly drink either."
Instead, he derives his energy from his music. "I like to make original rap," he says. The words "Young Ceron" are tattooed on his forearm, to remind him of his goal of making a name for himself as a rapper.
"People tell me I should leave Steamboat and go someplace like New York or L.A., that Steamboat's not the right place for a rapper," Ceron says. "But I love Steamboat and I'm not ready to leave. Plus I kinda got a bond with the kids."
Ceron teaches hip-hop, break dancing and acrobatics to 10-13 year-olds at Excel Gymnastics and Elevation Dance Studio. Ceron came to Steamboat to learn to snowboard, but began teaching after Renée Fleischer and Solange Guenier invited him and his friend, Tyler Hutson, to work at Elevation.
"I like kids; I'm super-mellow. I only have three rules: no horseplay, no talking when I'm talking and no hurting each other because we're all family," he says.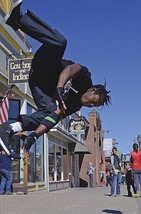 Ceron quicky became a part of the dance community. As the Mouse King in the Nutcracker ballet, Ceron flipped across the high school stage with a group of his young dancers surrounding him. Their own moves, while not as spectacular as Ceron's, were equally enthusiastic.
Donning a pinstripe suit and matching fedora, Ceron took to the stage with Olympian Caroline Lalive Carmichael to raise funds for abused children at Dancing With the Stars.
At Excel, the kids have come a long way, Ceron says. "They're doing 'street gymnastics,' which are crazier than normal gymnastics. It's tumbling without the running."
Ceron was 20 when he left Jamaica. He wasn't necessarily looking to go, but his friend was so Ceron ended up moving too. In Jamaica, he was a hibachi-style performance chef. He put on quite a show, in addition to carving fruit and rolling sushi — all talents that have been utilized in Steamboat, where he is the sushi chef at Sambi Canton.
"As my grandma says, I don't have to run after the rail. The time is there, and the opportunity is there to pursue my career," Ceron says. "For now, I'm livin' the dream."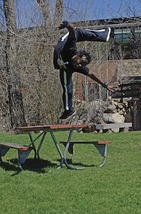 Listen to Ceron's track, "Elevation" by clicking on the player below -