Cheryl Strayed Reflects on What's Wild
02/24/2013 05:20PM ● By Jennie Lay
Cheryl Strayed on the trail in 1995.
By Jennie Lay
As she prepares to visit Steamboat Springs at the tail end of ski season, it's notable that Cheryl Strayed has done many wild things – but skiing isn't one of them. "I grew up poor so I love to do daredevil things like hike through the wilderness by myself, but downhill skiing seems so scary," she says. This, from a woman who solo-hiked 1,100 miles of the Pacific Crest Trail – then bravely bared her soul to the world in a bestselling memoir?
"Wild: From Lost To Found on the Pacific Coast Trail" has been compared to Elizabeth Gilbert's "Eat, Pray, Love," but that assessment should come with a serious caveat. Strayed's adventure was genuinely more badass. She endured a frill-free physical endurance test on a shoestring budget instead of an advance, and she wrote something that resonated deeper. Perhaps that is because she pondered the experience for 14 years before writing down the story.
Critics have called Strayed loose for revealing the intimacies of her early 20s ("…even though I'm just like all the women I know. And I've been monogamous for 17 years," she says), and a slacker for not taking a more hard-core backpacking angle ("…but that's not the book I wrote, or wanted to write," she says). Regardless, "Wild" has received high-flying praise – plus good publicity for her beloved trail. "I've gotten lots of notes from people who (hiked) it this year because I wrote about it. Bringing attention to the national wilderness treasures can be really important to protecting them – why it's important, why it's a sacred thing to have in our nation. People can think, 'Even if I never set foot in Yosemite, I'm glad it's there,'" she says.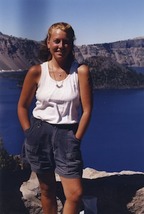 Cheryl Strayed  at Crater Lake.
Strayed wrote fiction before delving into memoir, but the story in her debut novel "Torch" clearly has autobiographical elements. Following up with a memoir revealed a long-cultivation of thoughts, experiences and emotions.
"I always thought I was a fiction writer. Fiction was my first love. It never occurred to me to write a memoir. In 'Torch' I took the experience of my mom's death and told the story of what happens when a family is devastated by it. It's emotionally true, but not actually true. There are things you would recognize from 'Wild,' but I took life and then did whatever I wanted with it," she says. "That was really the novel I was writing in my head while I was hiking."
Years later, "Wild" started out as just an essay. But once Strayed started writing she realized she had a lot more to say. She turned to meticulous journals where she had pored out her thoughts and feelings, and written portraits of individuals after she crossed their paths on the trail. She also relied heavily upon her memories – a skill that she encourages her writing students to use more often.
"Memory is like a muscle we work. I've always had a really good memory, but when you write out of memory you start to remember more," she says. "It's like when you go out with an old high school friend and you start to remember more. You have to tap into it."
Everything in "Wild" is true to her memory, she says. "You want to be accurate. You want to tell your truth…. The truth matters. The conceit with memoir is this is how I remember this and that, and how I'm going to paint it for you vividly. Absolutely you're re-conjuring it with your memory. That's the scary part of memoir."

As for the die-hard realities of being on the trail, Strayed assures everyone that her maligned feet did eventually recover. Also, it's not that she was an inexperienced hiker; she was an inexperienced backpacker. "It's the difference between babysitting twins and giving birth to them," she says. And rumors that she never hiked again are untrue. She hiked the Continental Divide through New Mexico year after her PCT adventure.
Adoration for "Wild" resounds strangely, Strayed says. Despite the international fame, not much has changed in her real life. "I'm still basically your neighbor, your mom with two kids," she says. "It's been a really powerful experience emotionally to have so many people read my work and respond to it. My other work before was good with lots of emails and stuff, but with 'Wild' it was magnified by 10,000. It's astounding to know that I've touched and annoyed so many people."
What strikes many readers as a seat-of-your-pants adventure turns out to be a consistent theme in Strayed's life. "Writing a book, having babies…I'm an optimist," she says. "It's always harder than you thought it would be."
Her infamous overstuffed backpack proved to be more like a universal right of passage. "That's what's so great about backpacking. It's so clarifying. You figure out what you need to live. I had too much stuff. I went out there and I was naïve and I didn't know what it would take to carry that much stuff over so many miles," she says. "You idealize…you think about the beauty that you will see, not what it will feel like with the back of your heel worn away with one ginormous blister. Sometimes having to learn the hard way is a really good way to learn."
And she'd do it again. In a heartbeat. With kids in tow.