Architecture To Grow Everything
02/24/2013 05:43PM ● By Christina Freeman
Terry Huffington admires her orange crop.
Story and photography by Kate Znamenacek
During the snowy winter months in Steamboat Springs, days of fresh fruits and vegetables from the farmer's market are a distant memory. Resigned to what the grocery stores can supply during colder months, locals trade in gardening tools for skis and snowshoes and patiently wait for summer's bounty.
This is true unless you live at Elkstone Farm. At this Garden of Eden-type oasis nestled in the aspens in Strawberry Park, workers pick ripe citrus fruit off the branches during the heart of winter. Steamboat resident Terry Huffington and her crew are harvesting uncommon winter produce usually trucked in from thousands of miles away – local produce that's practically unheard of in this climate.
Despite deep snow and below-zero temperatures, lemons, limes, passion fruit, blood oranges and figs flourish inside her greenhouse. Here, they soak in the Colorado sun unthreatened by 2013's coldest January on record, thriving at 6,700 feet in elevation.
Taking locavore to a whole new level, Huffington and her husband, Ralph Dittman, are utilizing permaculture to create an astonishing garden at their doorstep that most mountain folks could only dream of visiting in lush faraway lands.

"We had this beautiful property and we wanted to make it as productive as possible," says Huffington, a Houston native who bought land in Strawberry Park in the early 1990s. "I was on the advisory board of the Community Agriculture Alliance and was introduced by another board member to permaculture, which was a model that made sense and appealed to me. My husband liked the history of the strawberry fields here, so the plan was to have a year-round greenhouse. The vision has grown from there."
With its beginnings in Australia in the 1970s, permaculture is a design system for creating sustainable human environments and ecological landscapes that produce food. According to permaculture experts, emphasis is placed on multi-use plants, cultural practices such as sheet mulching and trellising, and the integration of animals to recycle nutrients and graze weeds. Permaculturists strive to mimic patterns found in nature by creating harmonious relationships between houses, plants, animals, soils and water.

"Permaculture requires a lot of work but is lower maintenance in the long run. There is so much to learn," says Huffington. She and grower Kim Brooks are adhering to the principals of organic production on the 690-acre spread. "We are learning how to control the bad bugs with the good bugs, with soap and with hand picking, bringing in pollinators and developing really healthy soil."

Instead of planting gardens, permaculture builds "plant guilds," groupings of plants, animals and insects that work together to ensure their survival. Huffington says she and her crew will keep the greenhouse in the permaculture style, with polyculture or intermixed plantings rather than row cropping or monoculture. "With row crops, one bug can munch the whole row, but in guilds, disease has a hard time finding the next plant. Certain plants grow well together and are more productive. Individual plants in plant communities can contribute to the overall health of the community, but we focus on the health of the soil to help us achieve optimal productivity. It's a lot of experimentation and observation. It makes sense."
Huffington was trained in permaculture in Basalt. She has since visited other permaculture gardens, learning how to produce and harvest crops year-round, even in a challenging climate. "Permaculture is healthier for the land and for ourselves. It's the kind of thing I wish I'd discovered when I was 30," says Huffington, a geologist who is now retired from the oil and gas industry.

Huffington's vision has been tweaked and modified, and the self-funded 8-acre farm is now mostly producing a thriving assortment of Mediterranean and other plants including lavender, rosemary, thyme, mint, parsley and edible flowers like nasturtiums, calendula and pansies. The first greenhouse was built in 2009, a 2,880 sq-foot Mecca of passion fruits, lemons, limes, oranges, figs, herbs and an unstoppable banana tree that thrive with no supplemental heat other than the sun, with additional back-up from two small electric heaters and a wood stove that uses pellets from pine bark beetle killed wood. Walking through the vast, humid greenhouse is a colorful, Willy Wonka-type experience, with new surprises and delectables around every turn. The oxygen-rich atmosphere is both energizing and tranquil, momentarily taking your mind from the 3-foot-high snow banks outside to a tropical paradise.

Water for the greenhouse comes from a well, which feeds plants on an intricate drip system. To the north of the greenhouse is a prosperous fruit forest containing 20 varieties of apples and pear trees, currants and gooseberries, all planted in guilds with beneficial shrubs and a cover crop of clover that attracts pollinators and adds nitrogen to the soil. A central pond garden is home to apple trees, crabapple trees, cherry trees, blueberries, raspberries and strawberries. To keep out local wildlife, the property is surrounded by an 8-foot fence, still no match for the occasional bear.

Just steps from the greenhouse, the family's main house includes a commercial kitchen, refrigerators, offices and an upstairs caretaker unit with views of the entire property and surrounding valley.

Last year, Elkstone Farm added its first hoop house, a 32 x 70-foot greenhouse of double layered plastic – a virtual salad factory – growing kale, spinach, chard, Asian greens, arugula, veggies and annuals. Late summer production from this house alone also included multiple harvests of basil, cucumbers and tomatoes. Also, a large custom-built seed house is nearing completion to propagate seedlings and prepare and package produce, with an upstairs area dedicated to drying and packaging herbs.

Elkstone Farm has one part-time and three full-time employees and has been selling some of its produce, including salad greens, squash blossoms and herbs, to local restaurants and Bamboo Market in downtown Steamboat. Huffington plans to increase production along with a line of homemade jams, jellies, breads, pickles, salsas, rubs, unique pestos and herbed salt blends.

"We see what will grow well, it is nurtured from the very beginning, then harvested at its peak, brought into the kitchen and used that same day to produce a product that tastes like it should," says Monica Verploeg, food designer at Elkstone Farm. "When you taste the orange marmalade you feel like you're in California for a second, but you are in Steamboat Springs. It's a magical place. We strive to create an awareness of where your food comes from and that's what Elkstone is about, sharing that awareness with people."

Verploeg has been with Elkstone Farm for over a year and has the unique job of surveying what is growing and finding recipes that showcase each product. Results have included fig jam, lavender jam, lemon marmalade, nasturtium pesto and tomato preserves. Nutritional chef Alex Berger takes those ideas and his own to produce garden fresh products that are as unique as the farm itself.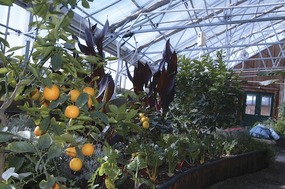 It's true, Strawberry Park citrus trees bear fruit in January.
"We keep challenging ourselves with products that represent what the farm is all about. We make what we grow into something healthy and produce the best product we can by cutting out fillers and extra sugar so the flavor is in the product itself and we've had success with that. It's like tasting sunshine," says Verploeg, who believes that people are becoming more healthy and aware of what they are eating. "I feel very fortunate to be a part of Elkstone. It's a sacred place."

Caretaker Jeannie Berger has worked with Huffington since 1999 and has worked at Elkstone since its inception. "Having a little slice of heaven and to produce food that other people enjoy is very gratifying," says the California native who has lived in Steamboat for 35 years and grew up with homegrown food, gardens and fruit trees. "It's pretty remarkable what Terry has created here. Permaculture grows things the way nature grows them. We have the upper canopy, the middle shrubs and the undergrowth. It's very appealing to go in the greenhouse when it's been 30-below at night and it's 65 degrees in there. Still, it's a work in progress, there are still places to plant and areas to improve. We are learning all the time."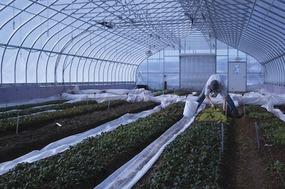 Fresh greens flourish year-round in Elkstone Farm's greenhouse.

Behind the gates of Elkstone Farm, thoughtful design, dedication to health and the environment and working relationships are creating a productive garden sanctuary. A private person by nature, Huffington sees future tours as a possibility, but is taking the growing process slowly, nurturing what she has created and moving one step at a time.
"I care very much for the environment," says Huffington. "Elkstone Farm has morphed into something I'd never envisioned. Everything I've done has been opportunistic and pure fun, like a great science experiment. We can grow with it and learn."
Elkstone Farms: The Greenhouse Beta
Architect: Michael Thompson, Eco Systems Design in Basalt, CO
Permaculture design: Jerome Osentowski, director of Central Rocky Mountain Permaculture Institute
The structure: 20' high steel frame on a concrete foundation
The glass: Two-layer polycarbonate glass comprises 60% of the structure and allows 75% sunlight through it. A curtain inside the glass can be closed to further reduce the amount of heat loss during cold nights. The glass opens for ventilation, cooling and pollinator attraction, with flowers situated near the openings in the summer to attract important pollinators such as bees.
The climate battery: Instead of electricity, the greenhouse utilizes thermal energy with an underground solar heat storage system called a "climate battery" that is built into the 4'-deep rich-soil floor. Raised plant beds are on top of that soil. Via a ventilation system, the "climate battery" stores excess heat produced in the greenhouse underground. Inside the soil floor, a network of air tubes transfer heat and moisture between the air inside the greenhouse and the soil. Even in January it can get hot inside the greenhouse, so fans move air and store it down in the soil where it cools off and loses some of its humidity.
Elkstone Farm Greenhouse-Photos by Kate Znamenacek [74 Images]
Click Any Image To Expand