Profile - Sigi Malinowski
02/24/2013 02:50PM ● By Grant Johnson
Sigi Malinowski's home designs build upon the Gothic arch.
By Deborah Olsen
On the other side of the Sleeping Giant, a one-of-a-kind, rustic home once stood.
Artist Sigi Malinowski built it one rock at a time; beginning with the home's central fireplace. Rough-hewn beams angled out from the apex of the main room. An old-fashioned swing, hung from the central beam, allowed guests to lean back and look through a skylight at the stars.
It has been years now since Malinowski left that home. He's unsure whether it even still stands today, but he recalls those days vividly.
"I was enjoying eight years in the snow, living in the country," Malinowski recalls. "That was great."
Then came a big change; Steamboat Springs awoke from its sleepy hiatus, brought on by the mid-'80s recession, and became a giant among ski towns. The bustling city was more than Malinowski bargained for. "I didn't like watching the change, but I do like what Steamboat's become," says Malinowski, who now resides in the tiny hamlet of Norwood, about 35 miles from Telluride. "Steamboat is a beautiful city. It's my favorite second-place."
Malinowski's professional career is a cross between art and architecture. He is a builder whose artistic perspective and imaginative thinking have produced unusual, unique buildings and interiors.
The devastating wildfires in southern Colorado last summer resulted in Malinowski's most recent project: He is building one of his trademark TerraHomes in Colorado Springs to replace a house that was consumed by fire.
TerraHomes were originally inspired by one of his favorite architectural features, the Gothic arch. The concept arose from a vision of building straw-bale homes using a wide, curved, load-bearing rib system. Today, the straw bales have been replaced by e-crete, a green building product made of aerated concrete that is lightweight, mold-resistant, soundproof, pest-free and highly insulating.
"The truss design has been adapted to city style in such a way that the curves are more of a feature — like wasabi with sushi," Malinowski says. "The main focus on this house is its fire resistance." The absence of a stick frame — plus the use of e-crete, molded plywood that accentuates the home's curves and insulating paint and flooring — results in a home with high fire ratings at an affordable cost. "There's no reason not use these new techniques. The result is a smart house – just a better house," Malinowski says.
In Norwood, he created Two Candles, a local restaurant and tavern, from an old metal-sided building. Twin candles taller than a man greet visitors; Italianate murals, a hot-air balloon strung across the ceiling and original artworks are the hallmarks of this architectural marvel.
Malinowski comes back to Steamboat often — usually when interior designer Irene Nelson has a project for him. Steamboat Magazine caught up with him last summer, while he was in town to put the finishing touches on a "bat cave," a small sunroom and reading area, in a classic Steamboat home. Featured in our last issue, he used concrete and chicken wire to sculpt trees and a water feature, then painted a mural as a backdrop.
"He's a fabulous artist," Nelson says. "He can paint in so many different styles, and he works in so many media."
Recently, Malinowski has discovered a new medium: ancient, fallen cedar trees. "I look for interesting 'creatures,' then I drag them out," he says. "The whole key is finding the right piece to start with. I'm not really changing anything." He just adds brilliant colors and whimsical adornments.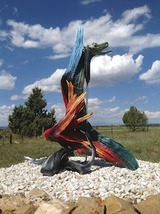 Found-wood sculpture is among Malinowski's many artistic media.
Driftwood monsters, bat caves, concrete candles and Gothic arches are just a few of the manifestations of this modern-day Renaissance man.
Sigi Malinowski [26 Images]
Click Any Image To Expand