Hazie's House
02/24/2013 05:32PM ● By Christina Freeman
Home to three winter Olympians, Hazie's house saw a constant parade of sports celebrities.
Story and photography by Rod Hanna
A modest shingle and stone house with a remarkable history sits out of site and nestled in a grove of mature pine trees near Ninth and Aspen streets in Old Town. This was the iconic home where Hazie and Ed "Pop" Werner raised three winter Olympians – Buddy, Skeeter and Loris. It's where Hall of Fame football legend Doak Walker resided for 30 years with his wife Skeeter and his mother-in-law, Hazie. And it's the home where Hazie hosted thousands of friends, neighbors, celebrities, captains of industry, Olympians and regular folks over five decades. Hazie recorded these house calls in her daily diary.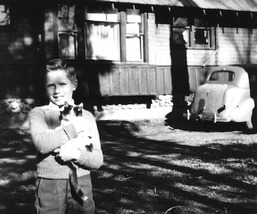 A young Buddy Werner at home with his cat.

Hazie's driveway led you past two other homes and over a wooden bridge on Soda Creek to an unpretentious private area noteable for its down-home feeling. The home has a front door with a porch, but back in Hazie's day that was rarely used. Instead, you entered through a back door in the garage where an etched window announced "Hazie's Kitchen."
I was honored to know Hazie and be part of a Werner-Walker extended family from the time I arrived in Steamboat in 1975 until Skeeter's death in 2001, when the house was sold. Oh, the memories of that home – filled with family, warmth and laughter! But I'm getting ahead of the story.
The Werners purchased this house in 1944 when the family moved to town. The three kids were ski racing at Howelsen Hill – a short walk down Ninth Street and across the Yampa River. Those early days were lean, but Hazie contributed to the family's finances by working in the Boys Market grocery store and dry cleaning shop, and running the hot dog stand at Howelsen Hill. She and Pop managed to keep the kids in skis and traveled to races all over the West. Later, that spirit and determination was demonstrated when she started a worm ranch in her basement after studying a brochure and getting Loris to haul the dirt and dig for starter worms.
Perhaps it was Hazie's upbringing that led to a remarkable lifetime of extending hospitality. Born in a log cabin on Yellow Jacket Pass south of Steamboat, she got her first taste for work by helping her mom cook dinner at the stagecoach stop for passengers traveling from Wolcott to Hahn's Peak. Later, Loris remembers that the Werner house became a home away from home for the University of Colorado Ski Team – a place where legendary skiers like Bob Beattie, Billy Kidd, Spider Sabich, Bill Marolt, Renie Gorsuch and Jimmy Huega could be found sleeping on the floor, sharing one bathroom, and staying up late at night playing cards while Hazie provided sandwiches and acted as referee.
"A house is wood, bricks and mortar, and what brings it to life is the family that lives there. My first memories of the Werner house started the summer after I met Bud. I went to Steamboat for the first time in 1960 and spent a month with Hazie and Ed, Bud and Skeeter. Loris was a teenager and was gone a lot," recalls Vanda Werner, Buddy's wife. "The kitchen, then half the size it is now, was, of course, the center of the house. The garage and back porch had not been added, so the washer/dryer, a huge table and the dog lived in the kitchen where Hazie had something baking every night. She had one tiny corner where she cooked for half the town on any given night. I remember spending almost every night after dinner sitting around the kitchen table with the family, telling stories and laughing until midnight or after. People dropped in if they weren't already there for dinner. It was truly a happy time in the Werner house."
But the house also was witness to sad times. In April 1964, Buddy was killed in an avalanche in Europe while making a movie. Pop, the tough-as-nails backbone of the family, died in 1970. Through it all, Hazie sustained her family and herself – and took strength from hard work.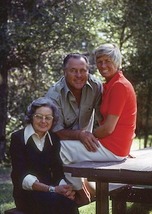 The Werner-Walkers: Hazie, Doak and Skeeter at home in their backyard.
It was also a time when the Steamboat Ski Area was being established and the Werner family played a major role. The Werner Storm Hut Ski Shop opened downtown. Skeeter was the ski school director and opened the Storm Hut in the base area's A-frame while Hazie ran the downtown store. And Loris succeeded Skeeter as ski school director and later became vice president of mountain operations. By then, Skeeter had also met and married Doak Walker, who moved into the house.
For the burgeoning ski community, Hazie's house increasingly became the center of hospitality. Hazie's kitchen was the gathering place for Loris' and Skeeter's racing friends, Doak's friends from the world of sports, celebrities from all over, local kids and lots of new friends. By the 1970s, if there was such a thing as Steamboat royalty, the Werner family and Doak were it. In 1991, the entire family was inducted into the Rolex Ski Racing Hall of Fame.
But it wasn't just ski racers who felt the warm glow of Hazie's hospitality. In the 70s and 80s, it was almost a badge of honor to have slept on the bed in Hazie's garage – and this is where I come in.
Having met Loris while I was still living in Kansas City, I was invited to stay at Hazie's house during a winter visit. As a boy who grew up in Michigan, I had idolized Doak when he played for the Detroit Lions. Imagine then, the thrill of walking in to Hazie's kitchen and being greeted by the man sitting at the table who simply said, "Hi, I'm Doak." In 1975, I moved to Steamboat as the director of public relations for the ski area and my wife, Vicky, and I became part of that extended family that came to Hazie's house for Thanksgiving, Christmas, Easter and several summer gatherings.
The backyard became a place for weddings and receptions. When Barb (Johnson) Shipley was planning her wedding to John, Hazie and Skeeter insisted on hosting the reception. Barb was an integral part of the extended family, and she remembers spending many nights on the garage bed when visiting Steamboat during the time she worked in Jackson Hole.
At holiday dinners, Hazie's "family" would number 20-25 people. There were always a few newcomers in the group, and Hazie was at the center of it all. She did all the cooking herself, as she wouldn't let you bring food to these celebrations. "Hospitality was her biggest thing – it was her Christmas present to everybody," says Barb Shipley.
My favorite was Hazie's dinner rolls, for which you can find the recipe in the "Steamboat Entertains" cookbook. Sports, movie and political celebrities found their way to Hazie's kitchen at other times, but she didn't make any fuss over them. "That was the great thing about her – she treated everybody the same," says Loris Werner. "It didn't matter to her whether it was the president, or some person off the street."
Indeed, when former President Gerald Ford stopped by after a round of golf, she gave him a tour of the worm ranch. Then she went out in the yard and asked the Secret Service if they would like to come in and have something to drink.
Stories abound about how nonplused she was in the presence of the rich and famous – how June Allison stopped by to see Hazie; how Robert Redford stopped by the shop to say hello to Loris (and Hazie, oblivious to who he was, simply wrote "Bob Redford" down in her notebook so she would remember); how Joan Kennedy spent a lot of time with Hazie at the shop during the Special Olympics; how the whole Kennedy clan ended up in her kitchen for chili. Of course, Doak's old football buddies were always making appearances, but Hazie had a special place in her heart for a then-current football hero – John Elway. She was a big Bronco fan, recording the scores in her diary, and almost "lost it" when she met Elway in Vail one day.
Sadly, Hazie quietly left us on Feb. 16, 1993. Doak followed in 1998 after a ski accident, and Skeeter passed away in 2001. To walk into that living room was to relive a part of a remarkable time in the history of this community. Trophy cases filled with ski medals and cups lined a portion of several walls – and Doak's Heisman Trophy rested on the mantle above the fireplace.
I've always believed that houses have karma. And if that is so, then this house had it in spades. As Vanda Werner observed, "It's all about the family that lives there." Oh, the memories.
Photographer Rod Hanna was formerly the official Denver Broncos photographer. His work has appeared widely from Sports Illustrated to people, National Geographic, Tim, Newsweek and Travel & Leisure. Since the mid 1990s, his focus has been on digital fine art prints. Steamboat Magazine's summer 2012 issue featured a 50-year retrospective of his work.