Dancing Through the Lens
02/24/2013 05:12PM ● By Christina Freeman
Dancer Victor Ayers and Steamboat's iconic downtown Space Station in "Fill 'Er Up" by photographer Jordan Matter.
By Jennie Lay
Photographer Jordan Matter put infinite faith in lithe young dancers' athletic prowess and well-honed balance. He perched them atop the Yampa River's spring runoff and sent them leaping at seemingly insurmountable heights through downtown Steamboat Springs. In the process, he launched the Yampa Valley's landscape onto the national radar.
Matter's book "Dancers Among Us" is a collection of images capturing dancers performing joyful, impromtu feats amidst scenes of everyday life. Many of the photos are in iconic American backdrops – and four of them feature Steamboat. Made in natural light with a minimum shutter speed of 1/320, the effect of Matter's images is dreamlike and often surreal – but the ensuing adoration for his work has been bonafide. Among other "best book" accolades, "Dancers Among Us" has now been on the New York Times bestseller list for months.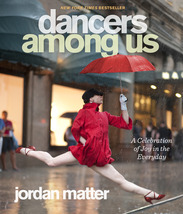 "The project was inspired by my children, especially my son. I was watching him play and his joy for playing was so infectious I wanted to figure out how to translate that for people," Matter says. "I decided to do it with dancers."
The New York photographer has been visiting Steamboat once or twice each year for about 15 years – always during ski season. Despite having photographed dancers in three other Colorado locations before he arrived here for vacation in April 2012, Matter felt his images so far had failed to capture the essence of the Colorado landscape. With that, he put out one last Facebook call for dancers willing to meet up in Steamboat, and four ideal candidates from Colorado Springs replied.
Matter's process in Steamboat didn't veer from how he managed shoots in major cities around the country. He and the dancers met early at Freshies, piled in a car and drove around in search of cool locations. "I never plan. You take what's in front of you and make a choice," Matter says. That being said, he was determined to do a shoot at Steamboat's iconic More barn. The rest of the sites were more spontaneous inspirations.
"We had a lot of wrong turns," he says, noting that is how dancer Rhiona O'Loughlin ended up perched elegantly above the cows on an Elk River Road mailbox – a photograph that earned a double-page spread in the book.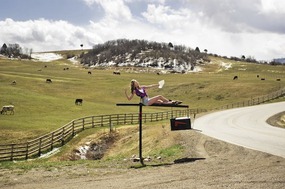 Dancer Rhiona O'Loughlin and spring in the Elk River Valley in "S.W.A.K" by photographer Jordan Matter.
An image of dancer Victor Ayers flying in front of the downtown Space Station was spur-of-the-moment. "It was a cold day. We stopped across the street for a hot dog and a coffee," Matter says. The idea to grab a gas can and go came together quickly – and only took a couple takes. Other images in the book took as many as 200 shots to solidify.
With so many gravity-defying feats throughout the book, it is remarkable that not a single dancer suffered an injury in the process. "But we're very lucky they didn't," Matter says. "Dancers are willing to go to extremes and push themselves to their limits – and I'm willing to push them there. There was no oversight. It was crazy stuff that they did."
Matter suffers incessant Photoshop questions, but the proof lies in the strength and flexibility shown by his dancers. "People are generally cynical because media is generally manipulated these days. We're not purists anymore. The assumption is that if you can manipulate it you will," he says. "I've gone out of my way to show I didn't." His website, www.dancersamongus.com, includes videos of actual photo shoots, unveiling how the images unfurled. "We worked really hard with videos to prove what we did."
"I'm not done. There are several ideas on the table for this – I'm still shooting," Matter says. "It's fun and it's a bit addictive."
Jordan Matter gives a free talk and slideshow at 6:30 p.m. on Wednesday, March 27, in Library Hall at the Bud Werner Memorial Library. "Dancers Among Us" will be available for purchase and signing – and Matter is giving away a print of his Space Station image to one lucky attendee.