Family Ties: The Story of Steamboat
12/05/2012 08:03PM ● By Christina Freeman
Ski area founder Jim Temple on Storm Peak summit, 1957/Courtesy Tread of Pioneers Museum
By Deborah Olsen
Surreal blue skies, ghostly ice-covered trees, snow so light it inspired the phrase Champagne Powder, bump lines laid down by world champions.
Even these unrivaled attributes are but reflections of Steamboat's soul.
Ski magazines describe Steamboat as a "family resort," most often referring to Steamboat's celebrated ski school, novice-centric slopes or lack of pretense.
History reveals a more profound definition. Families are at the very root of the Steamboat Ski Area: families who looked up at the mountain outside of town and shared a common vision, "The Dream," as ski area founder Jim Temple described it in 1956.
The Temple Family
Steamboat's story starts with the dream of Jim Temple, whose vision persisted in the face of disbelief, discouragement and the inevitable obstacles. His wife, Audrey Light Temple (of the family that started F.M. Light, Steamboat's oldest store), contributed to the legacy, starting the Winter Sports Club's Little Toots program for its youngest skiers in 1957.
Jamie and Jeff Temple continued their father's dream, founding Storm Mountain Ranch and Marabou Ranch, both conservation developments as well as private communities. 
Ski Area Visionary
By Jean Wren and Rolly Wahl
Born in 1927 into a hard-working ranching life on the Little Snake River in north Routt County, Jim Temple grew up irrigating and putting up hay in the summer that he fed to cattle by team and sled in the winter.
An avid skier, Jim spent seven winters in Sun Valley, Idaho. This skis-on experience gave him the knowledge to dream of creating a destination resort on Steamboat's Storm Mountain.
Jim started his feasibility study in 1955. He drove a Jeep to the summit with Gates Gooding. He took Forest Service Supervisor Paul Hauk to the top of the mountain by horseback. He organized snowcat trips from 1956-'58 with Marvin Elkins, pulling Winter Sports Club skiers from Rabbit Ears Pass to the top of the mountain to ski to the valley floor.
In summer 1958, Jim climbed the mountain with Steamboat's young American ski hero, Buddy Werner, showing him a tree where the top lift terminal would be located. "Bud climbed that tree and tied a white handkerchief in the top," he remembers. Jim surveyed from the bottom terminal to the handkerchief for Steamboat's first chairlift line.
In the meantime, Jim bought four ranches at the base of the mountain with a combined total of more than 1,000 acres. He believed it was significant that the ski area would be built on working ranch land from Steamboat's proud agricultural heritage.
As founder and president of Storm Mountain Ski Corporation, Jim built a Pomalift and with a double chairlift under construction, he opened Storm Mountain Ski Area in the winter of 1960-'61. "I looked at the mountain," Jim remembers, "with the lift running and ski slope covered with laughing children and with a feeling euphoria, I said, 'I've done it!'"
Jim believed the mountain had great potential. He had no doubt that in time it could become a popular destination resort like Sun Valley. His vision, faith and dogged determination inspired the creation of one of the world's premier ski areas and started the bull wheels turning for the future economic prosperity of Northwest Colorado.
Jean Wren was an accomplished writer and historian who died in 2002. Rolly Wahl was the longtime editor of Steamboat Magazine. This article originally appeared in the Winter/Spring 1998 edition of the magazine.
The Fetcher family
Where Jim Temple was the visionary, John Fetcher was the engineer, businessman and rancher. A practical man, John went so far as to haul bull wheels for a chairlift from California on the back of his pickup truck when production problems threatened to delay their delivery.
John's wife, Clarissa (Criss) won the Hazie Werner Award of Excellence for her many contributions to the community, from her passion and promotion of music to her work with the Red Cross and the hospital. 
Like his father before him, Jay Fetcher is a rancher and water-rights advocate, while his brother, Bill, is a rancher and historian. John's sister-in-law, the late Gertrude Fetcher, was one of the early supporters of The Lowell Whiteman School in Strawberry Park.
Mountain Developer
By Jean Wren
Born in Winnetka, Ill., in 1912, John Fetcher was educated in this country and France. He graduated from Harvard with degrees in business and engineering and served in an executive position for the Budd company in Paris and Philadelphia, first making railroad cars for the French government, then munitions.
In 1948, tired of a high-pressure lifestyle, he came to Routt County with his brother, Stan, and purchased a ranch on Elk River, near Clark. Having moved his wife and four children from suburbia to ranching, Fetcher learned to milk a cow and shoe a horse but was soon reaching out for new fields to conquer.
In 1959 he joined the newly formed Storm Mountain Ski Corporation as vice president and worked with its founder, Jim Temple, to establish a ski area. When funding fell short for the project, a Denver group was brought in to take over and Mount Werner Inc. was formed, with Fetcher as president. The first lift was installed in 1963, after Fetcher had driven a ranch truck to California to pick up bull wheels. He then supervised the construction of the Christie, Thunderhead, Four Points, Burgess Creek and Headwall lifts. Traveling to Switzerland to negotiate the purchase of a gondola, he returned to supervise its construction.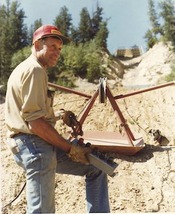 John Fetcher helps to rebuild the jump at Howelsen Hill/Courtesy Fetcher Family Collection/Bill Fetcher
As chairman of the Steamboat Springs Jumping Commission, he spearheaded the rebuilding of the Howelsen Hill jumping complex and installation of snowmaking equipment. Later he raised money for stabilization for the 90-meter jump and expansion of the Howelsen Hill lodge. Twice an Olympic jumping referee, he served as president of the Steamboat Springs Winter Sports Club in 1973-'74. He joined the National Ski Patrol 45 years ago. 
Fetcher was inducted into the Colorado Ski Hall of Fame was awarded the Halstead Memorial Award for service to skiing.
Excerpted from the original article, as it appeared in the Winter/Spring 1998 edition of Steamboat Magazine.
The Werner Family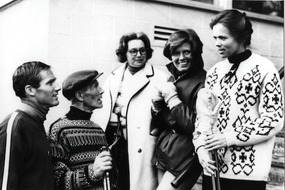 The Werners: Buddy, "Pop", Hazie, Sketter and Vonda (Buddy's wife)/Courtesy Tread of Pioneers Museum
Ed "Pop" Werner, the patriarch of the Werners, packed out a ski hill for his kids on the ranch. His wife, Hazie, was a legendary hostess and the epitome of Steamboat's "friendly" persona. Her light is still on, in a manner of speaking, as it shines over the valley from the restaurant named in her honor atop the gondola. Their three children, Skeeter, Loris and Buddy, were all Olympians and competitive skiers.
Buddy Werner
By Mike Clark
Buddy Werner was charismatic before the concept became popular. He had movie-idol looks, a ready grin, and also happened to be the greatest American racer of his generation — maybe the best ever.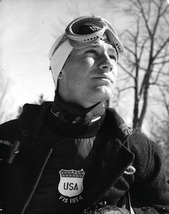 Buddy Werner/Courtesy Tread of Pioneers Museum
In 1959, Werner became the only American to win the toughest race there is, the Hahnenkamm downhill at Kitzbuhel, Austria.
As successful as he was, Buddy Werner was dogged by bad luck. In the 1956 Olympics, he lost skis in two of the races. He finished the downhill on one ski, placing 11th. He didn't even get to ski in the 1960 Games, breaking his left leg barely a month before the events at Squaw Valley, Calif. In the 1964 Games, his last major outing, Werner's troubles continued. His best finish was eighth in slalom as his teammates, Billy Kidd and Jimmy Heuga, won silver and bronze medals.
Buddy retired from racing on March 22, 1964. Three weeks later, while filming a ski commercial in Switzerland, he was killed in an avalanche. Mount Werner was renamed in his honor in 1965.
Olympic silver medalist Billy Kidd, Steamboat's director of skiing, vividly recalls Buddy: "I remember seeing some photos of Buddy in Ski magazine. It was sequence photography, probably the first I'd ever seen. Here was Buddy coming through, making a left turn, then a right turn, then a left turn. There was a fence behind him, and by looking at that in each picture, you could see that he was moving along but the sequence was real quick. As he was turning, his head, his shoulders, nothing moved, just his knees flicking form one side to the other. I used those pictures to study how to turn quickly.
"Buddy not only had the credentials as a racer, but he also had the most ideal personality for getting stuff done. He had an obvious inner strength and fierce competitiveness and an exterior that was so gregarious. He was just a delight to be around."
Excerpted from "The Werners to the World Cup," Steamboat Magazine, Winter/Spring 1990
Skeeter & Hazie Werner
By Skeeter Werner
Hazie's house sits along the edge of a stream in Old Town. Our family moved here in 1941 and since that day, almost no one has used the front door. They come in instead through her kitchen, stopping for a beer or soda pop on their way. Sitting in our living room today, surrounded by memories of my mother and father, Hazie and Ed "Pop" Werner, of growing up with my brothers Buddy and Loris, and of my late husband, Doak Walker, I reflect on this extraordinary community where I was raised.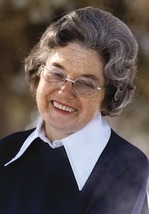 Hazie Werner, family matriarch/Courtesy Rod Hanna
I was a very lucky little girl, growing up with the best of two worlds: we lived on a ranch in the mountains, and I came into town for school.
For many years, we lived in an old log cabin on what is now the Fetcher ranch up the Elk River Valley. It wasn't a fancy place — I remember Hazie putting an oilcloth over the kitchen table when it rained because the dirt roof leaked so badly. But we didn't care.
All three Werner kids — Buddy, Loris and I — were competitive. No matter what we did, we did it to win. I think our ski coach, Gordy Wren, helped to instill that in us. He had tremendous mental and physical strength, and he was very strict. We had to watch what we ate and be in bed at a certain time. Nobody drank or smoked — they wouldn't have dared.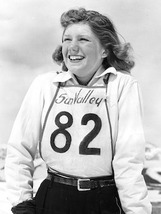 Skeeter Werner/Courtesy Tread of Pioneers Museum
We trained at Howelsen Hill. I don't think we give that ski area enough credit. It's steep, tough terrain — very, very difficult to ski. If you can ski there, you can ski anywhere. The Winter Sports Club owned it back then. For more than 30 years, Pop was the driving force behind the club. He and Hazie also worked on the ranch, at the family store, selling hot dogs at Howelsen — whatever it took so we could ski.
It was a thrill to be able to represent our hometown, and later our country, at events all over the world. Buddy, especially, left his mark. He was the first American skier to be considered a serious threat to Austrian dominance of the sport.
Probably the greatest moment in my own ski career was winning the North American championship in 1955, the year before the Olympics in 1956. That was a wonderful experience, too, but I can still see where I made my one mistake. It was in the downhill, and I touched the edge of one ski just a little too hard. In the flick of a second, I went from first to 10th — that's ski racing!
Hazie was always putting up visiting ski racers. Sometimes we had virtually the whole U.S. Team here: Bob Beattie, Hank Kashiwa, Moose Barrows, Bill Marolt and Billy Kidd. The only rule was you couldn't wax your skis in the kitchen.
I remember the time President Gerald Ford came over to Steamboat from Vail to golf, but it was raining so hard he could only play nine holes. So he came here instead, and the property was surrounded by Secret Service agents. When our neighbor stopped by to see what the commotion was, he was questioned and turned away.
Only one thing ever really made Hazie angry. That was when newcomers would suggest that we ought to dissuade more people from moving here. She would always say, "We made room for you, didn't we?"
Excerpted from "Steamboat Springs Legends" by Deborah Olsen
Loris Werner
By Tom Ross
Before the mountain's face had been creased by a single ski run, Loris Werner and his pals were sampling its powder and exploring routes down its creek beds.
Back in 1957, there was no gondola, no chairlifts to ride to the top of broad-shouldered Mount Werner. Skiers who wanted to enjoy its slopes had to work for their pleasure. And Loris Werner and his high school friends made the trip often.
Typically the group included Gary Knowles, Jon Elliott, Gates Gooding and Loris' older brother, Buddy. Taking a car to the top of Rabbit Ears Pass, they would slip skins over their alpine skis and begin the trek along the Hogan Park Trail.
Stopping for the night, they built a snow cave with a tarp for a floor and pine boughs lining the walls. In the morning, they would complete their hike and climb up the backside of the mountain. Before them lay a glorious descent.
"We had the whole mountain to ourselves. It was all virgin snow," Loris remembers. "From year to year we learned the best drainages to ski down…I think my mother (Hazie) cherished the time because we weren't at home harassing her."
Loris went on to become a U.S. Ski Team member, but never stopped exploring the mountain of his youth. The 1968 Winter Olympics in Grenoble were a letdown for the continent from Ski Town U.S.A. Jim "Moose" Barrows and Jon Elliott injured themselves in the downhill. A week before the Olympics got underway, Loris was taken out of competition by a severe ankle strain.
Since that year, he has been a familiar sight on the slopes of Steamboat, easily recognizable by his trademark, a soft gray cowboy hat.
Excerpted from Steamboat Magazine, Winter/Spring 1983
Families are an integral part of Steamboat Ski Area. The Heids, Crawfords, Withers, Elliotts, Romicks, Smalleys, Bowes, Schnackenbergs, Barrows, Perrys, Delli Quadris, Wrens, Elkins— for that matter, the Howelsens, both father and son — the story of Steamboat can be found in the family trees of its founders.