Matt Ladley: Going Fast, Going Big and Riding Well
12/02/2012 01:35PM ● By Christina Freeman
Matt Ladley during the 2011 Winter X Games
Story and photos by Ned Cremin
X-Game rider Matt Ladley, a veteran of the Steamboat Springs Winter Sports Club, posted impressive results last winter at the highest levels of the international snowboarding circuit.
Ladley made the podium at the Dew Tour in Killington, Vt., and finished in the top five at both the Aspen Winter X Games and Tigres Winter X Games Europe. Then came the grand finale: the 21-year-old stomped a showcase run at the Snowboarding World Championships in Oslo, Norway. Up against a veteran league of snowboard legends and journeymen, Ladley solidified his niche in the Halfpipe Hierarchy by taking the silver medal. Not bad for a down-to-earth, modest kid with a toothy smile who calls small-town Steamboat home.
In just a few short years as a pro, Ladley's keen sense of air-awareness, coupled with a glassy clean riding style, has cranked necks and widened eyes along the deck. Able to lock down back-to-back 1080s in the pipe with dizzying amounts of amplitude, Ladley has established himself as a regular contender for the podium while winning the respect and praise from fellow pros and industry experts alike.
"It's rare to see a halfpipe competitor who not only has a deep and technical bag of tricks, but also the ability to perform these moves with great amplitude. This is what sets Shaun White apart, and the same can be said for Matt Ladley," says Pat Bridges, editor of Snowboarder Magazine and an established authority on snowboarding.
Ned Cremin caught up with this Olympic hopeful while he was riding in Wanaka, New Zealand. Matt was preparing to compete in the first official FIS Snowboard Halfpipe event of the Olympic qualification period for Sochi, Russia in 2014. We talked about all things Steamboat, the Winter Sports Club and his outlook for the upcoming 2012-2013 season.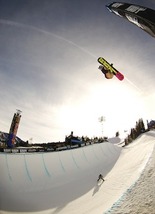 Matt Ladley with a 540 stalefish grab at the 2012 Winter X Games, Aspen.
Steamboat Magazine: Last season you had multiple podium finishes at major competitions. Which was your personal highlight of 2012?
Matt Ladley: As far as contests go, getting second at the World Snowboard Championships at Oslo, Norway. It was really big for me, definitely. That pipe was riding really well and when it's THAT fun to be out there and you're not terrified of the conditions, you can really let your worries go and just focus. You're stoked to be riding and to be in the moment. It worked out really great for me.
SM: Last year you rode the Ride signature Buckwild snowboard sporting the graphic, "I'm having more fun than you." What will you be taking into 2013?
ML: I'll be rocking the Buckwild 153, again. Pretty similar graphic as last year, so look for it. I'll be riding the Ride Maestro bindings with Nike Boots and having way more fun.
SM: As you head into the 2012-13 season, who are your current sponsors?
ML: Nike, Muscle Milk, Hex, Ride Snowboards, Scull Candy, Oakley, Powder Tools and Steamboat Resort. They've all been great. I feel pretty lucky to have such great sponsors. They've been really supportive of everything I'm doing.
SM: At Winter X Games Aspen, your amplitude was impressive, comparable only to Shaun White. Has that been an element you've been working on?
ML: Yeah, thank you. To me the most fun thing about riding pipe is going fast, going big, riding well and landing well. It's definitely been something that I've put a lot of work into the past few years and especially all last year. I'm stoked that it's paying off. I've learned a few new tricks this spring, and I'm looking to put those two things together to ride consistently and to keep progressing this season.
SM: As you're traveling all around the world to compete, what do you miss most about Steamboat?
ML: I miss that mellow, small-town vibe. Being familiar with everyone and feeling comfortable everywhere. That's what I LOVE about Steamboat, you go back home and you see all the people you grew up with. I see Jon, Spencer — all those guys. I love hanging out with the family and not doing contests. I get to relax and go shred pow. I just got a new sled, so I miss taking that out. Hopefully we get a lot of snow this winter.
SM: You had a large Colorado crowd supporting you this year at Winter X Games. How did that feel?
ML: It's so fun. I have so many buddies that come out from Steamboat and Boulder. I come down after finishing my run, I love seeing 20 kids I know in the crowd. It's awesome. I'm really excited that there are so many great contests in Colorado this year — the Dew Tour in Breckenridge, X-Games in Aspen, and the U.S Open just moved out to Vail as well. So, three of the biggest contests in snowboarding will now be in Colorado. I'd like to get all the people I can to come out for those three. See you there.
SM: How did participating in the Winter Sports Club help you prepare for the professional ranks?
ML: Being part of the Winter Sports Club in Steamboat is really the best-case scenario for a young snowboarder who wants to turn pro someday. You get the opportunity to travel, at least regionally, and then as you grow older and do better, you get to travel to the bigger contests. They're always right there, supporting you and helping you with pretty much everything that the U.S Pro Team would do — just on a smaller scale. You have all the coaches giving you feedback, offering tips and reviewing video. You have friends to ride with, and I think the biggest part of it is you ride a lot. You're always stoked to be out there, and they're great about keeping it fun. The kids want to continue progressing, not because someone is telling them to, but because they have that hunger. For me, that was the highlight of every day growing up. I couldn't wait to leave school and go shred.
SM: Do you credit anyone in Steamboat or the WSC with helping catapult you to success?
ML: Two coaches, for sure. Spencer Tamblyn and Jon Casson. My mom is moving into a different house and I was going through my room, sorting things out, when I came across a journal from when I was about 11 years old. There was an entry about my snowboard instructor, Jon Casson, and the day he taught me a 360. I remember vividly, that was the first front-side 360 I ever learned. We went up Sundown lift and then headed right from the top to that first cat-track towards 3 O'clock. I learned my first 360 there. So, I got to give it up to Jon, he definitely inspired me right off the bat. We did a lot coaching over the next few years and he's a great guy. I still keep in touch with him. Then later, when I was about 14 or 15, I started training with Spencer, and I think he's still one of the greatest guys and greatest coaches out there. I worked with him for a while until he became the U.S. Snowboarding Team coach. I really owe those two guys a lot for where I am today.
SM: Steamboat is known as Ski Town USA. What do you have to say about that?
ML: Well, there are a ton of skiers there. But, recently we've got a lot of good snowboarders coming out of the 'Boat. We have both the Golds, (Taylor and Arielle) and Maddy Shafrick, obviously, Natalie Geer, too. I think they're all good riders and going places with snowboarding. Taylor and Arielle are both down here in New Zealand, and they're riding great. Maddy is coming back from a knee injury and she's always killing it. I have a lot of faith in her and I think she's going to do very well.
SM: What are you looking forward to in 2013?
ML: Right now I'm really focused on my competition schedule. I'm going to push to do my best in all the Olympic qualifying events. I feel like I have a good chance to do well in the qualifiers. So right now, it's contests and staying healthy. Nothing is promised, so I'm just going to do my best.
SM: Any shout-outs to the 'Boat?
ML: Yeah, to my family and all my friends back there, to Winter Sports Club, Powder Tools. I've got the best sister in the world, Lauren. I would put money down on that. She takes care of me. It was good seeing everyone this summer and I'll be back there this winter. Big thanks to Jake and Bernie!
You can keep up with Matt and offer your support by liking his Matt Ladley athlete page on facebook.