Powder Nation
12/02/2012 01:04PM ● By Christina Freeman
Skiers load up for an early-year Powdercat expedition/Photo Courtesy Steamboat Powdercats
By Kent Vertrees
Still testing the product after 30 years
All good businesses start with an idea — hopefully a great idea — that will engage, motivate and drive customers to come back year after year after year. It's a seemingly simple plan, but often a difficult one to realize. But if you figure it out and get lucky, too, you just may hit on something very, very special.
In the case of Steamboat Powdercats, which is celebrating its 30th anniversary this year, the initial business idea was special indeed. In 1983, Jupiter and Barbara Jones thought they had a gem of an idea, one that could blossom into a cherished business in Northwest Colorado. After a heli-skiing trip the prior winter in Canada, Jupiter realized Steamboat Springs was in a great position to offer a similar guided, powder skiing operation.
The snow, terrain and people were a perfect fit and satisfied some basic nice questions.
Is there good powder available? The Park Range and Buffalo Pass are Colorado's deepest and receive, arguably, the lightest, most consistent snow in all the state.
• Is there enough terrain to satisfy the always-hungry powderhound? A series of ridgelines access the variety of terrain necessary to accommodate 12-36 guests per day, and it's only 20 minutes from downtown Steamboat.
• Are there enough paying guests to support the business model? The droves of hungry powder skiers visiting Steamboat would easily provide the 1,000-plus skier-days necessary to make this a viable business venture.
"We did our research," Jupiter says with a spark in his eye, "then talked with the local snow ranger at the Forest Service, and he was more than willing to let us give it a try."
With permit in hand, the Joneses were ecstatic about their new career. "It was the greatest job, skiing powder for a living. On a daily basis we were satisfying people's powder fantasies while playing with big toys like snowcats and snowmobiles. Not a day went by that wasn't an adventure," Jupiter says.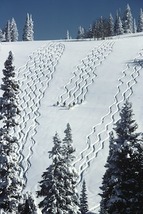 Laying down lines on Buffalo Pass, 1985/Photo by Ron Dahlquist
After the first few seasons of working out the kinks, the Joneses knew they had a business that was fun to operate and would last. "We were a family of friends who helped guide our guests. These guests in turn became our friends after multiple visits. Every year we saw the same crews coming together with us to celebrate the camaraderie of backcountry skiing," Jupiter says.
Mike Rakowski, who has been ski guiding with Steamboat Powdercats for 24 seasons also understands the evolution of the legacy that is Steamboat Powdercats. "Beyond the fresh lines and endless untracked powder, of course, it's been the Powdercats Nation, that extended family of returning guests mixing with the new that has been the soul of this company," Rakowski says.
When Rakowski first started guiding, he saw the job as the ultimate ski experience. He says with all honesty, "I couldn't believe I was getting paid for such a sweet job." No doubt the job ranks high on most "Best Job" lists, and Mike confesses, "I'm very lucky that this has become the profession for me and the other ski guides who have made this a career."
In 1999, when the Joneses sold the business to a group of investors from the Front Range, the company evolved from a one-snowcat to a three-snowcat operation that now logs 1,800-plus skier days per season.
"We're definitely keeping the tradition alive," says Eric Deering, Powdercats' general manager since 2006. "It's been great for us to build on what Jupiter and Barbara established. Like them, it's the relationships that come about from the camaraderie of the backcountry that really keep us rolling."
With all its success, it hasn't always been the easiest of businesses. The drought of 2012 was a challenge. "We're trying to forget that one," Deering says, "and of course, snowcats are machines that do break down, often in interesting locations and times." Heavy snows bog down travel, groups sometimes get separated and occasionally — and unfortunately — guests and guides do get hurt.
The inherent risks of skiing in the backcountry necessitate Steamboat Powdercats take its risk management and safety operations to another level. "Our entire staff participates in an annual 10-day, preseason training program that covers everything from emergency medical response to avalanches, lost ski/rider protocols, cat operations and general backcountry safety concerns," Deering says.
As Powdercats enters its 30th season, the business has become a leader in the industry. With new terrain opening up, along with some new hires, new snowboards, skis, a commemorative logo and a big, kick-off party on Wednesday, Dec. 19, Deering and the gang at Steamboat Powdercats are proud to be leaders of the Powder Nation.