Drink Local- Bottoms Up. These spirits are distilled in Colorado – and they're delicious.
12/02/2012 12:16PM ● By Christina Freeman
Steamboat-made Daniela's Cowboy Bourbon Pecans are glazed with Breckenridge Distillery's Bourbon Whiskey.
Story & Photography By Jennie Lay
Relax, Locavores. Après ski with genuine local flair has moved beyond microbrews. Booze is earning its mountain cred as craft distilleries are piling up across Colorado like snowflakes on a powder day.
Late this fall, a motley crew of local 40-somethings gathered around a raging bonfire to sample an array of spirits hailing from nine distilleries located in the state. Debating and taste-testing ran into the wee hours of the morning while our critical drinkers sought to distinguish the impacts of locally harvested ingredients and pure mountain springs.
Each bottle was sipped straight-up, then blended with various mixes to see what stood out. Comment cards, submitted blindly, grew a tad bit blearier as the evening wore on. In the end, here's what our swarthy volunteers liked best.
Top honor goes to Stranahan's Colorado Whiskey from Denver. The tasters decreed it "the best. A really good sipping whiskey. I would never mix a cocktail with it – that would probably be sacrilege." Another admirer said, "It doesn't even need an ice cube. Smooth and traditional. Straight up sippable."
Colorado bourbons left everyone grinning. In fact, our diehard bourbon fans agreed they wouldn't be remotely disappointed to receive any of these bottles in their Christmas stockings. Breckenridge Distillery's Special Release Bourbon Whiskey was the favorite pick. They said, "killer with ginger ale. Best bourbon we've had in years," and downright "sippable but mixable." (Bourbon bonus: Steamboat's own Daniela's Chocolates and Sweets glazes the spicy Cowboy Pecans with Breckenridge bourbon too. They are delicious and addicting.)

Boulder Distillery's 303 Whiskey, with a remarkable deep caramel color, got high marks for its "yummy smoke flavor" and being "very smooth, very oaky, good stuff." Peach Street Distillers' Colorado Straight Bourbon Whiskey from Palisade, gets a thumbs up for being "heavier on the palette in a good way," due in no small part to being 92 proof, which is heavy on the alcohol compared to its contenders. Colorado Gold Distillery's Straight Bourbon Whiskey from Cedaredge got high marks as a "soft sipping bourbon" that's "smooth and oaky with nice charcoal."
Believe it: They're distilling rum in Crested Butte. And it rocks. Montanya Distillers makes Oro High Mountain Rum (gold) that is a tad bit sweeter and ideal for sipping or "solid in a dark and stormy." Their Platano High Mountain Rum (silver) makes "a perfect mojito. Clean crisp, just the right bit of sweet." Smooth flavors in both the Oro and Platano earned raves of "fantastic" and, "five stars. Very yummy, I would buy this."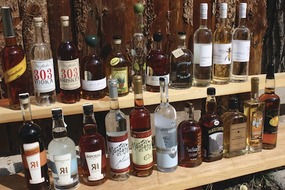 A small sampling of Colorado's finest.
Mexico may have exclusive naming rights to "tequila," but Palisade and Cedaredge have plunked Colorado on the must-try map for agave spirits. Peach Street Distillers' dAgavé Gold and Colorado Gold Distillery's Agave Spirits are, "sipping tequilas, not lime-chasing shooters." They both use 100% blue agave from Mexico, and our tasters warn, "Don't ruin them with sweet and sour." Raving about the dAgavé, our admirers said, "Love it! Smooth baby! Five star," "Smokey, sharp tequila," and "Smooooooth. Real nice on ice!"
When you're considering what logically might come out of the top of the watershed, cold clear vodka feels closest to home. Mix artisan spring water with honey from the eastern plains and you've got our slam-dunk favorite: Spring 44's Honey Vodka from Loveland "looks different, smells different, is different. Just plain awesome." This is what flavored vodka should taste like – not too much taste. Our unanimous fans complimented everything from the "essence of vanilla and almond," to a "beautiful tinge of maple that smells like breakfast." It has "just the right sweet and it smells amazing. Perfect on ice with a splash of soda. A great bottle to keep on hand in your freezer."
Venturing out of the "flavored" realm, Spring 44's straight vodka got high marks for its "signature spice and nice tang. This is a Bloody Mary beauty." Boulder Distillery's 303 Vodka made with Colorado potatoes gained admirers for touting its Colorado crop and a "yummy earthy sweetness." Breckenridge Distillery's vodka makes a "clean, crisp, really nice cocktail."
Anyone who has ventured in the western part of our state knows juniper is in no short supply – nor is the variety of gin that's being distilled here. Peach Street Distillers' Jackelope Gin is the "smoothest. If you were going to have to sip gin, this would be it." Still, we ultimately opted for mixes to enjoy this gin that was "a tiny bit sweet, smooth and tangy – perfect G&T for a winter bonfire. Five star. Yummy smooth. Had seconds." Close contenders were the gins from Boulder's Roundhouse Spirits and Spring 44.
Working our way through the Colorado harvest, we came upon the corn whiskeys. The crew decreed these bottles have a more limited appreciation – corn whiskey just smelled and tasted different to the uninitiated. Colorado Gold Distillery's Colorado's Own Corn Whiskey has "a light color and evaporates quickly off the palette." Black Canyon Distillery's Colorado Sour Mash Corn Whiskey from Longmont offers up a stiff drink, preferably with Coke.
After dinner, Roundhouse Spirits' Corretto coffee liqueur is "so light and yummy on ice. No need for cream, but it would make an awesome white Russian." For something lighter, Peach Street Distillers Jack and Jenny Eau-de-vie Pear Brandy "smells so nice! It's a nice sipper with your sweet dessert." And their Peach Brandy, "smells like peach cobbler," and "tasted great in a hot toddy garnished with nutmeg."
Savor these spirits like fine wines. They're worthy top-shelf purchases – ideal bottles for under the tree this season (or special occasions like your BFF's birthday, all year long).
The taste-testing crew agreed unanimously that many of these small batch spirits will blow away the mass produced bottles you've long imbibed.