The Iconic Imagery of Cheryl Wiles
12/02/2012 11:46AM ● By Christina Freeman
Watercolor commemorating Steamboat's 1992 Women's World Cup race/Courtesy Cheryl Wiles
Watercolor artist immortalized Steamboat moments
The fastest women in the ski world came to town in 1989, when the Steamboat Ski Area hosted downhill and super-G World Cup races in February and again in December.
The whole town was abuzz with excitement. Busboys doubled as racecourse volunteers, the party scene came alive, and CEO Martin Hart identified the races as one of the reasons Kamori Kanko decided to purchase the Steamboat Ski Area.
"It was such a big deal," recalls artist Cheryl Wiles, who created posters and limited edition watercolor prints for the events. At the time, Wiles was living in Steamboat Springs, where she was pursuing an active outdoor lifestyle and putting her energy into the Steamboat Springs Arts Council.
"Over a glass of wine with (former Ski Corp. president) Gary Mielke, the idea of creating a unique piece of art for the Steamboat Ski Area's first World Cup race was born," Wiles recalls. "It was a marvelous experience because I got to be involved in a special way with the races and festivities."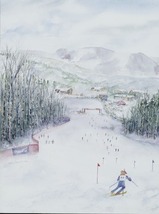 Artwork for the 1989 Women's World Cup/Courtesy Cheryl Wiles
Wiles visited Ski magazine and Spyder skiwear headquarters in Boulder to conduct research for the series. She also did a bit of "powder research" on Mount Werner.
By the time Wiles left the area in 1991 with her husband, she had designed a series of prints, many of which still hang on the walls of the ski area's administration offices. She also created Christmas cards depicting local scenes like the Steamboat barn, llama trekking and elk feeding.
Today Wiles is a tele skier who lives in Nederland. Photography is her medium of choice, and her work can be viewed at artistiphotography.com.