50+ years At the Steamboat Ski Area
12/02/2012 09:36AM ● By Christina Freeman
1963-John Fetcher and Gordy Wren at the base of Storm Mountain Ski Area. Courtesy Fetcher Family Collection/Bill Fetcher.
The Steamboat Ski Area started in 1955 with one man's dream. Rancher Jim Temple looked up at Storm Mountain, looming over the tiny town, and dreamt that one day it would become a ski area of international renown. Through tough financial times, drought and the early death of Steamboat's favorite son, Buddy Werner, the ski area and the community around it has stood fast. Today, more than 50 years after Temple first opened Storm Mountain Ski Area, his vision has not only been realized, but surpassed.
1955 "The Dream" includes plans for a gondola from the base to the summit of Storm Mountain
1958 Groundbreaking; first trails cut on Christie, then called Bearclaw
1959 First ski races held on Christie; access via snowcat 
1961 First lift, the Cubclaw Poma lift
1962 A-Frame warming hut
1963 Official opening of the ski area
Sitz, Yoo Hoo, See Me, Voo Doo, Vogue, Main Drag, Swinger and Right-O-Way runs
1964 Hometown Olympian Buddy Werner dies in an avalanche in Switzerland
1965 Mount Werner named in Buddy's honor
1968 Four Points double chairlift
"Weather front" runs: Cyclone, Tornado, Twister, Hurricane and Rainbow
Thunderhead Restaurant built
1969 Burgess Creek and Headwall double chairlifts
White Out, Norther and Blizzard runs
1970 Billy Kidd becomes director of skiing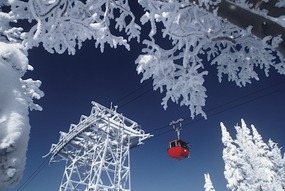 Stagecoach 6-passenger gondola built. 3,300 ft. span between Tower 1 (near Ptarmigan Inn) and Tower 2 (top of Christie) is world's longest. Height above Heavenly Daze between Towers 2 and 3 is 252 ft.
Summit Poma lift added, opening the face of Storm Peak and Buddy's Run.
1972 Priest Creek — first lift planted by helicopter
Priest Creek area opens with Closet, Shadows, Twilight, High Noon, One, Two and Three O'clock.

1974 Bashor double chairlift opens Bashor Bowl for beginners
1977 Snow drought, area closes; reopens March 5
WJW and Bar UE double chairlifts
Big Meadow, Crow Track, Flying Z, Triangle Three and Drop Out runs cut
Chute One opens
Ethel Kennedy, Eunice Kennedy Shriver and Olympian Bruce Jenner attend Inaugural International Winter Special Olympics

1979 Southface and Christie III and Arrowhead triple chairlifts open.
Ted's Ridge cut.
1980/81 Another snow drought; snowmaking installed
1983 Storm Peak and Sundown triple chairlifts installed. Storm Peak lift crosses over Four Points lift at the top of Twister
1984 Jean-Claude Killy and Billy Kidd make the first "official" run down Rolex
Sunshine Bowl ("Wally World") — Tomahawk, Quickdraw and Flintlock runs open
South Peak triple chairlift installed
Rendezvous Saddle and Ragnar's restaurant open
1985 Sunshine triple chairlift opens
Rudi's Run named in honor of Rudi Schnackenberg.
1986 Silver Bullet 8-passenger gondola and Hazie's restaurant open
Valley View run cut
Direct ski flights to Yampa Valley Regional Airport
1987 Snowboarding permitted
1989 Steamboat hosts two women's downhill and giant slalom World Cups: one in February and the next in December
Rough Rider Basin and Broadway run open
1990 Mountain trails open in summer.
Chutes Two, Three and Christmas Tree Bowl open
1991 Billy Kidd statue installed

1992 Storm Peak Express and Sundown Express open.
Nelson's Run named in honor of Olympian Nelson Carmichael
The "Toutes" (East Face) brought within ski area boundary
Typhoon, a gladed area between Cyclone and Tornado, developed
1993 President Gerald Ford drops in to Hazie Werner's home (unannounced) for lunch.
Mother Nature run created by a mudslide
Four Points Hut built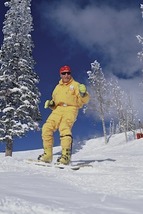 1996 Morningside Park expansion
1997 Pioneer Ridge trails cleared
1998 Pony Express chairlift installed
1999 The Park Smalley Freestyle Complex is dedicated; includes Voo Doo and adjacent aerial jumps
2000 Steamboat Grand Resort Hotel opens
2001 Mavericks Superpipe opens

2006 Sunshine high-speed quad opens
2007 Headwall regraded
Christie Peak Express and Wildhorse gondola are installed
2010 Steamboat Springs becomes Bike Town USA®
Nordic Combined "Moment of Glory" with 7 Olympic medals
2011 Base area promenade opens
Permanent stage built next to Gondola Square
Specialized downhill trails open in summer
2012 Steamboat Ski Area celebrates its 50th anniversary
Billy Kidd turns 70