Ski Through History - Ski Season 12/13
11/11/2012 08:42PM ● By Christina Freeman
As the Steamboat Ski Area celebrates its 50th anniversary, take a second glance at the history behind the mountain's iconic runs, lifts and restaurants. Storm Mountain, the original name for the Steamboat Ski Area, opened on January 12, 1963. There was a double chairlift and an A-frame warming hut. Total lift tickets sold on that -25°F day totaled $13.75. Since then, runs have been named in honor ski patrollers, maintenance men, ranchers and routes mistakenly traveled.
Bar UE, Flying Z, Crowtrack, WJW and Triangle 3 are all brands from local ranches. Buddy Werner's dad ran the Bar UE. Local ski jumper and veteran ski patroller Delbert Heid ran the Triangle 3.WJW was the last cattle allotment on Storm Mountain.
Bashor bowl was named for Carl Bashor, who skied the entire mountain before it was a ski area and whose family homesteaded that land.
The Bear Claw run was named by ski area founder Jim Temple, as the trees that he and the original trail cutters found throughout the area were scratched up by bears.
Buddy's Run was named because Olympian Gordon Wren thought it was the best one on the mountain in 1968, and he wanted to honor his friend Buddy Werner.
Elkhead was named because ski area pioneers Loris Werner, Dick Randolph and John Fetcher found a rodent-stashed elk head in the area while scoping new terrain in 1971.
Steamboat's Gondola was the world's first eight-person gondola. Installed in 1986, it was originally known as the Silver Bullet Gondola. It replaced the 252-foot-high, three-tower gondola that had served Thunderhead since 1970
Hazie's restaurant was named for Hazie Mae Ralson Werner, mother to Olympians Buddy, Skeeter and Loris.
High Noon, One O'clock, Two O'clock and Three O'clock were named for the time of day each one is hit by the sun. Rolex was a premium run within the "time theme," so Loris Werner requested use of the high-end watchmaker's name in 1985 and French Olympic skiing superstar Jean-Claude Killey came for the official naming of the run.
Mount Werner was originally known as Storm Mountain, but it was renamed in 1965 in honor of hometown Olympian Buddy Werner after he was killed in an avalanche in Switzerland in April 1964. The statue at the top of the mountain (across from the Storm Peak Express) depicts Werner. Locals consider it good luck and a good omen for snowfall to tap his head on the way by.
Ragnar's restaurant was named for Ragnar Omtvedt, Carl Howelsen's ski buddy and the 1916 world champion ski jumper who set his record in Steamboat.
Valley View was named for a race course on Rabbit Ears Pass that provided the area's first downhill race in 1939.
Steamboat Ski Area's 50th Anniversary Celebrations

Saturday, Nov. 24: Opening weekend free concert with Dirty Dozen Brass Band
New Orleans groovin' big brass band gives you a dozen reasons to be in Steamboat for opening weekend. The Dirty Dozen Brass Band plays a free show at 2 p.m. in Gondola Square.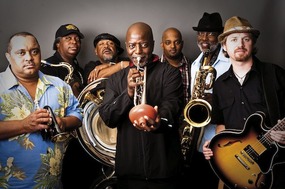 Friday, Jan. 11: Opening ceremonies & cauldron lighting
The birthday party kicks off with a lighting of the cauldron, Hazie's 50th anniversary dinner, and a Golden Gala at the top of the Gondola
Saturday, Jan. 12: A party with cake, a concert & fireworks
Celebrate 50 years of the Steamboat Ski Area with birthday cake, fireworks and a free concert. A time capsule that was sealed during the ski area's silver anniversary 25 years ago will also be opened.
Monday, Jan. 21: Cowboy Downhill and the closing ceremonies
The 50-day anniversary celebration winds to a close with the annual Cowboy Downhill, but it's really just a lull until March's free concerts and April's Springalicious kick the party back into high gear.
February: Sealing a 50th anniversary time capsule
Steamboat locks away items from the year 2012 to be opened in 2063 during the resort's 75th anniversary, with Olympians and other hometown celebrities on hand to help seal the past for the future.