Winter Carnival - Ski Season 12/13
11/11/2012 08:01PM ● By Christina Freeman
Diamond Hitch Parade. Rod Hanna/Courtesy History Colorado, Scan No. 10039938.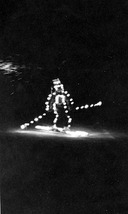 Steamboat Springs celebrates winter and 100 years of fun in the streets: February 6-10, 2013.
Since 1914, February has lured locals and visitors alike to downtown Steamboat to embrace winter events like ski flying, skijoring and shovel races. In its early days, Winter Carnival was a way to cope with cabin fever during Steamboat's three-wire winters.
Today, amateur and professional gelandesprung jumpers shatter world records as they take to the ski jumps with alpine skis, boots and poles. Kids on skis fly behind galloping horses along Lincoln Avenue. Adult daredevils are pulled on a shovel behind a horse – competing to hang on as long as possible. Watch a dual slalom bicycle race, the snowboarding jam session, the international muzzleloading biathlon and the telemark revival. And if all that's not enough, there's the annual appearance of the Steamboat Springs High School band, "marching" on skis to kick off the Diamond Hitch Parade, and The Lighted Man, who skis down Howelsen Hill's steep slope with fireworks launched from a specially designed backpack during the Night Show Extravaganza.
Along with ice sculptures along Lincoln Avenue created by local high school students, the carnival includes the Soda Pop Slalom, a tubing party, and more. The city stockpiles more than 400 tons of snow to re-bury the downtown street for the weekend events. Winter Carnival is sponsored by the Steamboat Springs Winter Sports Club to raise money for scholarships for young athletes. Buy a Winter Carnival button for admission to all events.
Here's what not to miss during the 100th annual Steamboat Winter Carnival taking place Wednesday-Sunday, Feb. 6-10 at Howelsen Hill, in the downtown streets and at the Steamboat Ski Area.
Amateur alpine ski flying, aka, gelandesprung
Carl Howelsen organized the first Winter Carnival as a platform for a ski jumping competition. Throughout the years, amateur and professional jumpers often shattered world records during Winter Carnival. Today, gelandesprung re-invents the Nordic tradition by taking to the skies with alpine skis, boots and poles. It may not be Carl's choice of equipment, but he'd likely still be proud. The event attracts the best jumpers in the nation, and records continue to be set on the Howelsen run-out.
When: Morning training runs on Friday and Saturday. Finals on Sunday.
Where: Howelsen Hill
Skijoring
During the second Winter Carnival in 1915, the town introduced its first "skijoring" events, where contestants were pulled behind a horse down the snowy street. Local children still compete in these events, flying behind a galloping horse on Lincoln Avenue for a slalom course, ringing hoops or gaining enough speed to launch the farthest jump. Area ranches supply the horses and skilled riders, who've often been riding in the Winter Carnival for generations.
When: Saturday and Sunday mornings
Where: Lincoln Avenue, downtown
Shovel race
The fastest and most entertaining competition of the Winter Carnival involves a horse, a shovel and a daredevil impersonating a rag doll. Riders 18 and over are pulled down Lincoln Avenue behind a horse on a shovel. The fastest shovel rider who can hold on to the finish wins. Other horse-pulled feats during the morning Winter Carnival street events include the Ring and Box, Ring and Spear, Street Slalom and the Donkey Jump, where longest distance landed while staying on your feet wins.
When: Saturday and Sunday mornings
Where: Lincoln Avenue, downtown
Night Show Extravaganza
Much like the appearance of the Olympic Flame and the lighting of the cauldron during Opening Ceremonies, the Lighted Man is the most anticipated symbol of the Winter Carnival. Since 1936, the Banks family has supplied a skier, donned with lights from head to toe, for Winter Carnival's Night Show. As he skis down Howelsen Hill's steep slope, pyrotechnics launch from a specially designed backpack to the thrill of the crowd.
Following the Lighted Man, hundreds of the Steamboat Springs Winter Sports Club members descend Howelsen Hill bearing torches and glow sticks as they ski, snowboard or jump their way, choreographed to music, down the slopes.
Finally, a Night Show tradition since 1952, a ring of fire marks the take-off of the 90-meter jump while ski patrollers fly through the flames, with the final patroller carrying a rescue toboggan on fire. And the grand finale fireworks are stupendous.
When: Saturday night
Where: Howelsen Hill
Diamond Hitch Parade & The World's Only Ski Marching Band
Although "Ski Town, USA" is often attributed to Steamboat's Olympic heritage, it's actually a name coined in the 1950s to describe the Steamboat Springs High School band that "marches" on skis. Since 1935, the school's skiing band makes its annual appearance to kick off the Diamond Hitch Parade.
When: Sunday morning
Where: Lincoln Avenue, downtown   970-879-0695 | www.sswsc.org

Claudius Banks started the Lighted Man tradition in 1936, and made his first appearance in a Steamboat Winter Carnival night show in 1939. His costume weighed more than 100 pounds with 200 lights powered by wet cells and yards of wiring. Today, Claudius' son Jon Banks serves as the Lighted Man, wearing a 70-pound battery-powered suit along with 32 Roman candles, 12 sky rockets and a football helmet studded with flashing lights.