Sisterhood Beyond The Dance
08/14/2012 04:21PM ● By Christina Freeman
A Middle Eastern custom has charmed its way into the Yampa Valley and changed the lives of eight women who now share a spiritual connection beyond the flowing chiffon and bare-midriff attire of belly dancing.
During the life of Jasmir Belly Dance Troupe, monumental events have changed the lives of many dancers: two women married, three had their first child and others have suffered the loss of loved ones, just to name a few.
"We've been through a lot together. I've developed real relationships with these women," says dancer Dawn Cook. "It's more like a sisterhood."
The foundation of belly dance is isolation, Cook explains. Move one body part at a time, then begin layering movements on top of the other. The end result is a goddess-like performance that moves the audience as well as the dancer. Jasmir Troupe Director and Choreographer Carrie LaPlante says this is "my own personal outlet in creativity."
The Jasmir Belly Dance Troupe is part of this year's Steamboat Dance Theatre annual performance, Thursday-Saturday, March 15-17. LaPlante chose a '90s alternative metal song as their tribute to "Dancing through the Decades," SDT's theme for the 40th anniversary concert. "This is not your typical belly dance music," she admits. It is "dark and powerful, but full of grace and beauty."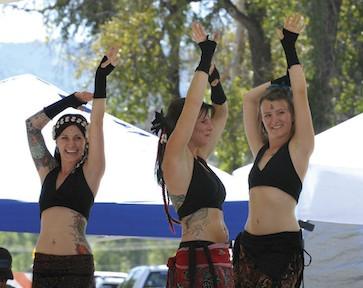 Carrie LaPlante, Melissa Gray and Courtney Anderson dance at Steamboat All Arts Festival. Photo courtesy Fred Grippa
The origin of belly dance is highly debatable. For the past fecenturies, many sabelly dance as an exotic/erotic performance, but the women who dance it today say it helps them connect spiritually and to feel good in their own skin.
Jasmir Troupe practices tribal fusion belly dance but isn't confined to one style. "We are always growing and evolving," LaPlante says. Differences in style come from a combination of costume, music and stylization.
Weekly dance rehearsals and year-round workshops create an opportunity for improvement. But strengthening the bond that flows among these women seems to be what drives them. "Traveling to workshops is a good excuse for a girls' getaway," LaPlante says."But it's about the sisterhood, the celebration of being a woman."
For more information on Jasmir Belly Dance Troupe, call 970-291-9232 or visit www.danceinsteamboat.com.