GETTIN JIG-GY
08/14/2012 04:20PM ● By Christina Freeman
by Kelly Stahl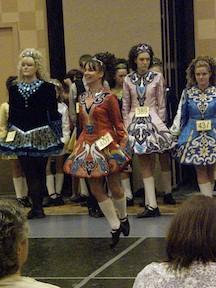 Dancer Nora Parker at Oktoberfeis 2010.  Photo courtesy Nora Parker.
Not even open six months and the Steamboat Springs branch of Bennett School of Irish Dance has 25 students who rigorously practice weekly in hopes of being the next Riverdance legends, or maybe just to be inspired.
"Sometimes Irish heritage drives students' interest, but most have seen it and are just fascinated by it," says the school's owner, Nora Parker. "I was raised overseas and grew up with ballet, but what I like about Irish dance is that it has much more variety."
Student McKendrey McGown's interest in Irish dance comes from her strong Scottish/Irish heritage and a longtime interest in dance. "I've been dancing forever – my whole life," she says. Inevitably, with a name like hers and annual trips to the Long's Peak Scottish/Irish Festival, McGown relates to this Celtic custom.
"I really want to go to Worlds," McGown says of theart form's top-level competition. With dance practice three times a week and monthly competitions, this Steamboat freshman is one focused teenager.
McGown and her fellow dancers compete in solo and group (ceili) performances against seven other Irish dance schools in Colorado. McGown's favorite social aspect of Irish dance is the ceili parties throughout the year. This potluck-style celebration allows young and old to connect with their Irish heritage and "just dance."
Irish dance involves a still upper body, arms held at the side and rhythmic footwork. The four styles of soft shoe and three styles of hard shoe dances help create the characteristic timing. "The music is the most important thing; there's no room for interpretation. If you're competing and your timing is off – you're toast!" Parker explains.
Along with coaching, Parker travels to Denver once a week to the original Bennett School of Irish Dance for her own four-hour practice. She has worked hard for her title of preliminary champion; Parker nocompetes against adults and teens all over the country. "What they do at Worlds is much harder than what I'm teaching here."
The Denver-based school started in 2002 after Molly Bennett and partners turned their passion into a business. The philosophy of Bennett Schools is to provide instruction for all ages and all abilities. Having danced for 15 years in Steamboat, Parker had a strong following that enrolled in the Steamboat branch of the Bennett School. Classes are held at Excel Gymnastics. 
For more information on the Bennett School of Irish Dance, call 970-879-2205.