Zirkel Treks Combine Discovery With Art
08/14/2012 03:44PM ● By Christina Freeman
Artwork by Michael Charron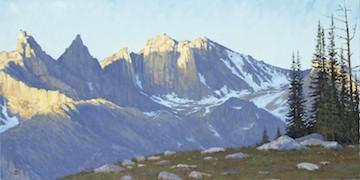 "Sunrise on the Sawtooth." Oil, on stretched canvas.
Art and exploration intersect in the life of Michael Charron. since 2006, he has been hiking and painting in the Mount Zirkel Wilderness area.
"I think I have painted more pictures of the Zirkels than some people have taken photos," Charron says. "it's a large wilderness, so it's a time commitment to explore it – I still haven't seen it all."
The Denver-based artist usually enters the wilderness in early July. For the past five years, he has spent at least four weeks there each summer.
The results are contemporary realistic paintings of the wilderness area that spans 160,000-plus acres in Northwest Colorado. The headwaters of the Elk, Encampment and North Platte rivers lie within the area, which straddles the continental divide. Charron paints alla prima plein air, which means he paints outdoors and develops each work from start to finish in one session using a wet-on-wet technique. He also sketches and takes photos along his journey, then spends winters developing them into full-scale studio oil paintings.
Charron likens his work to that of the Hudson River school, a group of 19th century painters whose themes included discovery, exploration and settlement. "I've always viewed what I do as exploration," he says.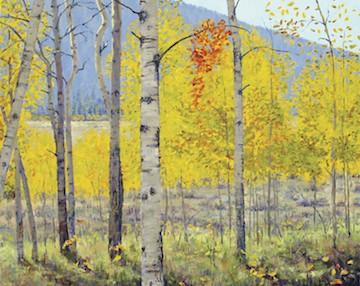 "Divine Glow." Oil, on stretched canvas.
Charron treks with four llamas and moves his camp about every five or six days. He seeks hot springs and occasionally finds old encampments while moving through the wilderness. Charron encounters wildlife ranging from countless birds, elk and deer to bear. He has heard a mountain lion roaring, but has yet to see one. The most frightening aspect of the wildernessis the lightning, Charron says. sometimes storms force him into his tent for extended periods, which he spends reading, meditating or praying.
Recently, Charron made a foray into the realm of abstract art. inspired by the light falling across rock formations in the wilderness, he created a series he calls "Geoextractions," which form a subset of his exhibit this summer at the artistica art Gallery in Denver.
Charron harkens back to a centuries-old form of funding his enterprises. He creates a syndicate, wherein patrons pay a set fee for a predetermined number of paintings from a particular trek.
His work may be the definitive study on canvas of Mount Zirkel Wilderness area. n
For more information, visit www.michaelcharron.com.