Life in Food and Words
04/15/2012 01:00AM ● By Susan Cunningham
Life in Food and Words
by Susan Cunningham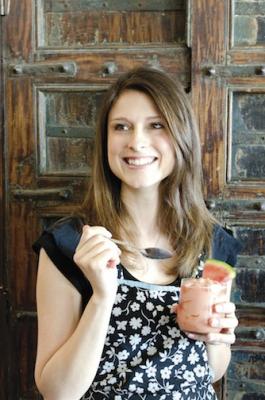 Photo courtesy Kel Elwood Photography
Steamboat Springs, CO - Steamboat wife and mom Krysta MacGray, whose blog, "My Life In Food," gets more than 30,000 hits per month. Krysta MacGray makes all of her recipes at least twice: once following the recipe, and a second time to improve it.
When she finds the perfect mix of flavor, texture, color and smell, she blogs about it, adding her layers of engaging stories and vivid photographs.
MacGray's blog, "My life in Food," gets more than 30,000 hits a month from across the world — Australia to the Philippines, and from Canada to the UK.
It's admittedly hard work: MacGray's cooking and blogging schedule revolves around natural light for photos and nap schedules of her two youngest children.
But she makes it fun. she pours a glass of wine, turns on music, and relaxes as she chops and sautés. Then she writes, talking to her computer as if it's a friend.
She was inspired to blog when she read a chronicle of a week of cooking. "I found myself wanting to cook everything she had mentioned," MacGray says, even cranberry-bean soup. "I thought about the power of words – being able to tell somebody what it's going to taste like, what you're going to encounter."
Through her blog, MacGray does just that. she captivates readers with funny and honest stories, and describes spinach berry smoothies, chickpea tacos and chocolate cobblers with such relish that even non-cooks will want to hustle to the kitchen.
She has a soft spot for stews and soups, but her all-time favorite is roasting a chicken: it takes about five minutes to get everything together, and then in 10 minutes, when the lemons, garlic and thyme start heating up, "the smell is insane."
Kind of like her lime-coconut-macadamia nut cookies — crisp edges, soft middles, with a tart-sweet flavor and tropical flair. perhaps her 5-year-old son says it best: "My mommy makes the best cookies. can i have one more?"
MacGray's blog can be found at www.krystaslifeinfood.com.