What Are You Training For?
04/15/2012 01:00AM ● By Deborah Olsen
What Are You Training For?
by Caroline LaLive/ Photo by Deborah Olsen
Steamboat Springs is always moving. Look outside and you see the healthy pulse of life in mountains. It's no wonder Routt County is one of the fittest in the country.
Long summer days make us eager to be outdoors. whether you're training for one of our many physically demanding events like the Steamboat Marathon, Triathlon, Tour de Steamboat, Run Rabbit Run or the Town Challenge, you can achieve optimal conditioning with the help of these tips.
Ease into it: this is an important starting point. after a long winter, our bodies have become accustomed to certain activities, often skiing/snowboarding. Allow yourself a couple weeks within each of these steps for the best results.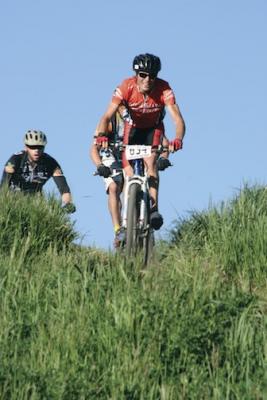 Tim Zander crests the ridge during the 2011 Town Challenge cross country race at Marabou Ranch.
Phase 1 Build your base: Winter activities generally lean more toward anaerobic. Regardless of your regimen, building a strong aerobic base is key to success. this allows you to recover quicker, keep your heart rate lower and be more efficient.
Quick Tips: Keep your heart rate low and build into longer periods of activity while keeping your intensity low. target heart rate (HR) should be a1 Zone. Ideal length is 1-2 hours of slow, easy activity.
Phase 2 Incorporate power: Begin to increase the level of difficulty. at first, keep the time of higher intensity short, and then as you build tolerance, you can increase the duration. If you're on a bike, increase the resistance or include more climbs in your ride. If you're running or hiking, increase your speed and climbs.
Quick Tips: Continuing your aerobic blocks, implement two harder sessions a week with increased intensity. Here your target heart rate should be a2, with short periods at the higher end of a2. these spurts start at 30 seconds and build to 1-3 minutes. Intervals are a perfect example of this training method. Important: Continue with at least one slow, easy activity per week. this allows for recovery as well as a continuation of your training base.
Phase 3 Train for tolerance & endurance: Start to train your body to tolerate harder, longer activity. this step is intermixed with the previous two steps, allowing your body to recover and continue to build power. These hard sessions should be once/twice a week. Important: within this phase, allow yourself an easier week every two- three weeks of training.
Quick Tips: Challenge yourself to go for a harder session for a longer period of time. Here your target heart rate is your a2 zone. these sessions are ideally at least 30 minutes. A perfect example would be to run uphill, ride your bike up emerald mountain, or go for an intense swim. after these sessions, allow yourself time to cool down and recover with an easy jog, spin or swim for at least 20 minutes.
Phase 4 Sport Specific: Finally, if you're training for a specific event or distance, start to include these exact parameters. If your goal is to run a marathon, the last thing you want to do is jump from running 5 miles to 26.2 miles. Work toward your desired distance time. this is important so you don't shock your system. Make a plan and stick to it.
Remember, this is a general idea for summer training. whether your goal is to compete or simply whip yourself into shape, these guidelines will help you make healthy improvements.Most importantly, check with your physician to make sure you are ready for these activities.