Dance That's Worth the Drive
04/15/2012 01:00AM ● By Jennie Lay
Dance That's Worth the Drive Vail International Dance Festival
by Jennie Lay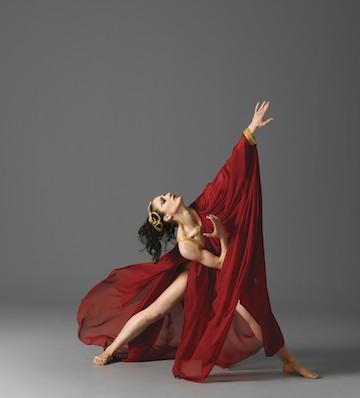 Martha Graham Dance Company; Carrie Ellmore-Tallitsch as Circe.  Photo © John Deane
Steamboat Springs, CO - A tantalizing dance festival has grown up not far from Steamboat Springs over the past two decades. You'll bypass cow towns like Phippsburg, Bond and McCoy en route to performances that regularly grace iconic theaters from NewYork and Chicago, to Moscow and Paris.
But this is still ballet in Vail, so settle in on the lawn (maybe even with a picnic) and absorb the awe-inspiring beauty of some of the world's most spectacular dancers and cutting-edge choreography.
The Vail international dance festival brings the dance world to our doorstep. The 2012 festival is July 29-Aug. 11, and a $20 ticket will secure a spot to see anything from the iconic Martha graham dance company (Thursday, Aug. 9), to two nights with New York city Ballet Moves (Sunday and Monday, July 29-30), a two-year-old touring company of select dancers from the legendary New York city Ballet.
During the festival's 10 varied performances, you can see the international champions of ballroom dance (Friday, Aug. 10) or television sensations from "America's Best Dance Crew," "So You Think You Can Dance" and "Dancing with the Stars" (Saturday, Aug. 11). Twenty bucks will put you in the audience for an evening of premieres from acclaimed choreographers  (Monday, Aug. 6), or two different international evenings of dance (Friday and Saturday, Aug. 3-4) that showcase principal dancers from the New York city Ballet, American Ballet theatre, Boston Ballet, fang-Yi sheu & Artists dance company, Alvin Ailey American dance theater, Pacific northwest Ballet and more.
The dance festival got an auspicious start in 1989 when Vail stood in as the last-minute replacement for a canceled Texas tour stop for Russia's famous 235-year-old Bolshoi Ballet Academy. The Rockies appealed to the Russians, and the relationship grew into a four-week residency for young ballet dancers. By 1993 the first international evenings of dance emerged, with mixed casts of dancers from the world's most prestigious companies, including the Bolshoi Ballet, the Paris Opera Ballet, New York City Ballet and American Ballet theatre, performing together al fresco on the Gerald R. ford Amphitheater stage.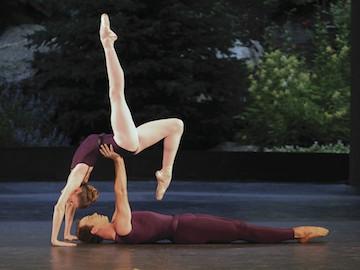 Wendy Whelan and Tyler Angle in Polyphonia; Vail International Dance Festival.  Photo © 2011 Erin Baiano
All of this year's performances take place at the ford Amphitheater, except for one special rehearsal-style Up Close evening with New York City Ballet Moves (Tuesday, July 31). They'll be performing excerpts of legendary choreographer George Balanchine's works to Igor Stravinsky's music at the Vilar center in Beaver creek. With fair warning, based on last year's intimate Up Close performance featuring the men of New York City Ballet, this promises to be an outstanding piece of ballet history (and a sold-out show), but this is a dancer's dance performance.
A solid recommendation for the uninitiated is the rousing dance for $20 (Tuesday, Aug. 7), which offers a sampler of festival artists that can range from ballet to hip hop in one fabulous performance.
Tickets and more information available at www.vaildance.org.
Get More Dance.
A round-trip drive to Vail is easy enough for an evening. But the dance festival lineup is so strong and varied, with ample afford- able tickets, that it truly warrants an overnight stay to catch at least two back-to-back shows. Treat yourself to a room at the cozy Sebastian Hotel in the heart of Vail Village, where you can lounge by the pool, enjoy the hip Frost bar, and dine decadently at one of Colorado's most creative new restaurants, Block 16. As you wander the streets, you may also catch some of the festival's free off-stage events, including sneak-peak performances, discussions and more. www.thesebastianvail.com. If you're headed for the Vilar Center performance, settle in for the night at The Charter at Beaver Creek. www.thecharter.com