iPhone Photography
04/15/2012 01:00AM ● By Deborah Olsen
Blowin' in the Wind, Moroccan Sahara
by Deborah Olsen/Photos Courtesy of Karen Schulman
Word spreads quickly in a small town like steamboat springs. and when the buzz reached us about the incredible work photographer Karen Schulman is producing — with an iphone — and that she's teaching those skills, we wanted to hear the story for ourselves.
Steamboat Magazine: Karen, you've been a professional photographer for more than 30 years. Why the iphone?
Karen Schulman: First of all, I almost always have the iphone with me, so when I see something that would make a great photo, the camera is there. The quality on my 4s is amazing, sharp, clear and bright. it brings back the excitement I felt when I first got into photography. Now it's possible to adjust and manipulate images immediately after shooting.
SM: We've been hearing a lot about your iphone photo classes. are you planning to continue them through the summer?
KS: absolutely! it's been a blast. I've been leading photo workshops and tours for close to 30 years and these have been some of the most fun. In addition to incorporating iphone photo instruction into our annual summer workshops, and continuing our multi-week iphoneography classes, we'll be offering some 2- to 3-hour mini iphoneography workshops.
SM: Most users are aware that smart phones can be used to take basic photos, but what you're doing goes beyond point-and-shoot. Are smart phones smarter than most of us know?
KS: The iphone 4s has an 8mp camera that is very high quality, with features like built-in HDR (high dynamic range), a lens that actually focuses, face recognition, built-in flash and simple editing capabilities. But the real power comes from the hundreds of photo apps that are available for the newer iphones.
SM: can images be manipulated or altered on the iphone? 
KS: certainly! That's where the fun begins. I have about 100 photo apps on my iphone — about a dozen that are my regular "go-to" apps. With apps, you can do just about anything you can do in Photoshop, only easier and for much less money. additionally, apps can give your photos vintage looks, grunge looks; they can add textures, vignettes, borders and frames and lighting effects. There are even apps that can change your photos to look like a sketch, a pen-and- ink drawing or a painting.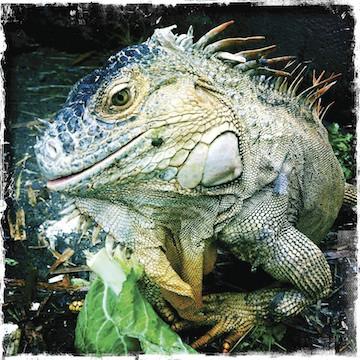 Howdy! Cost Rica
SM: can you give us some examples?
KS: I do have a few favorites: Snapseed, for ipad and iphone, is great for image adjustments and varied effects, and it's easy to use. I'm a big fan of Hipstamatic because it brings back the look, feel, unpredictability and fun of old-time and plastic cameras with its combinations of "lenses" and "films" (really filters). Touch retouch is a great app — easy to use. No more telephone poles growing out of your friends' heads. Autostitch is an amazing tool for creating panoramas. I also really like TrueHDR, which allows me to get the best exposure in tough lighting situations.
SM: do iphone images have high-resolution options?
KS: definitely. My husband, Joel, a fine-art printer, has been printing images from the iphone 4s as large as 20"X30". Many photographers won't need to go this large, but it's nice to know you can. (Most photo apps give you a choice of output resolution size, so if you're planning on doing anything with your photos other than posting to social networking sites or emailing them, choose the highest resolution.) of course, just like any camera, the iphone is only a tool, and it's still up to the user to create quality photography.
SM: Tell us about the imagery your students have created.
KS: My students' images are everything imaginable, including scenic panoramas, close-ups, family portraits, night shots, artistic abstracts and wild creative composites.
SM: so, do you still use your other cameras?
KS: That's a good question. Not much, it depends on where I am. On some of my international photo tours, where there is abundant wildlife, for instance, I may still need the capabilities of my trusty Nikon and its lenses, but add-on lenses, tripod adapters and other cool accessories for the iphone give you more flexibility. So, don't be surprised if you see me around town toting my tripod and rolling bag full of iphone photo accessories!
Karen Schulman leads photo workshops, photo tours and iPhone- specific programs through her company, Focus Adventures. She exhibits her eclectic photography locally and nationally. For more information, visit www.focusadventures.com or call 970-879-2244.
Article Gallery [4 Images]
Click Any Image To Expand