Andrés Cárdenes and Monique Mead; Directing Strings' Silver Anniversary
04/15/2012 01:00AM ● By Jennie Lay / Photos Courtesy of Strings Music Festival
by Jennie Lay / Photos Courtesy of Strings Music Festival
Andrés Cárdenes appeared early on at Steamboat Springs' 25-year-old Strings Music Festival. The Cuban-born violinist arrived in 1992 for a two-week stint as a festival musician and hasn't skipped a season since. From the first time he brought along violinist Monique Mead, then his soon-to-be bride, the two were destined for a long tenure in Steamboat.
"I have never felt better than in the atmosphere right here," Mead says. "The festival just struck me immediately as a place where I could definitely hang my hat." The couple married in 2003, never missing a beat as devoted Strings musicians while they had two kids and managed high-profile music careers.
This year, Strings' silver anniversary season marks Cárdenes and Mead's third as the festival's music directors.
Their work is collaborative – Cárdenes is the mastermind behind the programming while Mead acts as artistic adviser in seeking out pieces that fit and musicians to play them.
Since Strings Music Festival founders Kay Clagett and Betse Grassby first sat outside the Steamboat athletic club praying a few folks would come for a small chamber music performance in 1988, Strings has grown into a premier destination festival. Over 25 years, the venue has evolved from a deck to a tent to the permanent architectural marvel that is the Strings Music Pavilion.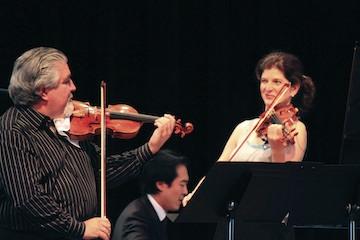 Andrés Cárdenes and Monique Mead
Clagett says bringing Cárdenes and Mead to the helm at Strings was the next logical step in keeping the festival musically significant.
While each music director has put a personal stamp on Strings' repertoire, Cárdenes and Mead have ushered in an era of growth and prominence on the national radar that includes more contemporary music and a devotion to cultivating future audiences.
"You can never replace an audience, but you can augment them," says Cárdenes, who has focused on bringing accessible, meaningful, diverse music to Steamboat via living composers – including several world premieres along with the classics people love.
"The world premieres have put Strings on the map culturally," Cárdenes says. And those premieres have stemmed directly from Cárdenes' personal connections honed while playing as a soloist with more than 100 orchestras, leading 21 seasons as concertmaster of the Pittsburgh symphony orchestra, teaching at Carnegie Mellon university and being jury president for the Stradivarius International Violin competition. "The premieres make us very important. They bring us a lot of attention and notoriety. It puts on a very brave face for other organizations."
Cárdenes and Mead are based in Pittsburgh, but their work for Strings is a year-round job. Lining up artists often takes years. The couple travels incessantly, sometimes passing off parental duties in mid-airport exchanges. Since ending his Pittsburgh symphony tenure, Cárdenes travels more than ever as a guest conductor, soloist and master teacher.
Mead is acclaimed for her ability to speak about music and frequents Germany as a soloist and youth concert presenter. She built a strong fan base there when she launched a program bridging music and soccer, which included professional athletes.
Both Cárdenes and Mead are affiliated with Carnegie Mellon, where Cárdenes is a full tenured professor and Mead teaches at the preparatory school. Mead also manages a Pittsburgh symphony program for children.
An early career tour with Leonard Bernstein influenced Mead immensely. "I realized that communication is the key. If you play music and it doesn't mean anything to people and if people aren't coming to concerts because they feel like it is far from them to grasp, then we are doing something wrong," she says.
Cárdenes invests tremendous thought in how to grow Strings' audience while challenging visiting musicians. "They need to feel, when they're playing, like it's more than being rehashed. We give our musicians something to look forward to so they can also grow and can have good experiences musically," he says.
Cárdenes has fond memories of Strings' "tent" era, but he applauds the pavilion as the advance of a quarter-century from small town to culturally significant community. He says musicians he hopes to lure to Steamboat are "flabbergasted" at the venue: "it's a great attraction. Now, there's nothing to keep them from coming."
For its 25th anniversary season, Strings is hosting heritage concerts that honor the old and bring in the new— a jazz- accompanied dance choreography collaboration with Perry- Mansfield; a show of Yampa Valley photography by Rod Hanna, Judy Jones and Jim Steinberg set to "Appalachian Spring" and a side-by-side concert featuring local teachers and their students playing Mozart's 40th symphony. While audiences can expect to see long-time favorite festival musicians on stage this summer, Cárdenes and Mead have also started looking toward the future by bringing in young, exciting and talented musicians that are up-and-coming, newly-established but unfamiliar to Steamboat.
In their own home, the pair is unfailingly devoted to the future of music. Cárdenes' and Mead's children, Isabel, 8, and Tino, 7, both play the piano. They live amid a variety of instruments to experiment with – although neither has yet clamored for the violin. Fortunately there are two pianos in the pavilion, so the kids practice early each day in opposing dressing rooms before the festival musicians arrive. Both children celebrate their birthdays in Steamboat, and last year they played in the opening concert, making their Strings debut.
Clagett expresses deep appreciation for Cárdenes' sense of humor and the working relationship Strings has fostered with the directing duo. "They are creative, responsive to the community, and they have connections with people who love to work together," she says. "We're constantly trying to figure out what the next pocket of music is in Steamboat. You've got to evolve."
Cárdenes and Mead are showing Strings the way.