Home: Distinctive Dwelling
02/29/2012 05:00PM ● By Corey Kopischke
by Gena Fischer/Photos by Corey Kopischke
Distinctive Dwelling
Lively art and cool lighting, unusual angles and curves distinguish the exterior of the Bashan home.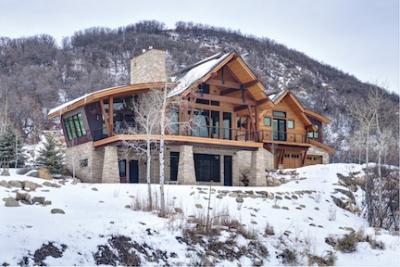 Steamboat Springs, CO - People might admire Will and Beth Bashan's contemporary mountain home for its sleek exterior lines, vertical cedar siding and curved modern roofs, or for the fact that it dares to stray from the typical mountain style home. But the interior, with its lively art, cool lighting and a modern yet livable design, is what truly distinguishes this home.
Perhaps because it belongs to the former owners of Steamboat Art Company, the Bashans' home has a bit more pop than average. Their passion for art is obvious. Huge Cappiello vintage posters, distinctive oil paintings and whimsical folk art furniture are displayed throughout the home. "We like to keep things kind of fun," says Beth. "Our art collection has been evolving through the years from living in New York to New England and then out West."
The Bashans had just sold their business when construction began in 2010, so Beth was able to devote herself to the project, and her influence is evident. One example is the ultra-sleek kitchen, with its Thermador commercial appliances, reflective of Beth's passion for cooking.
The most striking element of the Bashans' home is its lighting, which looks and functions both as art and illumination. In the sophisticated great room with views from Howelsen Hill to Mount Werner, the handcrafted, wrought iron, spiral chandelier hanging 18 feet overhead is the real showstopper. Visitors can't help but gawk at the huge light in awe. "You should see it at night," says Beth. "It really gives off a warm glow and changes the feel of the room; it's really a total ambiance thing."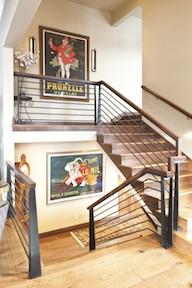 Vintage posters add a little "pop".
Separated from the living area by a flagstone fireplace, the dining room is just as impressive, with its super-sized, sparkling, chrome-and-crystal chandelier. "It looks like a giant snowflake, and it's just gorgeous at night," says Beth. Three walls of windows surround the dining area, with its distinctive outward leaning wall. "This wall was in line with the contemporary feel we wanted," says Tim Stone of Kelly & Stone Architects, who designed the home. "We wanted to do something a little different from the vernacular of the neighborhood."
From the living area, a short staircase leads up to the master suite, where Will's office is located, along with the couple's bedroom and master bath – complete with its own chandelier. The bathroom features limestone tile walls, floor, counter tops and walk-in shower, each cut differently, creating continuity and interest. The suite offers spectacular views of the surrounding vistas and plenty of sunshine. "That's one of the best things about our house," says Beth. "We basically get sunshine here the entire day."
A staircase leads from the great room to a guest suite and to the domain of the Bashan's daughter, Hannah. A junior at Steamboat Springs High School, she's an avid hockey and soccer player. Her room is painted bright blue, a color that has followed her in all her childhood bedrooms. But the white marble bath and huge walk-in closet are her favorites.
The lower-level family room has quickly turned into what Beth refers to as "the man cave." Son Alex, who attends Northeastern University in Boston, loves to hang out there with friends when he's home. There's also a media room and gym, where both Beth and Will work out on rainy days. The family room opens out onto one of many patios and outdoor decks. In the summer, perennial gardens and rock pathways extend the home's livability. "This home has great solar access," Stone says. "So we took advantage of that. We designed the living space, both indoor and outdoor, to take advantage of the south and west solar access, and to engage in the views as well."
"There's no wasted space here," Beth says. "But it's comfortable enough so everyone can have their own place. We were a bit concerned about privacy when we built here since this lot is smaller (than their previous residence) but it's not an issue at all. We are halfway between town and the mountain, we have hiking trails right outside our door, tons of light and absolutely beautiful views. And besides that, we have a lot less driveway to plow, which makes this the perfect house," she says with a smile. And on a snowy day, that's something we can all envy.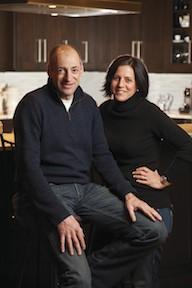 Will and Beth Bashan