The Arts - Quiet Place & Iconic Artist
12/01/2011 01:00AM ● By Harriet Freiberger
Holiday 2011:
The Arts - Quiet Place & Iconic Artist
by Harriet Freiberger
Quiet Place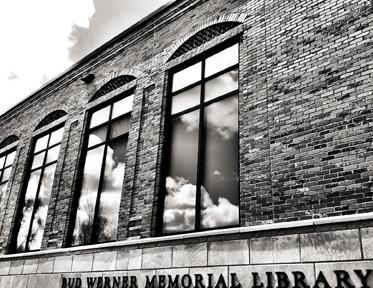 The east face of Bud Werner Memorial Library.  Photo by Dave Labossiere.
Bud Werner Memorial Library was designed to be a "center for public happiness," to borrow a phrase from early-20th century library innovator John Cotton Dana. 
The plan clearly worked, as the structure has quickly become the center of community activity. That didn't happen accidentally; the building was designed mindfully. Beyond the books, the sense of community and the view overlooking the Yampa River, the library is an amazing architectural work in its own right. 
One artist to have found inspiration within the walls of the library is black-and-white, fine art photographer Dave Labossiere. 
"One day, while reading magazines on the second floor, I was struck by the amazing design elements of the library's interior," Labossiere writes on the jacket of his recently published book, "A Quiet Place." 
"There's so much good design, and I'm interested in architecture, so it all came together," he says.
Labossiere began the project as an assignment for a photography workshop he was taking with Karen Schulman of Focus Adventures. Long after the class was over, his thoughts still returned to the library's potential as a photographic subject. The result is his self-published book.  n
A Quiet Place 
by Dave Labossiere
Hard cover, 11x13, $130
Hard cover, 8 ½ by 11, $30
54 pages, © 2010
Available from [email protected]
Dave Labossiere, a 26-year veteran of major league baseball, retired as head trainer of the Houston Astros in 2008. He now makes Steamboat Springs his home and pursues the interest that, had he "known more then about what I know now," might have led him toward a different career. That path would have included the study of architecture and design along with photography. 
"A Quiet Place" originated as a photographic assignment to focus upon "the process." 
In the silence and stillness of this book's dramatic black-and-white photography, the design and architectural facets of a building separate and clarify. Visual arrangements of the elements within rooms of the Bud Werner Memorial Library reveal the purposeful use of space for maximum productivity and enjoyment. 
Through photography, Labossiere removes the vibrant community activity that fills the library whenever its doors are open. The emptiness showcases the building's structural assets that emphasize and enable pursuit of knowledge. 
As the author notes about his own experience at the library, its architecture offers a refuge of quiet in a hectic, frantic environment. Through juxtaposition of the library's closed stillness and its open-time's speeding computers, Labossiere describes in pictures what many suggest to be the essence of architecture. The building seems to become part of its function. 
Windows and light, touch and texture, wood and fabric, chairs and tables convey the strongest sense of that function. Pages take the reader from the outside walls past the entrance, capturing the magic of a directional compass embedded within the floor's solidarity. Books appear, finally, only at the end of the tour in a thought-provoking final photographic comment, possibly about their role in this building constructed for the future. 
Iconic Artist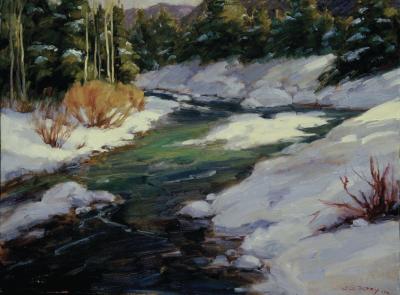 "Winter Shadows," 12x16, oil 
Certainly there was once a time when painter Jean Perry was a local artist struggling to make a name for herself in Steamboat Springs.
But since then, while building a 30-year portfolio of plein-air work, Perry also established herself not only regionally, but also nationally. 
Perry's images of her hometown are iconic. Among her favorite subjects are Fish Creek Falls, Elk River, the Flat Tops and rural Routt County. She revisits them often, capturing the changing light and colors throughout the year. 
"I like coming back to them in early spring when there's still snow on the mountaintops, but there's also green on green on green. I do love all the seasons," Perry says.
Although she now resides part-time in Arizona, her ties to the Yampa Valley remain strong. "I honestly don't think I could've done it without Steamboat. The town took my work seriously. It gave me respect."   n
The Art of Jean Perry
Thirty Years of Plein-Air Painting
by Susan Hallsten McGarry
MMG Publications, ©2011
Hard cover, 119 pages
Susan Hallsten McGarry, former editor-in-chief of "Southwest Art" magazine, is administrative director of the national painting group Plein-Air Painters of America and author of numerous books on American artists.
Only rarely can an artist's passion for her work be successfully captured in the pages of a book. McGarry's personal understanding of plein-air painting and her respect for Jean Perry's work enable the reader to peer over this artist's shoulder and through her eyes.
The "plein-air bliss" described in the first chapter introduces a woman who sought and has surely found a means of expressing her love of life. The author has wisely used Perry's own words to talk about the excitement and challenge that followed "a kick in the pants" from a plein-air workshop 30 years ago. The increasing happiness that has resulted from being able to communicate through her brush and palette becomes visible and almost palpable.
Much more modern than "modern" art, plein air engages the artist within the environment of her subject, and most of Perry's painting is done while standing in front of a canvas on site. To capture the special light that is so definitive of the artist's perception, she returns to locations discovered while hiking or traveling, carefully preparing palette, brushes and oils, as well as mindset. For studio work, photos and sketches made on site help her keep the memory fresh. Every painting reveals the "moment in time" that Perry has experienced.
The artist herself explains that "plein-air painting is like producing a stage play" and she feels much like the director who can "transform any landscape element into a 'star'" by controlling the amount of detail. Scattered purposefully through the book, her words, sketches and journal entries open vistas to the reader much as in the way she would teach a student at one of her many workshops.
Author McGarry sees plein air as a pursuit that "keeps artists young and in love with their craft. Jean is sterling example!"