Smart Style/Green Luxury
12/01/2011 01:00AM ● By Various Authors
Smart Style, Green Luxury
By Tamera Manzanares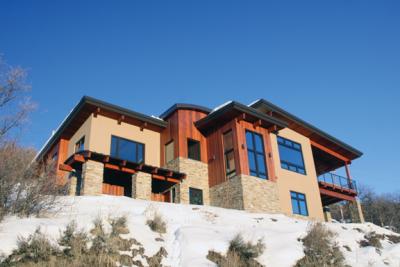 Windows look over the entire Yampa Valley. Photo courtesy Lou Thackston.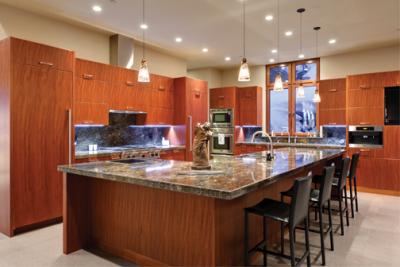 Contemporary cabinets with LED under-cabinet lighting in the kitchen. Photo by Corey Kopischke.
The tight, winding drive up the steep mountainside lends an out-of- Steamboat-Springs feeling to those accustomed to the Yampa Valley's broad topography. Up here, it's all about the panorama that spans from the Flat Tops to Emerald Mountain to Sleeping Giant.
After 25 years of building clients' dream homes, husband-wife team John and Kate Shively chose this place to realize their own version of luxury mountain living. "The views sold us on the lot," says Kate, peering out her picture window.
The steep lot made building challenging. The home sits on solid granite. Blasting and excavation took about six weeks. Two huge retaining walls built of massive concrete blocks bolster the hillside behind the home and the driveway below. But the Shivelys were committed to the site – and also to creating an energy efficient and highly functional space.
It wasn't the first home they had built for their family. Last time around, they had two young daughters living at home. This time, the couple fully integrated their knowledge of sophisticated building styles and technologies in spaces conducive to their empty nest lifestyle. "We wanted to try something different, and we also wanted to try out some of the products we were seeing," John says.
The Shivelys started their home in 2008 as the construction industry began to slow, allowing John to do much of the framing himself. They invested in several key elements to seal their home against Steamboat's harsh winter climate. The many structural columns needed to support snow loads can be a significant source of energy loss; heat seeps through the wood and moisture accumulates in insulation between studs and columns. John remedied this by attaching foam to the outside of the wood. "We've found it to be a very efficient system," he says.
German-made tilt-and-turn windows, which pull or tilt open at the top to let cool air in without a draft, satisfy the home's aesthetic and practical demands. Comprised of three panes of glass, the windows are among the industry's best solutions to wasteful heat loss.
John built the roof out of structural insulated panels, comprised of rigid foam plastic sandwiched between two structural sheets of wood. The panels are as strong as a traditional roof system, but more resistant to heat escape.
The Shivelys' strategies have proven effective. Since moving in to their house in November 2010, the highest monthly heating bill for the 5,000-square-foot home and garage (with infloor heating) has been just over $100. They don't expect their total heating costs will top $600 for the entire year.
To keep air flow in the tightly sealed home, the couple installed a heat recovery ventilator, which pulls fresh air in and pushes stale, indoor air and condensation out. Mountain contemporary comfort.
The Shivelys have built their share of rustic lodge-style homes, but their own tastes lean toward a mountain contemporary look characterized by clean and sometimes curved lines, textured or stucco walls, metal accents and sleek finishes. They employed many of these details in their home while adding a bit of European flair.
Touches of wood and stone keep the home comfortable in its mountain setting. "We wanted something different than the typical Steamboat house," Kate says. Italian porcelain tile marked with a delicate textile pattern, electronic-control shower heads in the master bath, and kitchen cabinetry made of smooth, figured mahogany panels are among the home's modern features.
Not surprisingly, the Shivelys designed their home around the views — the featured attraction from the main living areas and second floor master suite. A covered balcony, with an unusual decking system of quartzite stone tiles that have open drainage between them, is the perfect place to watch the seasons unfold in the valley below. Inside, a fresh and savvy kitchen anchors a floor plan melding the casual living room and formal dining area into a large comfortable space ideal for entertaining.
On a typical weekend, the Shivelys can be found preparing Mexican or Italian dishes or flipping pancakes for family and friends. Shortly after moving in, they initiated their kitchen with a Thanksgiving dinner for 15 people. "This is where I spend 75 percent of my time," Kate says of the kitchen.
It is stocked with cutting-edge technology that streamlines everything from boiling pasta to prep work. A broad, granite-slab island offers plenty of space for Kate to spread out while visiting with guests. A small induction cook-top can boil a pot of water in less than a minute or provide steady, low heat for fondue and other foods that need warming in the serving area. A pop-up electrical outlet feeds food processors, mixers and other small appliances when needed, and a small cook sink with a touch faucet makes clean up simple.
The full-size refrigerator and freezer pack plenty of food storage along with their energy savings, since they cost about $80 to run for an entire year. "I think we've been able to make some good choices based on our knowledge of what works and what doesn't," John says.
Embracing the next generation of efficient lighting, the Shivelys utilized LED lighting in appliances, under cabinets and as accent lighting throughout their home. A Wolf range with electric griddle, separate electric ovens (Kate prefers electric heat for baking), a built-in coffee maker and 1,200-bottle cold wine room round out the kitchen's conveniences.
You won't find John or Kate lugging groceries and bottles of wine up to the main floor; a dumbwaiter does all the heavy lifting. Ten-foot ceilings make the kitchen and great room feel spacious yet relaxed. A chic rectangular fireplace containing colorful, LED -lit glass pebbles adds warmth and interest to the great room.
Strategically placed windows near the top of a hillside wall leave room for artwork while allowing for 24-hour summertime ventilation that isn't an open invitation to bears. The Shivelys' nest isn't completely empty. Yellow labs Kylie and Taylor enjoy their own conveniences, including a dog shower and dog run.
And even though they're all comfortably moved in, the Shivelys are not out of home construction projects. Loose ends, including a downstairs media room and landscaping, are works in progress. "A contractor's home is never complete," John says.
Article Gallery [4 Images]
Click Any Image To Expand