Howlin' at the Library
12/01/2011 01:00AM ● By Jennie Lay
Magpie is an ambassador with Mission: Wolf.  Photo by Mical Hutson
by Jennie Lay
Mission: Wolf visits Steamboat
Steamboat Springs, CO - Can wild wolves be far behind? Silence fell across the crowd of inquisitive locals packed into Bud Werner Memorial library one night last fall, when a pitch-black, 120-pound, 18-month- old wolf named Zeab walked through the double doors from Lincoln avenue.
He was followed by Magpie, his silver-haired elder – an ancient at age nine, since five years is a lifetime in the wild. Once she was black like Zeab, but like humans, wolves' hair grays with age.Two ambassador wolves and one wolf-dog from Mission: Wolf, a nonprofit wolf sanctuary near the Wet Mountains in southern Colorado, wandered on the end of their leashes through library hall, sniffing at out- stretched hands and pausing for an occasional lick. There were wiggles and howls and scrunching into personal space, but mostly there was quiet amazement.
Mission: Wolf is a giant social and environmental experiment, grappling with more than just an endangered species. Twice a year, "ambassador wolves" travel the country in a "wolf-hound" bus, educating the public and dispelling myths. Co-founders Kent Weber and Tracy Brooks and their wolves have engaged with hells angels, inner city gangs, prisons, psych wards and women's Christian conferences. They've been to the interior department and the Smithsonian, averaging 50,000 miles on the road in 30 states each year.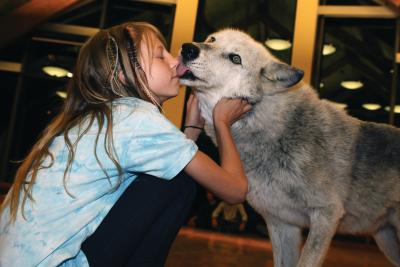 Volunteer Delaney Ziegman recieves a kiss from Magpie.  Photo by Mical Hutson.
"Mission: Wolf started with pessimism. It's hard to talk about wild wolves with this wolf on a leash," Weber says. "We have a wolf on a bus to teach you that you shouldn't have a wolf on a bus. It's absolutely embarrassing to be a human sometimes."
One time in Washington, D.C., only three people in an audience of approximately 2,000 people raised their hands when Weber asked who had previously seen wildlife outside the zoo. In Steamboat, Weber had to stifle a laugh when he asked who had seen a wild bear and nearly every hand in library hall went up.
"You are the wolf's best possible choice for returning to Colorado," Weber explains, considering possible migration corridors for current wolf populations in Wyoming, Idaho and Montana to travel south. Routt County's landscape, the prevalence of big game, well- connected private conservation and public lands, and the county's particular politics in contrast to its neighbors all sparked Weber's hope.
At this juncture, there are no viable proposals for wolf reintroduction in Colorado – but there are no plans to prevent their migration either. they're going to have to wander in.
"The red desert (in south central Wyoming) is so inhospitable. Traveling from northern Wyoming down to Colorado, I-80 is the big problem," Weber says. "Wildlife overpasses and underpasses would help."  In 2004, a lone wolf from Yellowstone was found dead along I-70 west of Idaho Springs. It was the first confirmed wild wolf in Colorado since 1935.
"If you have a wolf on your land, it should be obvious," Weber says. "They're the big guy on the block. they mark their space. they leave their kills. they howl.... they're easy to find."
"We're inspired. We see an opportunity for wolves to reestablish themselves," Weber says. Steamboat's hearty reception was summed up in the devotion he heard expressed by local wolf aficionado Delaney Ziegman, 10, who volunteered for the evening: "Kids like Delaney, with sharp old souls, are wolves' hope for the future."
Weber, an engineer/architect and Colorado native who grew up in Leadville, started Mission: Wolf in 1986, nearly a decade before wolves were reintroduced to Yellowstone National Park. Tensions surrounding possible wolf reintroduction were high, but Weber walked straight into the halls of congress with wolves in tow. When the U.S. Fish and Wildlife Service director caught sight of Weber and his wolves, he had them visit all of his biologists, most of whom had only seen wolves through telescopes. Scientists now know that the presence of wolves has a direct trickle-down effect in improved habitat for big game, plant life and a myriad of smaller species.
Still, wolves eat a lot. Often, Mission: Wolf's 36 wolves rely on the generosity of local ranchers who drag over a dead cow or horse for a meal. One man recently arrived at the gate after a five-hour drive, delivering the corpse of a beloved horse that he wanted to see returned to nature's cycle. Weber estimates wolves eat 20 pounds of meat in a sitting – which meant a big shopping trip to the Safeway meat counter while visiting Steamboat. It's logical evolution, he observes: "if they don't eat like that, they don't survive. They had to beat the grizzly to the food."
Scientists estimate a historical U.S. wolf population as high as 2 million. Currently the Center for Biological Diversity estimates fewer than 6,000 wild wolves occupy about 5 percent of their historic range. By contrast, an estimated 250,000 wolves are in captivity in zoos, the movie industry and magic shows (Zeab's uncle was Sam in the "Twilight" movies). Additionally, there are an estimated quarter-million wolf-dog crosses are in America.
Even with the political controversy wolves have sparked around the west, it's rare that Mission: Wolf rouses rabble during their presentations. Typically, ranchers want to hear and be heard – aiding an ongoing community discussion. Similar to the World Wildlife Fund's programs near Yellowstone, Mission: Wolf offers to compensate its neighbors for any livestock damage – at double the rate if they promise not to kill any wolves.
More so than protection from ranchers, wolves need shielding from random shootings, often caused by unwarranted fear, Weber says. The notion of wolves as vicious killers is one that Mission: Wolf hopes to dispel through education."Wolves take away prejudice," Weber says, reflecting on the diverse audiences and volunteers who have made Mission: Wolf home for as short as two weeks and as long as 11 years. Mission: Wolf has visited more than 80 percent of the schools on the Front Range.
The wolves that swaggered around library hall were clearly tame, but not domestic. a mutual respect flared up between the random awe-struck faces that got wolf kisses and the animals' glinty yellow eyes. For a town undaunted by interactions with wildlife, these ambassador wolves gave Steamboat pause.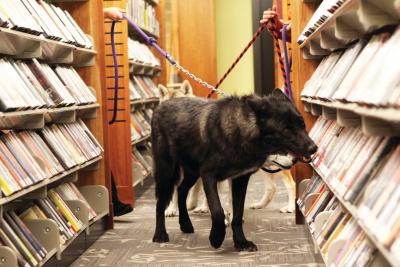 Zeab selects a magazine at Bud Werner Memorial Library.  Photo by Mical Hutson.