Beyond Gate D
12/01/2011 01:00AM ● By Various Authors
by Various Authors
6 Backcountry Winter Adventures to add to the Bucket List!
Steamboat Springs, CO - Seemingly endless back- country surrounds Steamboat Springs. It includes at least 1,000 square miles of public land laced with mountains, meadows and bona fide wilderness in the immediate area.
Some of it's gnarly. Some of it's not. But it all begs for winter exploration. Die-hards can equate that with piling on backpacks and avalanche gear for a multi-day snow-camping expedition to ski Mount Zirkel. The rest of us can happily break trail under a full moon for a snowy bonfire on Rabbit Ears Pass. Either way, the winter backcountry experience is incomparable.
An extra level of preparedness, navigation skills and a few trustworthy buddies keep it safe and sane. Solitude and a view that few others will ever see...that's priceless.
Little Agnes,Gateway to the Zirkels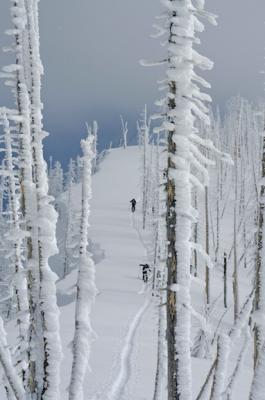 Yuri Goldstein & Eric Becker skinning up the face of Little Agnes. Photo by Aryeh Copa.
Routt County is not known for its big, steep peaks. The Zirkels are our exception. Towering over the northeast boundary of the county, the Zirkels offer big mountain terrain in a remote setting. Little Agnes is one of the range's iconic peaks.
Little Agnes offers great skiing opportunities on all sides. From the summit, looking eastward into the Zirkels, you can see numerous big mountain lines as you stand at the doorway to a skier's paradise. The peak sits on the edge of the Mount Zirkel Wilderness, with the boundary traversing up one ridgeline to the summit of Little Agnes and down the other, providing amazing skiing opportunities inside and outside of the wilderness area.
Outside the wilderness, Little Agnes' west face provides some of the most interesting tree skiing in Routt County. Nine years ago, forest fires burned this entire area, leaving the tall pine trees dead and everything else burned to the ground. The result is perfectly spaced trees that are easy to see and ski through. Charred black on one side and weathered into topographic lines on the other, the run is appropriately known as the Burn Trees or Spooky Forest. Skiing through the standing dead is surreal and serene. Nary a single green pine needle or living thing is visible – aside from your ski buddies.
By contrast, the east face (dropping into the wilderness towards Big Agnes) is steep, wide open and treeless. With overhanging cornices, wind-loading and an early sun-hit, the avalanche danger can be significant.
The north face of Little Agnes is the real prize. Steep and exposed, the Alaska-like face is where the Zirkels' big mountain terrain begins. Known for extreme wind-loading and no-fall zones, this face should only be skied or ridden by the most confident of backcountry enthusiasts. An accident here, even just on the wilderness' edge, means a long arduous rescue.
Winter access to Little Agnes is not easy. It usually requires a combination of snowmobiling, skinning and boot packing as well as extremely good navigational skills, knowledge of the area, avalanche conditions, numerous terrain traps, danger zones and slide paths. For those hardy and well prepared souls wishing to explore the Zirkels' steep lines and wilderness terrain, Little Agnes is a great place to start.
Actually, don't go. You'll piss off my friends even more than I am by writing this.
Earning Your Turns on Horseback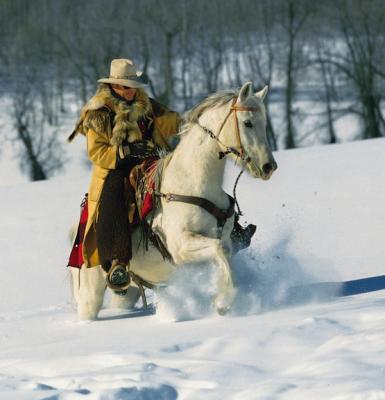 Ray Heid, donning his signature elk hid duster, leads his horse through the snow. Photo by Gabriele Boiselle.
Steamboat's most famous skiing cowboy reminisces about 57 years skiing Sand Mountain.
My first trip up Sand Mountain was in the spring of 1954 with a group of Clark ranch kids and their dads – the Bedells: Dick, Bob, and dad Orval Sr.; the Whitmers: Gerry, Glen and dad Russel; and the Tuffleys: Elvin, Roy and dad Hollis. I was just a city kid from Steamboat Springs, and was honored to be asked along.
Sand Mountain sits six miles west of our ranch and 22 miles north of Steamboat. At 10,565 feet, the peak harbors a cliff on the north side with an apron of 2,000 feet of vertical below. One 30-foot-wide chute with a 50-degree slope runs several hundred yards off the cliff. Sand Mountain's east face has two avalanche chutes with about 1,500 feet of vertical below a 60- to 80-foot cornice. The south face has a north-facing bowl with 1,000 feet of vertical. There's plenty of danger to be had up there.
On that initial trip, we drove up to the old sawmill on County Road 62 to where the road ended in the winter, and started hiking. It was about an eight-mile climb up the east face. They were all wearing bear-trap toe pieces, cable bindings and low-top leather boots. The advantage of the cable bindings was that they could unhook the side hitches and lift their heels to walk and climb. They also put pine tar on the bottom of their wood skis.
Not me. I had bear trap toe pieces and long thongs (a six- foot leather strap that locked the heel solid to the ski – great for racing, but not for climbing), stiff leather racing boots and Northland racing skis with steel edges. No way was I going to put pine tar on those skis. The climb was tough for me and when I arrived on top, I thought my tendons were going to be torn apart. At least I could show them on the way down.
Orval Bedell Sr. was on a pair of eight-foot wooden skis with no steel edges that he made himself. He left tracks on that face that I dream of even today. The boys had a bow- legged crouch and went straight down. When they wanted to turn or stop, they would just fall or grab onto a tree. We all made it down safely.
The next time I skied on Sand Mountain was early spring 1986. Don Markely and Vic Taylor pulled me up the mountain behind their snowmobiles. Vic ran 40 to 50 miles per hour and he never looked back. Several times we hit bare ground – the first time I was able to jump over, but the next time I just sat back and hung on. When we got as far as the machines would go, I felt like my arms were 6 inches longer and my legs were in knots. It was great skiing, but I knew I had to find a better way up.
That's where the horses came in. That spring, with my daughter Hillary and friends Dan O'Mear and Jeff Graves from the U.S. Nordic Combined Ski Team, we packed our skis and boots on the horses and left right from the ranch. It was an interesting trip. At one point we got into a gully where the snow was so deep the horses had to jump from side to side. Did I mention neither Dan nor Jeff had ridden a horse much before?
It took five hours to get up under the steep face and to good snow, so we tied the horses up and climbed to the top. When we were standing on the cornice, I said, "When I was a ski jumper we would jump off something like this without even thinking." I turned around and Dan and Jeff were both gone! I looked over the cornice and saw them flying 80 feet to land on a 45-degree slope. I yelled down, "I was just kidding." They were wearing low-top cross country boots and narrow cross country skis.
This was the beginning of what has become a 25-year family tradition of skiing Sand Mountain via horseback. Sometimes there were just three or four of us, and other times there were more. In 2009 we had to take four horse trailers and three pack horses to haul all the gear for 24 skiers and one snowboarder. We've ridden through rain and hail and chased off lightning. In 2011, we went up on June 15 and had fresh tracks.
It takes eight hours of horseback riding and two hours of climbing to get five minutes of skiing. But that is when you earn your turns and it's a trip you will never forget.
Sand Mountain's 2009 adventure
We had a lot of great spring skiing by horseback over the years. Sometimes there were just three or four of us, and sometimes there were eight to 10 of us. In 2009, we stopped a half mile below the snow as the climb was too much for some of the horses. I wanted to ski under the cliff, but the group felt it was unsafe. We could hear rocks falling off the cliff. Instead, we headed for the top to ski the north face of the south peak. Just as I traversed under the cornice, my cell phone started ringing, I wasn't going to stop under the 60-foot cornice, as I was going as fast and as quietly as possible. At the top I checked my phone and it was Becky, my daughter in law, calling from the ranch. "Where are you?" she asked. I replied, "We just got on top." "Have you looked to the west?" she asked Oh my God, there was a big black thunder storm coming right at us. I told everyone to get out as fast as we could. When we got back down to the horses it was hailing and raining and the lightning was striking all around us.
I had always believed that when you saw lightning strike, you could count "one thousand one, one thousand two," and the lightning was two miles away. No, its 750 feet away. We had five lightning strikes within a quarter mile of us. We packed up the horses as fast as possible and spread out the horses. If the lightning had hit the trees where they were all tied, it would kill all of them. I have never seen Perk (my son) and the gang pack so fast. As a kid, I was told that if you are caught in the high country in a lightning storm you should have as little contact with the ground as possible. When a horse is trotting he has only one foot on the ground at a time. If you are standing still you have for times the chance of getting hit by lightning. When you are up that high there is no place to hide, so we trotted down. Back at the horse trailer there was six to eight inches of hail on the ground. We had been above the worst of the storm.
Skiing with friends
When Darrel Newcome and his friends from Steamboat came along we rode our horses right from the ranch and had to tie up the horses a mile from the bottom of the face and hike. The snow was too deep to take the horses any further. It rained all day and I was wearing my new elk hide duster. When I got off my horse my duster was covered with mud and weighted 80 pounds. They thought it was going to be 3 or 4 hour trip but it took us 10 hours.
The next year, Steve Cole and Dave Mark and I packed up our skis and boots on the horses and road right from the ranch once again. Dave had never been on a horse before and when we got back he could barely walk. This was when I first skied the "Apron," a 2,000-foot vertical face off the north side of Sand Mountain. Dave and Steve climbed up to ski the steep chute (which we now call "Dave's Shoot"), just a narrow finger in the cliff. I vowed to return to the chute one day.
A Moonlight Decent on Buffalo Pass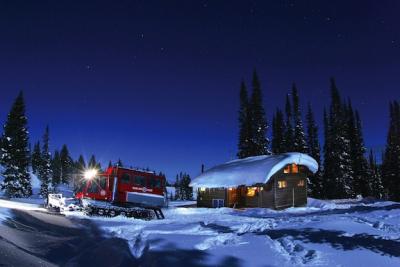 A snowcat pulls away from dinner at the cabin for a moonlit ski. Photo by Corey Kopischke.
It's just after dark on a crisp, clear February evening. We're standing atop Buffalo Mountain with a full moon overhead. The giant orb casts a bright, heavenly glow. In the valley below, the downtown Steamboat Springs' lights twinkle like stars. This isn't the time to cozy up to a warm fire and reminisce about an amazing day – it's prime time for a night adventure in the powder to begin.
We strap into our gear, turn off our head- lamps and acclimatize our eyes to the moon's shimmering reflection off the snow. The snowcat that delivered all 14 of us pulls away as the two guides assess a field of fresh moonlit powder below.
"Get ready for a life experience," says Steamboat Powdercats guide Todd Dills, who has been guiding on Buffalo Pass since 2004. He describes powder skiing by full moon like "dancing on a million tiny mirrors."
"Nights like this are perfect," he says. "With the moon this bright, look how far down you can see." As Todd skis away, his ghost-like silhouette disappears and we fall in line, hooting and hollering as we dissect our way through the gladed terrain.
Steamboat Powdercats is one of a small handful of snowcat operators in the country offering this experience. After three powder-filled, moonlit runs on Buffalo Pass, guests hunker in for a cozy fire and a three- course dinner at a secluded cabin in the woods. No hiking is involved in earning these backcountry turns – and they even provide powder specific skis, snowboards, poles and safety beacons. The guided trips are for advanced to expert powder skiers.
The moonlit descent is an unbelievable experience. For those keeping track, it's a true notch on the backcountry bucket list. More info at www.steamboatpowdercats.com.
Walking The Giant
For the adventure skier or snowboarder, it's impossible to see a steep snowy face and not imagine riding it. The more "in your face" the mountain is, the bigger the draw. If you live in Steamboat Springs, the most "in your face" pitch is the east face of the Sleeping Giant.
The 8,744 foot Sleeping Giant, also known as Elk Mountain, perfectly opposes Mount Werner at the opposite end of Lincoln Avenue. But unlike the rolling, tree-covered ski area that connects the Zirkels and Rabbit Ears Pass via the Continental Divide, the Sleeping Giant rises alone from the valley floor as a steep wall of white towering over the west end of town.
Although the Giant's north-facing feet can offer powder tree skiing, the signature line is the knees. Short but sweet, the wide-open run can give you a feeling of vertigo as the lack of trees or obstacles for reference can mess with your equilibrium.
For devoted local backcountry skiers, the Giant's knees have always been a temptress, but unlike the easy-access, chairlift-covered Mount Werner, the Giant could be the Yampa Valley's most challenging peak to ski legally. Owned by the Colorado State Land Board and the Bureau of Land Management, the Giant is surrounded by private property except for a single public access easement that runs up the back side. But the State Land Board's easement is limited to use from Sept. 1 to Feb. 28, sunrise to sunset, and its express use is for hunting, wildlife viewing and wildlife-related activities. The low elevation and sun-baked nature of east faces make timing imperative. Skiing the knees requires a good snow year. Since the BLM land on Sleeping Giant doesn't close and the best coverage is usually in March, your best bet might be to secure per- mission from one of the private landowners for access through their property.
As with any backcountry adventure, be prepared and avalanche savvy. Unlike the ski area's accessible side country that gets skied daily, no regular ski compacting happens on Sleeping Giant, and the east face wind- loads, amplifying the danger.
If you ski the Giant, you'll see him differently. Gaze upon him with quiet satisfaction and the knowledge that you are amongst a handful of skiers who have scratched the Giant's knees without waking him.
Pleasant Wildlife Trek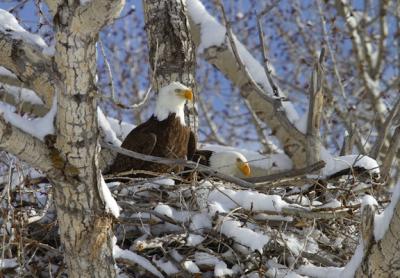 Bald eagles fish the Yampa River all winter long. Photo by David Dietrich.
Pleasant Valley is some- thing special under the cover of winter. Listen to the Yampa River gurgle under a blanket of fresh snow as you leave serene ranch lands and dip into a fascinating canyon between Lake Catamount and Stagecoach Reservoir, south of Steamboat Springs. Out here, you're sure to glimpse tracks of myriad wildlife dotting the snow. It's a perfect low-key backcountry excursion for snowshoes or touring skis – and throwing in your fly fishing rod is not a bad idea.
Park at the end of plowing maintenance on County Road 18. In the summer, this broad valley boasts lush hay fields, and in winter it's nestled in enormous piles of snow. Fly fishermen often use snowmobiles to reach their secret fishing holes along this stretch of river, leaving a well-packed tread to follow. That makes for an easy to moderate riverside trail through a beautiful canyon, up into rolling open hills, and eventually landing at Stagecoach Reservoir.
Open meadows narrow into a steeply walled canyon. If you're lucky enough to catch a glimpse of a small, hyper, brownish-black shape darting in and out of the water, take the time to enjoy the antics of a mink. Listen for the "zeeet zeet" of the American dipper, an amazing drab gray bird that stays here year-round to hunt underwater for insects. Yes, underwater: They walk or "swim" along the river bottom gleaning insects from the rocks and the little dip, dip, dip they do with their body while standing on a rock is to triangulate through the water to find their unlucky prey.
Birds like the American dipper and the bald eagle have found a wonderful niche in the Yampa's open waters. Meanwhile, snow banks are regularly traipsed by coyote, red fox, elk, mountain lion, snowshoe hare, cottontail rabbit and blue grouse. Take time to soak it all in.
Eventually, the trail climbs above the river for views into the vast Sarvis Creek Wilderness Area. Wildlife officials discourage entering the wilderness due to large numbers of wintering elk. Humans and dogs stress their already limited store of energy.
A final climb to Stagecoach offers skiers the promise of a thrilling downhill upon your return. Lunch over exceptional views at the dam before returning to the valley of the elk and American dipper – and the playground of a few mischievous mink.
The Snowmobile stops here
By Jennie Lay
It's hard to imagine anything more magical than tromping around Trapper's Lake when it's shrouded in snow. An amphitheater of nearly 12,000-foot-high vertical walls surrounds the 320-acre lake in the heart of the Flat Tops Wilderness. At their peaks, razor-sharp volcanic cliffs ensnare giant cornices (and often hold year-round snow). Deep in this snow-bound backcountry, the silence is deafening.
Few skiers make the long winter journey to Trapper's Lake. It requires about a 50-mile snowmobile ride along the wind-whipped Flat Tops Scenic Byway that begins at the end of winter plowing on Dunckley Pass near Oak Creek. En route, forest service lands offer oodles of nooks and crannies to play in the powder.
But the engine cuts at the edge of the wilderness area. Motorized restrictions apply year round. That puts you about a half mile from Trapper's Lake – a serene ski or snow- shoe along the first inklings of the trout-laden White River. The farther you venture in, the deeper you'll delve into the icy solitude.
The Big Fish fire roared through this area in 2002 leaving hauntingly beautiful burned- out remains of a 1940s beetle kill – and opening up the views considerably. Keep it sane with a snowshoe or ski around the lake and surrounding meadows – and be prepared to break your own trail. You can also climb for a multitude of harrowing pitches, but be aware that avalanche danger here is typically extreme – as is the changing weather.
Once upon a time, rustic Trapper's Lake Lodge was open during winter for warm meals and cozy cabin accommodations. Regrettably, that's no longer the case. Once the snow flies, you're on your own. Be prepared for absolutely everything. There are no phones or emergency services out here in the "cradle of wilderness." And that's part of what makes the experience divine.
Article Gallery [4 Images]
Click Any Image To Expand