Mountainside - Winter 2011
12/01/2011 01:00AM ● By Eugene Buchanan
Winter 2011:
Mountainside - Winter 2011
by Eugene Buchanan
 Crossin' it Up
New cross course drawing events, open to public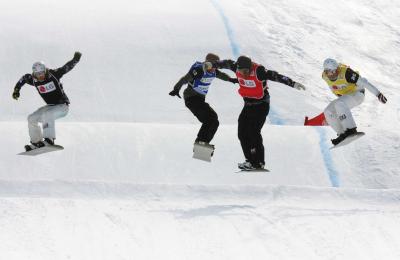 Fighting for Elbow Room  Jayson Hale (U.S.), Alberto Schiavon (Italy), Jason Smith (Steamboat Springs)  and Nick Baumgartner (U.S.) in the final heat of the boardercross event at the 2009 LG Snowboard FIS World Cup in Valmalenco, Italy.  Photo: Oliver Kraus
LOCAL SKIERS AND RIDERS are accustomed to jostling for position to snag Steamboat's untracked powder. Thanks to the resort building its first-ever cross course on the lower mountain, now they have another place to practice their shoulder-brushing. 
 "We've wanted to do a cross course for a while," says Jim Schneider, Ski Corp. vice-president of skier services. "Courses like this are an integral part of training the next generation of competitors, and we're thrilled to offer the same experience for our guests."
Hosting several high-level events at the end of January, and open to the public throughout the year, the course — filled with jumps, ramps and banks akin to a slalom course on steroids — was built by terrain park manager Nick Roma, the only American on the 2010 Olympic course design team. It begins below Jess  Cutoff before careening through the Mavericks Terrain Park, banking around the Bashor chairlift and ending on Giggle Gulch. Its 0.7-mile length and nearly 500-foot drop make it slightly longer than a regulation course, with race times hovering around one minute. 
Schussing it is like an on-snow version of roller derby. Events involve four racers at a time battling head-to-head over variable terrain, with the top two advancing. Speed, strategy, body control, luck and even the occasional elbow all play a role in who moves on to the next round. 
The course got off to a flying start in January, when Steamboat hosted three events: the USASA Boarder/Skier Cross, U.S. Tele Cross and NorAm Hole Shot Tour, which made Steamboat one of its only three U.S. stops. 
After finding out about the course last fall, the Polartec Marmot World Freeheel Masters Tele Cross Tour announced it would use it to stage its lone U.S. stop, with the winners earning a trip to the finals in Austria. 
"The idea came up last year to have a tour stop in the U.S. and Steamboat was a natural choice," says event organizer Richard Shuerf. "It's a great place to host it ... we staged a Telemark World Cup event here last year, and this lets us host yet another world-class telemark event in Steamboat," adds Steamboat Springs Winter Sports Club telemark program director Chad Bowdre.
Snowboarders are equally psyched to have a place to race head-to-head. "It's incredible that we now have a world-class cross course open to both competitors and the public," says SSWSC snowboard director Jon Casson, whose program helped competitors like U.S. Boardercross team member Jason Smith launch their careers. "It gives us another top-notch facility where skiers and riders can train and compete." 
The only downfall? It might give them a slight edge battling the rest of us for those untracked lines. 
Making the Cut
Splitboards gaining steam in Steamboat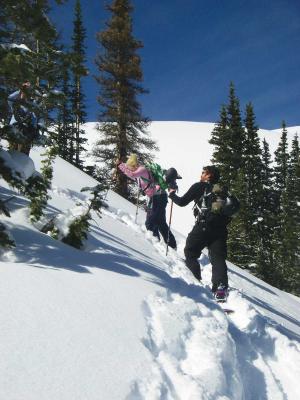 Elevator, Going Up: Local splitboard aficionados Sharon "Rudi" von Ruden and Dave Lawler earning their turns.  Photo: Brad Bingham
WHILE LOGGERS ARE CUTTING DOWN beetle kill, another group of local woodworkers is sinking their sablades into ... snowboards. 
To better access the backcountry, Skillsaw-armed snowboarders are slicing their wares in half so they can huff up the mountains. Affixed with special kits, the two halves of these splitboards are used like skis with climbing skins to ascend slopes. The halves can then be connected back together to form a regular snowboard for the descent.
"Splitboarding is all about getting out in the backcountry," says local aficionado Adam Spector, one of several regulars who retreat into Steamboat garages each year to ply their trade. "This lets you convert an old board into something you can both tour and ride on."
The concept originated in the mid-1990s and has recently grown in popularity, with several companies like Venture and Jeremy Jones offering splitboards and Volle offering boards and do-it-yourself conversion kits. "There has been a lot of innovation that has lured new users into the sport," says local board-cutter and former snowboard instructor Dave Lawler. He points to splitboard-specific bindings from companies like Spark and Karakoram as fueling the trend. Several online communities (www.splitboard.com, www.whereiskylemiller.com and www.treepilot.ca) are also dedicated to the cause, where visitors can commiserate botched cuts and celebrate completed products. 
"If you're an avid snowboarder, there's really no reason not to," says Spector, who has built three splitboards that he still rides. "Go to the Milner Mall, find yourself a board, cut it in half, slap some bindings on it and get out there." 
Heart of Gold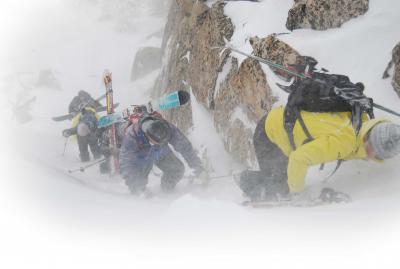 Blustery Boot Hike: Michelle Baxter (yellow), Pete Van De Carr and Channing Reynolds ascend Rancid Tuna in a gale. Photo: William Chase Bailey.  WHETHER IT'S HELD in the Tetons, Dolomites or here on Mount Werner, randonée racing takes a lot of heart. Nowhere is this better illustrated than in the local Cody's Challenge. 
While the event might not have the terrain, vertical or marquee competitors of other off-piste offerings, it tops them in the pulmonary category hands-down. 
Now entering its third year, the race benefits the Cody St. John Foundation, named for a former Steamboat ski patroller who died in 2007 at age 29. St. John was killed when his car collided with a logging truck while he was driving to nursing school at the University of Wyoming. The foundation (www.whatwouldcodydo.net) now provides scholarships to patrollers working on careers in medicine.
"If the roles were reversed and it was someone else, he'd be putting all his effort into it as well," says event organizer and fellow patroller Kyle Lawton. "He was that kind of guy."
In all, 75 people competed in last year's second running of the event, skinning and booting a total of 3,000 vertical from the top of the gondola up to the top of Storm Peak, down Chute 3, across Christmas Tree Bowl to the top of No Name Chutes, up a tight couloir called Rancid Tuna, down North St. Pat's Bowl, into a backcountry area north of the resort known as Bog, up to the Pony Express lift, and finally down and across to Vagabond to the finish line below Bashor. 
While Utah's Wasatch Powder Keg carries 5,000 vertical and Jackson's Rando Rally 6,185, Cody's is admittedly milder. Some racers even shoulder-rolled down Chute 3 with their skins on to save time at the transition. 
But few can deny its cause, the essence of which was felt at the awards party afterwards. In attendance were Michael Brown, the donor recipient of St. John's pancreas and kidney, and Robert Page, the recipient of his liver. But it was while dancing to a band called Tuff Grooves that the rando revelers felt his true presence. As the crowd pumped their fists to the tunes, it was Cody's heart pumping the blood of lead singer David Freshman. 
"We could all feel his presence," says Lawton, whose first-place time of 1:37:25 was overshadowed by St. John's spirit. "It's as if he was right there with us."