Ride the Rotary Rollercoaster - Take it easy or go big for freeride thrill
07/01/2011 01:00AM ● By Christina Freeman
By Aryeh Copa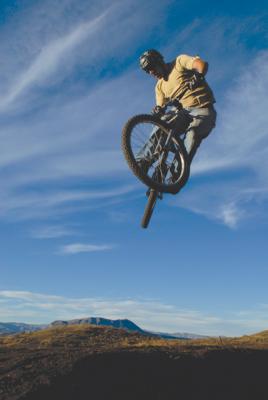 Josh Inck jumps over the Sleeping Giant at the new Rotary Trail. Photo by Aryeh Copa
Beginner friendly yet expert fun, the Rotary Trail on the backside of Emerald Mountain is a blast for riders of all abilities.
With no embedded rocks or roots on the tread surface, suspension is not necessary. The six-foot width means even the most inconsistent of riders will have no trouble staying on the trail, yet the large berms and dirt rollers on the downhill provide a freeride feel for faster riders.
For pros, the challenge is to drop in without using brakes and ride the downhill like a rollercoaster or two-mile downhill pump track. That way, even the best riders will be holding on as they get 3Gs in the turns and find themselves airborne over rollers. Yet a simple application of the brakes and the trail quickly switches from expert back to beginner.
The Rotary Club of Steamboat Springs reached an agreement with the Bureau of Land Management to take responsibility for designing and building the trail, the third in the Cow Creek area. Had it not been for Rotary, the trail likely would not have been started for years. The local club asked downhill enthusiasts to design and manage the volunteer groups to build a trail that would start to fill the gap in freeride/skill trails in this valley.
When Native Excavating donated a D3 bulldozer for the project, work began and a couple weeks later, four miles of trail had been roughed in. Then the real work started. With a couple thousand volunteer hours already invested by Rotarians and mountain bikers, handwork continues even after the trail is complete.
The 4.5-mile loop starts using the first half mile of the Ridge Trail off of Cow Creek Road. Once on Rotary Trail, riders discover a new level of smooth and flow and hopefully just a glimpse of what's to come for mountain bikers in the Yampa Valley.
To reach the trailhead, drive about 5.5 miles on County Road 33 (Twentymile Road) and take a left on County Road 45 (Cow Creek Road). The parking areas for the trailhead are about a mile ahead on the left.