Reaching New Heights - USA Pro Cycling Challenge comes to Steamboat
07/01/2011 01:00AM ● By Christina Freeman
By Amanda DeVos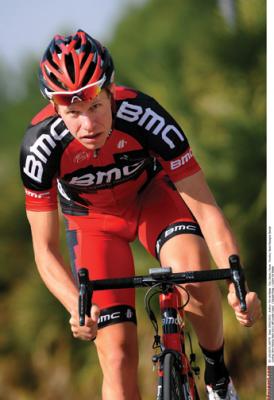 Jeff Louder of the BMC Racing Team 2011(USA)/Equipe Ploeg. Photo courtesy of Tim de Waele
Over seven summer days, Colorado's Rocky Mountains boast the toughest bike race ever held on American soil. The USA Pro Cycling Challenge debuts in Colorado Springs on Monday, Aug. 22, and ends in Denver on Sunday, Aug. 28. For 518 miles, 16 international teams and 128 professional cyclists face the highest altitude course ever created, cresting a breathless 12,000 feet.
"It's high time Colorado has its own pro cycling race to show off the mountains and beauty of the landscapes," says cyclist Peter Stetina, a Colorado native and member of team Garmin-Cervelo.
Steamboat Springs is a key destination along this epic cycling journey, as Stage 4 finishes downtown on Friday and Stage 5 begins the next day. Of the 11 cities involved, Steamboat is the only one to host two stages. A weekend of festivities and cycling events includes concerts, fireworks, an athlete's alley, the U.S. Paraolympic Handcycling time trial and the Steamboat Adaptive Recreation Sports Charity Ride. This monumental race helps propel Steamboat further down the road to becoming known as "Bike Town, USA," not just "Ski Town, USA."
American cyclist Jeff Louder of BMC Racing has memories of visiting Steamboat as a child, when flyers for the Coors Classic cycling race captured his young imagination. "This is a small part of what originally motivated me to try to be a pro cyclist, so it will be fun to come back and go full circle," Louder says.
Altitude is the biggest factor of the Pro Cycling Challenge. The gutsy riders ascend a series of mountain passes, fighting against the effects of low oxygen levels on their power and endurance. Athletes battle against not only other competitors but also against nature and the strength of their own hearts and minds. "During a long climb, I internalize the pain, accept it and use it as fuel," Stetina says.
"There are many times in a stage race where you feel you can't go on but you suffer through it and learn that you can," Louder says. "Once you've had a few of these experiences, it's actually very rewarding to fight through the pain. This sense of accomplishment is part of what is so appealing about pro cycling; it can be addicting."