Outdoor Living at the Forest's Edge
07/01/2011 01:00AM ● By Corey Kopischke
by Gena Fischer; Photos by Corey Kopischke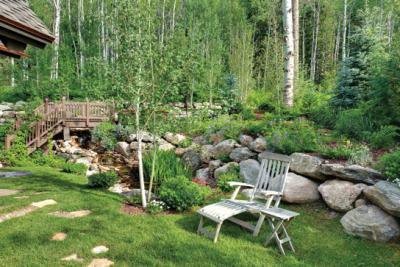 A serene reading nook alongside the stream.
Phyl Sharp's garden flows out of the forest behind her home and transforms into a floral fairyland. The landscape provides inspiration and solitude for the Virginia transplant, as well as the many guests and family members who visit frequently throughout the summer.
Winding stone paths with thyme peeking through the flagstone lead past waterfalls, ponds and sitting areas that Sharp refers to as her "rooms," various segments of the property where she spends time reading, relaxing or entertaining. "This is my sanctuary," says the lifelong gardener who teamed up with landscape designer Carol Zamzow six years ago to create the expansive outdoor living areas. The plantings are choreographed so that blooming flowers complement one another as they take floral turns throughout the season.
An extension of her home, the outdoor living area begins on her shady patio. Nearby stairs rise up to a small bridge that crosses over a flowing waterfall, leading to a path that winds past a hot tub and several ponds, one of which is preferred by local bears for cooling off. "A bear will pretty much take up all the room in this pond," laughs Sharp. "After he moves on, I have to move back all the stones he's pushed around during his soak."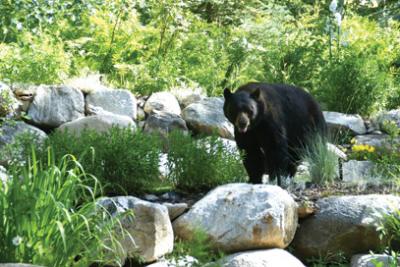 A bear takes his bath in the garden's pond.
Also an accomplished portrait artist, Sharp utilizes her eye for color by refining and creating spaces in the garden; other times she simply enjoys reading a book. Her favorite spot is her "secret garden," a hidden area in her front yard where she enjoys sipping her morning coffee and watching her neighbors walk by. "I do like to move around the garden during the day," she adds. "I like to follow the sun."
Domesticated plants throughout the yard keep deer from feasting on the flowers, and Zamzow's crew visits weekly to ensure the gardens are in good shape. "For the past few years, I'd spend over two hours each day pulling weeds," says Sharp. "This year I am having Carol's ladies take care of most of that."
"There's something blooming here all the time," Sharp says. "From the daisies and tulips in the spring to anemone and asters in the fall. It all changes so fast. I don't leave Steamboat during the summer. I would absolutely hate to miss something."