Craig-Scheckman Family Foundation...One piece of the puzzle
07/01/2011 01:00AM ● By Deborah Olsen
by Deborah Olsen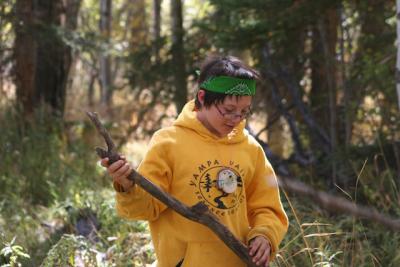 Trent Trask participating in Yampa Valley Science School.
The nonprofit jungle can seem like a huge jigsaw puzzle dumped onto the floor. To survive, and even thrive, means putting the whole picture together.
Sara and Michael Craig-Scheckman took their time viewing the big picture of community needs before deciding six years ago to create a family foundation dedicated to youth.  "There are lots of ways to give back to a community and we're just one piece of the puzzle," Sara says.
Since then, the foundation's Youth Advocacy Project has been a key piece of the funding puzzle for local nonprofits. With two annual funding cycles, the foundation has provided nearly $1 million to a range of organizations.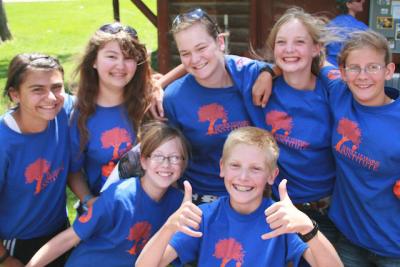 Molly Harrison, Rocky Mountain Youth Corps cremember with Russell Yates, Assistant Crew Leader.
The foundation also helps these organizations become stable. "A lot of time goes into staying secure. It can be very debilitating for a nonprofit to constantly be faced with lack of sufficient funds for basic operating. The stress is tremendous. You have to have basic needs met to be successful," Sara says.
The foundation's hands-on approach means that support doesn't end when the check is cut. They also provide strategic and developmental assistance, such as showing how to apply for grants, or connecting with other organizations to reduce duplication. "We don't want to just give money and say, 'OK, good luck with that.' We want them to be sustainable and provide impactful services," Sara says.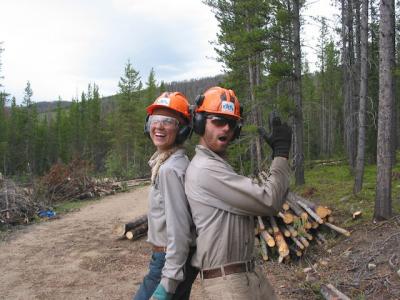 Service Learning Institute members Emma Larson, Jack Craig, Maddy Labor, Michelle Ondrejka, Sylvia Larson, Jenna Miller & Clair Franklin.
"Sara and Michael have a genuine interest in making a broad and deep impact on the health, well-being and development of youth in Routt County," says Gretchen Van de Carr, executive director of Rocky Mountain Youth Corps and a member of the Craig-Scheckman advisory board.
It's Sara's hope that the couple's children will continue to connect the pieces for community wellness and offers this credo: "Everyone needs to do their part."