Healthy Living: Home-Cooked Recipes
04/15/2011 01:00AM ● By Caroline Lalive
by Caroline Lalive
Home-Cooked Recipes
Old favorites with a healthy twist
Cooking has always been one of my favorite hobbies. When I was a kid, my mom always made elaborate, incredible meals with bold flavors. I credit her and those childhood dinners for my love affair with food.
Three friends and I get together once a week and share our lives, laughs and libations over a home-cooked meal. I've asked them to share their favorite recipes with a healthy twist. Each lady brings something different to the table, which makes this so enticing. Bon appetit!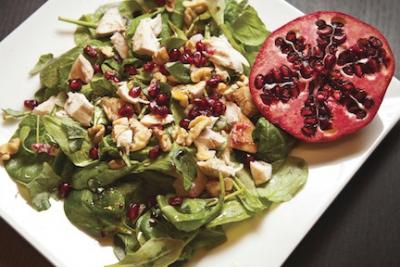 Photo by Corey Kopischke.
Spinach Salad with Roasted Turkey
Food to Boost Your Mood
1 1/2 cups spinach
1 1/2 cups arugula
1 cup chopped, roasted, turkey breast (the deli section has roasted turkey breast and whole chickens made fresh daily)
1 pomegranate (seeds only)
1/3 cup walnuts
1 apple thinly sliced (red or green)
Dressing:
1/4 cup olive oil
2 tbsp. balsamic vinegar
1 tbsp. maple syrup
dash of truffle oil
salt and pepper to taste
Whisk together, and dress the salad.
"I find myself getting a little grumpy at times due to a lack of vitamin D. This salad brings key mood-boosting ingredients together for a gorgeous mix of flavors and color. Spinach, nuts, turkey and olive oil can improve your mood!" — Caroline Lalive
Caroline has lived in Steamboat since '95. She loves cooking, skiing, biking and most anything involving laughter.She is often seen with her best buddy, Puppy.
Homemade Granola Bars
Healthy Snack for People on the Go
2 cups rolled oats
½ cup wheat germ
1 cup sliced almonds or other nuts
½ cup dried cranberries or cherries
½ cup semi-sweet chocolate chips or chunks
1 can (14 oz.) fat free sweetened condensed milk
Preheat oven to 325°.
Grease a 9"x9" pan with cooking spray.
Mix first five ingredients in a large bowl.
Add the sweetened condensed milk,
reserving about a tablespoon.
Press the mix into the prepared pan,
packing down firmly.
Drizzle remaining milk over granola and spread evenly.
Bake for 30 minutes or until golden brown.
Cool to room temperature, or refrigerate until firm.
Makes up to 16 1"x4" inch bars.
"I love this granola bar recipe because it's a quick, easy snack and I can customize it with whatever I have on hand. It's nice for work or on the trail. Even my 2-year-old daughter asks for more!"— Laura Soard
Laura loves spending time in and around Steamboat with her husband, Evan, and daughter, Sydney. Working in sales at SmartWool keeps her busy, but she often sneaks in time for a run with her chocolate lab, Baxter, or a bike ride with her husband.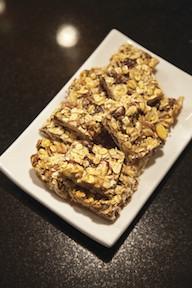 Photo by Corey Kopischke.
Pick up your copy of Steamboat Magazine for additional Healthy Living recipes.