Growing gardens, gathering veggies and community momentum
04/01/2011 01:00AM ● By Anonymous
Whimsical log sculptures provide kid space in the garden. Photo by Caitlyn Patrick
by Jennie Lay
Last summer, Steamboat Springs' Community Roots Garden planted its first seeds on county-owned land on Oak Street. The 2009/10 Leadership Steamboat class laid the cornerstones – and the compost – for 20 raised beds. They utilized beetle-kill, local compost and log artists to create sculptures for kids to play on.
Yampa Valley community gardens are growing, one plot at a time. Each 4'x8' plot has its own water spout; one is ADA-accessible; and one serves as a demonstration plot for Routt County Extension Master Gardeners. Last summer, the master gardeners harvested sweet corn, purple potatoes, spinach and carrots, which they donated to the Lift Up food bank. 
 "It's the hottest trend in ag these days," Routt County Extension agent C.J. Mucklow says. "This is a great downtown site."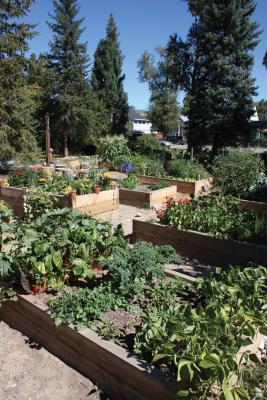 Harvest time nears at the Community Roots Garden. Photo by Jennie Lay 
Grants from Live Well Colorado jump-started the community gardens in Steamboat and Oak Creek. Steamboat's first-year farmers (who secured two-year leases at $25/year) included college students, families who live in condos and an inter-generational plot maintained by a grandmother and two kids. Banks sponsored gardens for a few needy families, and Partners, Rocky Mountain Youth Corps and the Boys & Girls Club started communal plots.
"The garden has such potential to be a multi-generational drawing place," Routt County Commissioner Diane Mitsch Busch says. "I love how it's bringing together so many interests, making the connection with interest in local food and agriculture and the environment." 
Leadership Steamboat's decision to pursue the project was unanimous. Members filled a binder with planning minutia, from permitting to irrigation to landscape plans, so the garden could be duplicated in neighborhoods around the community.
The Oak Creek community garden began with two gardeners bent on transforming a junk-filled, city-owned lot at the north entrance to town. Chloe Hartstein and Lynne Paschal spent hours flattening plots and building a split rail fence. They ran 500 feet of hose from the ice rink for irrigation. Oak Creek's garden doubles as a school bus stop and has been dubbed "O Double-C G."
Oak Creek has 10 plots – one of which offers communal pickings. Eventually, plans call for a terraced hillside "nibble garden" with strawberries, rhubarb and raspberries. 
Hartstein and Paschal emphasize that this is about social connection, people getting together and sharing information. 
"It's like a gigantic bar, except we're gardening," Hartstein says. "I don't want to live in a town without a community garden. Be the change."  
Colorful gardens blue, red, pink, lavender, orange, yellow, purple possibilities
by Linden Wilson
Native flowers and hybrids bring vibrant colors to local gardeners' palettes. 
Garden neophytes need not worry about Steamboat Springs' short growing season — approximately the second week of May to the last week of September — or the fact that the town is in Zone 4 (25 to 35° below zero in winter).  A variety of colorful flowers will work in this climate.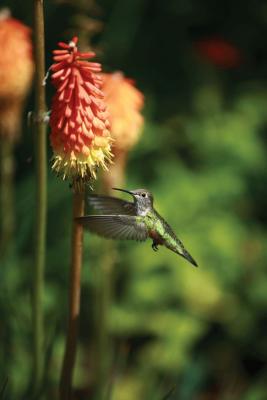 Torch Lily - Kniphofia 'Corallina' by Jason Jagger 
 "You can get a lot of color in the garden," says Sandy Mince of Windemere Landscape & Garden Center. She advises planting perennials such as dark blue salvias, red, pink or white peonies, Russian sage, lavender and poppies, which come in bright reds and oranges. Perennials can be planted in the spring or fall, but annuals shouldn't be planted until late June because they're susceptible to frost, she says. 
The most popular native flowers in Steamboat are blue and white columbines, the state flower, says Mike Higgins of Gecko Landscaping & Design. "There are a lot of different hybrids that come in yellows, reds and purples. Those can groin the sun, providing more opportunity to use them rather than just in a shady spot."
Higgins says the McKenna's columbine is one of the best to plant and also recommends irises (Japanese irises, Siberian irises and iris hybrids) as well as lupines, another native wildflower.  He cautions gardeners to plant lupines in moderation so they don't take over the garden. 
Taking into consideration Steamboat's "funky climate," he says ornamental grasses, which don't flower but instead produce a seed head, are ideal to spruce up a garden. "There are so many varieties — steel blue, real rich and lush green — and they can be very dramatic," Higgins says. "They're gaining popularity in Routt County and can tolerate the clay soil and other different soil types we have here." 
Mince advises situating a garden on the south side or in a protected area next to your house, while Higgins' one piece of advice is to plan everything. "This will help avoid chaos and a muddled composition that often comes with just buying what's on special or what looks good."
Break out the native flower palette and create a riot of color this spring. 
Article Gallery [3 Images]
Click Any Image To Expand