Rebuilding History: New construction turns back the clock
04/01/2011 01:00AM ● By Gena Fischer
Hand-hewn recycled beams criss-cross the great room. Photo by Tim Murphy.
by Gena Fischer
Bear Meadow Farm is the affectionate name of an unusual rural Routt County property, bestowed upon it by owners Emmy and Bob King after an early home construction photo revealed a young bear walking up their new driveway.
In another testament to the landscape's early inhabitants, the home at Bear Meadow Farm was designed and built to evoke the atmosphere of the homesteading settlers who first lived there. 
From chinked log and recycled barn wood walls to huge, hand-carved posts and beams, the Kings' home is meticulously detailed to create an old Western feel. Together, they've established both a cozy retreat and place of inspiration for a busy couple, as well as a compound for their extended family of 14. It's a tribute to the original cabins that once stood in the area. From the great room's massive, dry-stack, moss rock fireplaces to the cowbell that clanks when you open the front door, every inch of this house reflects the history of the surrounding mountains and meadows. 
Modern convenience
"Home, home on the range…" may hum in your head when you enter the rustic interior, but looks can be deceiving. The past and present are tastefully blended, and nearly every piece of wood is recycled. Hiding behind barn wood nooks and crannies, Bear Meadow Farm is state-of–the-art. 
"I was consumed by this house for four years," Emmy says. "It was certainly my passion. It was like living a dream during the building process and feeling let down when the creative process ended. Every thing we had purchased fell into place like a jigsaw puzzle."
The team of architect Joe Patrick Robbins, contractor Gary Cogswell and interior designer Lynne Bier worked closely with the owners to create an authentic-feeling, yet luxurious, Old West home. Emmy herself spent four years collecting textiles.
"The owner was certainly one of my most competent clients I've worked with," Cogswell says. "She knew exactly what she wanted, and where she wanted it. She was wonderful to work with."
The home's hand-hewn timbers were recycled from barns in a Mennonite community in Canada. Along with the timbers, the Mennonite craftsmen sent books about the barns and two huge wheels that were once used to haul hay into the barn lofts. "There are no marks of any power equipment touching the wood," Emmy says. "Some of its charm is the way the carpenters installed it, mimicking every hand detail, leaving old nails and hooks in place and even using pieces that have holes and major flaws and always fitting pieces so no two boards lined up evenly, to give the impression that a not-so-masterful craftsman might have built the house."
The two wheels now sit proudly in the yard. "The barns were over 100 years old and were being torn down to be replaced by more modern structures," Emmy says. "We were thrilled to be able to recycle the wood, which was just going to be burned anyway." 
Pine floors were salvaged from Pennsylvania barns, sanded and lightly stained to radiate a golden red glow throughout the home. And in the kitchen, local cabinet maker Rich Tucker built the cabinetry, which was painted on-site by a master craftsman whose specialty is 18th century American reproduction furniture. Along with the white oak counter that Tucker built, the kitchen feels as if it's been there for centuries. One small difference, though, is the striking six-burner stove that stands out boldly along with a zinc hood handcrafted in Santa Fe and the pantry's soapstone counter. 
Off the kitchen is the most popular room in the house – the place "where everybody loves to hang out," Emmy says. The hearth room features a huge fireplace and a breakfast bar carved of white oak. "It's everybody's favorite area," she says. "In the summertime, people will wander off to different areas to read a book or play a game, but in the wintertime, it's here."  
Huge beams crisscross 20-foot-high plaster ceilings in the great room. Screened porches line both sides of it, enabling the family to follow the sun throughout the day, year-round.
A massive wrought-iron chandelier hangs in the living room, and a 10-foot-high wall of shelves serves as a library, complete with a rolling library ladder attached to a rail.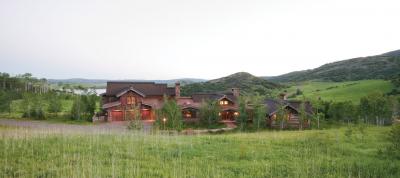 Bear Meadow farm. Photo by Tim Murphy.
Historical structure
Back in the settlers' days, rooms were added to a cabin as a family's needs changed, often creating three or four sections. The Kings' home is likewise divided to suggest what would have been the great barn on an original cabin. Family bedrooms are on two floors and Bob and Emmy's quarters, aka "the cabin," are separated via a long narrow hall lined with nine traditional ranch house windows offering views of the landscape.
In the self-sufficient cabin, a master bedroom and office are joined by a built-in outdoor porch. The spacious bath is complete with a claw-foot tub, shower and matching walk-in closets. Solitude exudes.
"I learned from our previous home in Park City how a house works, or in the case of that house, how one does not work," Emmy says. "I wanted to make sure we had plenty of room for our family. When it is just Bob and I at home, we can occupy the cabin and the hearth room and the large house is lost by the intimacy of these special cozy places. The home works for two or a crowd of 14."
The guest wing, aka "the barn," is on the opposite side of the house, with bedrooms, an office and a bunk room known as the "hay loft." Rooms reflect different periods of history, from pioneer to Victorian, played out in textiles, art and antique furniture. Off-white plaster walls let color stem from accessories that range from American folk art to memorabilia from exotic travels to Africa, Burma, India, Kazakhstan and Ecuador. The home's lower level is dedicated to fun, with a pool table, wine room, full-size bar and fitness room. A built-in fireplace and beam work make the large space intimate. 
 "There are no televisions in the bedrooms," Emmy says. "We have common areas for that; our time together is precious. I don't want anyone stuck in their bedrooms."
Re-imaging the past
A devoted family history buff, Emmy spent much time thinking about how to integrate the history of Pleasant Valley with the history of Bob's and her families, who were Southerners and Midwesterners. "I tuned in to the history of this valley," Emmy says. "Bob and I had always reflected on how amazing it must have been for pioneers from those areas to venture West to settle in America's amazing mountains. It inspired me so much that I launched my own created story that ends with the building and history of Bear Meadow Farm. It's a 20th century tale moving back in time."
In her imagined history, Emmy writes of her home: "Generations who follow us will stand firm on this Colorado soil. Children will group here and love the land as we did. They will participate in all things country and wild; fish the stream, swim the lake. They will ski and ride horses to their hearts' content. The home we have created is now our legacy to the family. The hope is that the house will go on for generations, and this story will never die."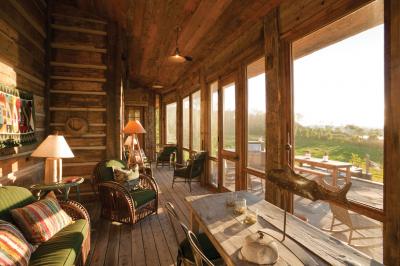 Article Gallery [3 Images]
Click Any Image To Expand