Local Knowledge: Spring/Summer 11
04/01/2011 01:00AM ● By Deborah Olsen
Spring-Summer 2011:
Local Knowledge: Spring/Summer 11
by Deborah Olsen
Will Hike 

for Corn
Backcountry skiers and riders savor sweet corn snow
Powder, corduroy and corn.  Of these three, the rarest is corn snow.
During a great ski season like the last one, skiers and riders tallied 6-inch-plus power days in the double-digits. And first tracks down corduroy, while exquisite, can be found virtually every day. 
But corn? In an otherwise memorable year like 2010/11, skiers and riders scored only three days of this rare spring phenomenon. Corn occurs when the snohas firmed up overnight and the sun creates a thin layer of granular snoon top of frozen, untracked terrain. 
"There's a fine line between good corn and glue," says longtime local backcountry skier Matt Cretney. "Conditions have to be just right."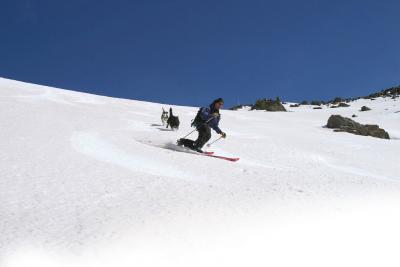 Randy Oehme and his dogs enjoy spring conditions on Farwell Mountain in North Routt County. By Corey Kopischke. Skiers and riders who were willing to hike for turns found about three days of corn off the top of Mount Werner in late March and early April. Under those conditions, they could glide across the creamy descending steep terrain not otherwise easy to ski. 
"The corn is fun because you can travel so far, you can just fly across big meadows," says Cretney.  "This year we got robbed. There were only three days of corn snow, but it depends on the season. Some years, you can ski corn in the middle of January." 
Backcountry skiers and riders in search of corn extend their season by hiking and traveling to North Routt County, the Flat Tops Wilderness Area, Rawlins Pass and Wyoming. Once Trail Ridge Road is open, Rocky Mountain National Park corn is attainable too. 
Hiking at home is another option. "By May, the whole mountain (Mount Werner) is corn because the sun bakes it and bakes it and bakes it. If you're willing to hike, even Shadows is corn," Cretney says. 
Fresh corn snoin spring is as rare and delectable as the sweet corn gourmands seek out at Steamboat Springs' Farmers' Market at harvest time.